Fernando Trueba and Javier Mariscal return to South America and a bossa nova pianist who mysteriously disappeared in 1976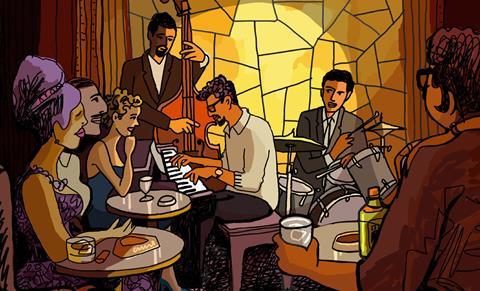 Dirs: Fernando Trueba, Javier Mariscal. Spain/France. 2023. 103 mins.
Fernando Trueba's lengthy love affair with Latin American jazz continues with the somewhat flippantly titled animation They Shot the Piano Player. Anything but flippant itself, this hybrid of musical homage and historical enquiry, made in tandem with the graphic artist Javier Mariscal, delves into the brief life and very troubled times of a brilliant young Brazilian pianist who went missing one night in Rio in 1976 under mysterious circumstances. However this potentially rich theme is unevenly presented via a loose, meandering script that fails in its ambitious aim of packing in everything it wants to.
Anyone hoping for a re-run of Trueba and Mariscal's much loved 'Chico And Rita' is in for a disappointment
Landing as an out-of-competition special screening in San Sebastian via stops in Telluride and Toronto, the film's likeliest appeal is to festival audiences with a prior interest in Latin American music and politics. But visuals apart, anyone hoping for a re-run of Trueba and Mariscal's much loved Chico And Rita is in for a disappointment.
'The New Yorker' writer Jeff Harris (voiced by Jeff Goldblum with easy naturalism) is the vehicle for the vast quantity of research that Trueba has been pouring into this project for years. Jeff explains to a New York bookstore audience how, while attempting to write a piece about bossa nova, he encountered a spectacular bossa nova piano solo and became obsessed by the pianist, Tenorio Jr, who went missing one night in Buenos Aires, never to reappear.
Early scenes neatly play up the potential interest of this subject matter to US viewers, with neat reminders of the influence of bossa nova on American popular music of the 50s: delightfully, an animated Ella Fitzgerald misses her encore at the Copacabana Palace to kick off her shoes and sing at one of the sidestreet bars where the new musical culture is coming to life. Jeff's enquiry into who Tenorio Jr was and why he disappeared leads him to a vast cast of interviewees in Rio, Buenos Aires and elsewhere, many of whom knew the musician personally, including fabled musicians like Joao Gilberto and Caetano Veloso, his wife Carmen, and the woman he was with on the fateful night.
Aided by his Brazilian buddy Joao (Tony Ramos), Jeff's enquiries move – and sometimes lurch - from professional acquaintances through the personal to the political: it's giving nothing away to say that Tenorio Jr's fate was mixed up with Operation Condor, the continent-wide operation to 'disappear' so-called subversives during the Latin American dictatorships of the 70s. The interviews, which cannily adapt the images to Trueba's sound recordings of them, seek to bring us ever closer to the mysterious man whose film this is.
Multiple, often overlapping testimonies assure us that Tenorio Jr was a brilliant and lovely guy, if a bit peculiar. But perhaps inevitably, and though we learn an awful lot about him, the film fails to make the audience care. The interviewees are often recalling events from long ago, but despite the odd tear, the script fails to bridge the distance between then and now. To do so would involve manipulating the truth for emotional effect, which, out of respect for his subject, Trueba refuses to do. So that even before it's off the page, the film is doomed never fully to become engaging or immersive.
This is not to say it doesn't have wonderful moments. To watch the late saxophonist Bud Shaw react in real time, as it were, to hearing the awful reasons for Tenorio Jr's death is very touching. Despite the surprisingly general lack of insight into what actually made the young pianist so special, Caetano Veloso beautifully recalls his talent. Black-and-white renderings of nouvelle vague films pop up attractively to bolster the idea that bossa nova was part of a wider global cultural movement. Sometimes, as relief from Jeff's somewhat wearying, complex and dogged research, we head off down an intriguing side alley – in this regard, get ready for the Brazilian clairvoyant.
And when the script delves into the human impact of the disappearance – his wife Carmen, for example, never had the opportunity for closure on the fact that her husband was with another woman on the night in question, while she herself was pregnant – then things suddenly, briefly start to connect at a deeper level. Visually, Mariscal's bold lines and strong blocks of colour are all present and correct from Chico And Rita, though one nice touch is that fittingly, the photo of Tenorio Jr from his Wikipedia page is pretty much the aim at representational accuracy.
Ultimately, They Shot The Piano Player is all about the tension between the vibrant emotion of the music contrasted with the grim ideology of the politics that sought to suppress it. But even as a music-as-freedom homage, the film feels a little thin, consisting mostly of snippets as we proceed hastily to Jeff's next talking head. We are gifted several moments from 'Chega de Saudade', the bossa nova piece that started it all, but only one piece in its entirety, a re-creation of a 1964 session which was all Tenorio ever recorded as a band leader and not a sidekick.
The film ends on an unexpectedly muted note, on a wish that this story not be forgotten. And indeed, perhaps the most troubling aspect about the whole project is that the only exhaustive exploration of the politically significant and tragically arbitrary disappearance of Tenorio Jr. in 1976 has not been signed off by any formal, official investigation, but nearly fifty years later by a film director and music buff from Spain.
Production companies: Fernando Trueba, They Shot the Piano Player, Les Films d'Ici Mediterrane, Submarine Sublime, Animanostra, Gao Shan Pictures, Julian Piker & Fermin SL, Arte France Cinema, Tondero
International sales: Film Constellation sales@filmconstellation.com
Producers: Cristina Huete, Serge Lalou, Sophie Cabon, Bruno Felix, Janneke Van Der Kerkhof, Femke Wolling, Humberto Santana
Screenplay: Fernando Trueba
Editing: Arnau Quiles Pascual
Main voice cast: Jeff Goldblum, Tony Ramos, Abel Ayala, Roberta Wallach, Ângela Rabelo, Stephen Hughes, Alejandra Flechner, Joao Gilberto, Caetano Veloso, Milton Nascimento