Two Mongolian youngsters make sweet music together in this Mongolian-British musical romance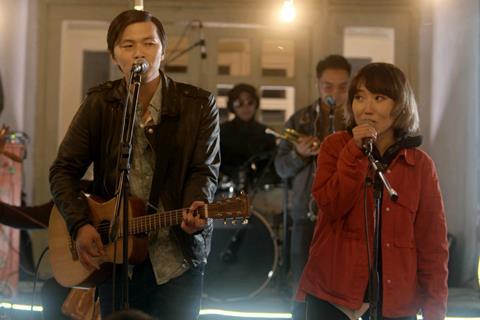 Dirs/scr: Bat-Amgalan Lkhagvajav, Ian Allardyce. UK/Mongolia. 2018. 86 mins
They really do sing up on the hill, eventually, in They Sing Up on the Hill, a sweet-natured but featherlight musical romance from Mongolia. Set against Ulaanbataar's young music scene, this Mongolian-British collaboration suggests that wherever you go in the world, there are some constants – e.g. indie guitar bands will have arrogant lead singers who mooch around sullenly under floppy forelocks, groups will fall foul of musical and personal differences, and love, sooner or later, will save the day.
You can't help but wish that the film had given us a little more of the traditional music, or at least a little more insight into the actual Ulaanbataar scene
The film can't be faulted on sincerity, and is a genuine indie venture in the DIY pop tradition, given that directors Bat-Amgalan Lkhagvajav and Ian Allardyce handle so many of the chores themselves. It all comes across as something like a Mongolian answer to successful Irish busking romance Once. But world music connoisseurs shouldn't expect any echt ethno-musical insights: this is a pop romance in a decidedly old-fashioned mode that would hardly shock Cliff Richard and the Shadows.
Real-life musician Dulguun Bayasgalan – known under his stage name of Magnolian – plays Od, a young singer who has had a hit with his indie band of jangly guitar specialists. He's even famous enough to get hassled for selfies at the corner shop, but his band still play small clubs and he's starting a day job as translator to international trade delegations.
Increasingly frustrated and given to moody solo walks, he ends up parting company with his band, but bonds increasingly with young female co-worker Gegee (the charismatic, highly personable Nomin-Erdene Munkhbat), a musician in her own right. She suggests they play together, and brings life to one of Od's compositions by adding a touch of the traditional harp-like instrument, the yatag. She also introduces her to her mother (Sarantuya Batchuluun) who lives in a yurt in the hills outside town, and who brings the film's soundtrack vibrantly to life with a burst of her traditional singing. Gegee and Od have the makings of a winning partnership, musically and – it's clear –romantically too, although he shies away from her coy advances, and skips out on a showcase gig that she's organised.
It's unclear why the talented, attractive Gegee sticks with this petulant sulker, whose own assets runs to a few decent toe-tapping numbers in a vague Orange Juice/New Order vein. But she does, and it's finally suggested that the way ahead lies in a merging of Western pop with trad Mongolian touches – although in practice, this means lacing generic guitar jangle with solos on such instruments as a two-stringed cello. You can't help but wish that the film had given us a little more of the traditional music, instead of this diluted hybrid, or at least a little more insight into the actual Ulaanbataar scene beyond the odd fleeting glimpse of local techno and metal acts.
The comedy lays on a few rather creaky touches of social commentary: notably, Od's blustering flatmate (Tsogtbayar Uransogt) is a would-be entrepreneur, presumably representative of current socio-economic change, while Gegee's predatory boss (Garin Buntar) is here to bring #MeToo issues to the table.
Visually, the film thrives mainly on atmospheric shots in and around Ulaanbataar, with Od's wanderings a vehicle for the film's urban landscapes – but all this feels slightly as if it's padding out a narratively underdeveloped story, which generally seems to bide its time until Od can get his act together with Gegee. Pleasant but over-twinkly pop is applied somewhat liberally on the soundtrack, this soft-focus effect matching DoP Allardyce's tendency to overstress the pastels in his palette.
Production companies: Really Nice Content, Media Crackers
International sales: Really Nice Content, ian@reallynicecontent.com
Producer: Bat-Amgalan Lkhagvajav
Cinematography: Ian Allardyce
Editor: Bat-Amgalan Lkhagvajav
Production design: Amarjargal Baasandorj
Music: Magnolian, NMN
Main cast: Dulguun Bayasgalan, Nomin-Erdene Munkhbat, Sarantuya Batchuluun, Tsogtbayar Uransogt, Garin Buntar