Tadashi Nohara's directorial debut focuses on unfulfilled lives and fraying relationships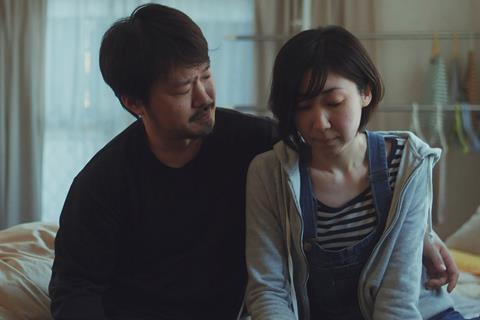 Dir: Tadashi Nohara. Japan. 2021. 112 mins.
Third Time Lucky marks the directorial debut of Tadashi Nohara, who was one of the screenwriters of Ryusuke Hamaguchi's slow-burn drama Happy Hour, a detailed exploration of female friendship which unfolded over a sprawling five-hour-plus running time. Hamaguchi has since proved himself to be one of the leading lights of the festival circuit with the recent one-two punch of Wheel Of Fortune And Fantasy and Drive My Car, while Nohara now steps behind the camera for a film that is very much a cousin of Happy Hour, minus the epic duration. Similarly dwelling on unfulfilled lives and fraying relationships, Third Time Lucky is a largely observational piece with a sliver of mystery afforded by a plot strand concerning a young man with memory loss.
A sometimes peculiar blend of realism and fanciful storytelling
Following its world premiere at the Tokyo Film Festival in the competition strand, Third Time Lucky should receive further engagements at events, particularly those that specialise in Japanese cinema. However, this may prove to be a stumbling block since, for all of its qualities, it isn't immediately distinguishable from the numerous slice-of-life dramas that are produced by Japan's indie sector every year. Although Third Time Lucky may struggle to stand out from the crowd if initially showcased in such company, a streaming pickup is still possible.
As in Happy Hour, events take place in Kobe, where middle-aged care worker Haru (Rira Kawamura) is in a long-term relationship with doctor Soichiro (Yasunobu Tanabe) and experiencing empty-nest syndrome since his daughter, to whom she had become deeply attached, has gone overseas to study. Haru's life is further upended when Soichiro bluntly announces that he is in love with someone else, forcing her to move back in with her mother. But a chance encounter with a young amnesiac (a suitably inscrutable Tomo Kawamura) instills a sense of purpose, prompting her to take him home and name him Naruto (meaning "saviour").
Meanwhile, we also spend time with Haru's brother Takeshi (Katsuyuki Kobayashi), a part-time meatpacker and aspiring rapper. Takeshi is married to Mikako (Hiromi Demura), who dutifully shoots and edits his music videos but is perpetually tired due to weaning herself off sleeping pills. Their relationship hits a rocky patch when Mikako starts acting strangely having been prescribed medication by Soichiro.
Although an intriguing missing-person element is introduced early on, it's half an hour before Naruto turns up, with Nohara preferring to build characters gradually and tease out backstory through verbal exchanges that are relatively light on shoehorned exposition. As a portrait of everydayness, Third Time Lucky focuses on lives that could be considered merely humdrum but are revealed to be trapped in emotional stasis by trauma or illnesses.
This is especially evident in the strong performances of Kawamura (who co-wrote the screenplay) and Demura, which convey the defeated tiredness that can turn even simple routines into a hurdle. Their convincingly worn-down manner is contrasted by a borderline Zen-like Kobayashi. His outwardly easygoing husband has found meaning in his music created through word-association exercises, but he can seemingly only communicate in those terms. However, a blistering club performance, in which Takeshi raps about family crisis, points to creativity as a coping mechanism.
Third Time Lucky evinces the flat visual style and muted colours that have become typical of Japan's digitally-shot ensemble indie dramas, but Nohara's approach to pacing is quite distinctive. As with Happy Hour, the slowness of the intersecting proceedings can feel overly deliberate, but that only makes the occasional emotional outbursts more effectively jarring, while engendering greater consideration about seemingly irrational behaviour that would otherwise come out of left field. For instance, a scene in which Haru locks Naruto in his guest room to prevent him from leaving, then threatens to slash her throat, would tip the film into crazed melodrama were it not for all the subtle work that preceded it. Complementing this very particular rhythm is Sato Yasuro's gently unassuming score, which alternates between light, piano-based jazz and mid-tempo percussion, but fleetingly brings in disquieting string elements to indicate trouble beneath the mundane surface.
It's a sometimes peculiar blend of realism and fanciful storytelling, with the subplot involving Naruto's identity not entirely gelling with the unvarnished minutiae. However, Nohara at least manages to sidestep the pitfall of using the character as a device to neatly resolve everyone's problems, despite the heroic connotations of his assumed moniker. Minor tonal issues aside, acute writing and deft performances ensure that Third Time Lucky is a highly promising debut feature.
Production company: NEOPA Inc.
International sales: Nikkatsu Corporation, international@nikkatsu.co.jp
Producer: Satoshi Takata
Screenplay: Tadashi Nohara, Rira Kawamura
Editing: Tadashi Nohara
Cinematography: Yoshio Kitagawa, Yukiko Iioka
Music: Sato Yasuro
Main cast: Rira Kawamura, Katsuyuki Kobayashi, Hiromi Demura, Tomo Kawamura, Yasunobu Tanabe