Dir: Lucas Belvaux. France/Belgium, 2017. 114 mins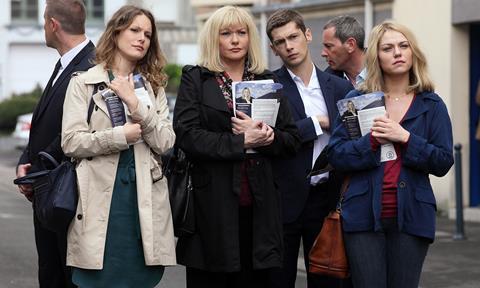 At heart a solid social realist protest picture, This Is Our Land is one of those films that acquire their urgency from the particular moment when they are made. The fact that Lucas Belvaux's film has attracted its own share of protest makes it all the more for the moment, quite apart from its considerable virtue. A drama that seeks to analyse the dangerous appeal of reactionary populism, This Is Our Land (Chez Nous) has attracted ire from the French far-right FN (Front National), which regards it as a slur on the party and its leader Marine Le Pen.
At once a passionate political statement and a serious, if sometimes over-explicit, attempt to analyse the contradictions of the current rise of the right
This will make the film all the more of a hot potato on release in France on February 22, two months before the first round of the nation's presidential elections. The success of Ken Loach's I, Daniel Blake, plus international anxieties about the rise of the right, should ensure receptive audiences in France and on the festival circuit, and strong performances by leads Emilie Dequenne and André Dussollier will enhance commercial prospects.
Belgian director and former Claude Chabrol star Belvaux attracted much attention in 2002 with his formally inventive Trilogy, but solid recent films including One Night (2012) and Dequenne starrer Pas son genre (2014) have been less prominent. This Is Our Land should put Belvaux back in the spotlight: it is at once a passionate political statement and a serious, if sometimes over-explicit, attempt to analyse the contradictions of the current rise of the right.
The film's key premise is that perfectly decent, compassionate people can all too easily – almost without realising – fall under the spell of racist paranoia. Its heroine is Pauline Duhez (Dequenne), a hard-working, compassionate nurse and single mother of two in the northern French town of Hénart; her father (Patrick Descamps) is a communist, she considers herself to be on the left, and she's on good terms with Muslims in her community. Surely if a woman like this can find herself coming under the spell of reactionary nationalism, no-one is safe.
Pauline is approached to stand as a mayoral candidate by affable local doctor and politician Philippe Berthier (Dussollier). He has identified her as having the right approachable profile to be a poster girl for the right-wing RNP recently founded by Agnès Dorgelle (rather broadly played as a monstrous matriarch by Catherine Jacob) – a party that makes a point of distancing itself from the more overt racism associated with her father's Patriotic Bloc.
Dorgelle and the RNP clearly represent Marine Le Pen's Front National, which these days seeks to dissociate itself from the more hardcore image of her father and predecessor Jean-Marie Le Pen. But it's clear that the RNP's 'liberal' image is skin-deep, and highly duplicitous. The party makes a point of claiming that it's neither left nor right, that it's for the people, against traditional politics and for breaking the mould – all rhetorical tactics associated with the new populist right, whether it's Trump's Republicanism or UKIP in Britain.
Flattered by Dorgelle's attention, and with her own issues to contend with, Pauline agrees to stand as mayor – although it soon becomes clear that she's merely a puppet candidate. She also finds herself more a prisoner than a player, shocked by her supporters' brutal 'security' tactics. Meanwhile, she's enjoying a relationship with her former boyfriend Stéphane, aka Stanko (Guillaume Gouix), recently returned to town. What she doesn't know is that Stéphane, a gentle, soft-spoken soul by day, by night goes on migrant-bashing sorties with a contingent of fascist bullyboys – bitterly ironic, given his own immigrant roots.
It's a clever move of Belvaux to highlight its characters' ambivalence by casting such sympathetic actors – notably Dussollier, whose status in France as a beloved cultural grandee has sometimes allowed him to play counter-intuitively sinister figures, as in 2015 thriller Le Grand Jeu. Where the film scores is in unpicking the weasel fluidity of far-right rhetoric: don't call someone 'neo-Nazi', insists one character, call them a 'nationalist revolutionary'.
At times, the film relies heavily on overstatement. It too insistently has the TV broadcasting racist talk, and undermines its own dramatic subtlety by staging flare-ups between characters from different positions – as when Pauline's left-wing friend Nada (Charlotte Talpaert) finds herself accused of 'anti-French racism' for berating an anti-Arab neighbour. And Nada is too neatly set in opposition to Nathalie (Anne Marivin), a perfectly amiable bourgeoise who, before long, is applauding her teenage son for his own racist propagandising. There's more delicacy to be found in smaller characterisations, like Stéphane Caillard's breezy Victoire, Pauline's PR advisor who represents the new sexy, chic, aspirational face of neo-Nazism.
Dramatically too, the film is unbalanced –strong in its gradual set-up of Pauline's espousal of the right, unconvincingly abrupt when it comes to her eventual reversal. The film also goes into less cogent mode when it introduces a strand of thriller-ish intrigue; talk of secret dossiers dilutes a drama that's most effective when focused on the distorting effect of rhetoric on people's sensibilities and affiliations.
But Dequenne persuasively motors the film as an Everywoman whose very humanity is what leaves her open to such brutal exploitation. Solidly made, in an unfussy, somewhat Loachian vein, This Is Our Land is not a major breakthrough in political cinema, but it's certainly a film that deserves to be seen, thought about, and learned from.
Production companies: Synecdoche, Artémis Productions
International sales: Le Pacte, c.neel@le-pacte.com
Producers: David Frenkel, Patrick Quinet
Screenplay: Lucas Belvaux, Jérôme Leroy
Cinematography: Pierric Gantelmi d'Ille
Production design: Frédérique Belvaux
Editor: Ludo Troch
Music: Frédéric Vercheval
Main cast: Emilie Dequenne, André Dussollier, Guillaume Gouix, Catherine Jacob, Anne Marivin, Patrick Descamps