Dir: Evan Goldberg & Seth Rogen. US. 2013. 106mins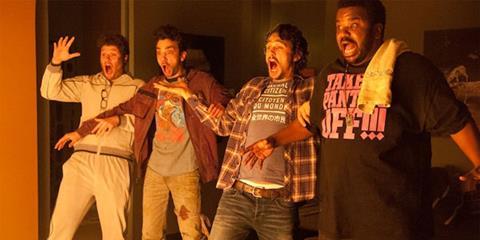 Fleshing out their unreleased 2007 short film Jay and Seth vs. The Apocalypse, multi-hyphenate Seth Rogen and co-producer Jay Baruchel delve into end times with the winning, unabashedly vulgar This Is the End, in which a bunch of comedic Hollywood actors, playing themselves, cope with panic and paranoia while Armageddon unfolds outside around them.
This Is the End offers up an abundance of wild moments of shock, but in the end its greatest surprise may well be the improbable ribbon of feeling and uplift it provides.
Befitting the backslapping nature of its casting, there are inside jokes and sidewinding conversational riffs aplenty, but Rogen and his cowriter-director, Evan Goldberg, honor the conceit in all its zonked-out glory, studding their movie with slapstick gore, eccentric supernaturalism, some skewering of horror and disaster movie conventions and lots of smart digs at particularly masculine vanity and insecurity.
Opening Stateside on June 12, and facing plenty of theatrical competition, This Is the End should nonetheless connect robustly with younger demographics and hang around for a while to boot, vacuuming up repeat business due to its unique premise and positive word-of-mouth.
The movie opens with Rogen picking up best friend Baruchel from the airport. The pair has little more than some videogames and marijuana on the agenda, but eventually head over to a party at James Franco's newly finished Hollywood Hills home. In this frat-pack world, Rogen is the affable George Clooney to Franco's Brad Pitt, and they hold court with ex-costars and friends made mainly though not exclusively on two seminal but short-lived small screen efforts from Judd Apatow, Freaks & Geeks and Undeclared.
Baruchel is Rogen's "old friend," from Canada, and largely uncomfortable with Rogen's more famous, newer pals (especially Jonah Hill). In the wake of a series of cataclysmic events that leave much of Los Angeles on fire and in ruins, however, a panicked Rogen and Baruchel return to Franco's house, and hole up inside with Hill and Craig Robinson. The next morning, a passed-out Danny McBride joins the gang. Pretty certain that most everyone else has been killed or raptured, the half dozen guys hunker down, and deal with dwindling resources and in-fighting.
As one might expect, a lot of the humour in This Is the End trades in baser instincts; there are drugs, projectile vomiting and even point-of-view footage from a decapitated head. (An array of phalluses also make appearances, including the largest glimpsed onscreen since Watchmen.) But all the irreverent bickering and lashing out leads to some terrifically funny bits, including an intense argument about McBride's masturbatory habits.
And This Is the End isn't just riff-happy, sophomoric dawdling. Though it features lots of cameos (including memorable turns by Michael Cera and Emma Watson), the movie gets in enough shots at horror films and the recent glut of siege tales to partially qualify as genre parody. Other ideas — gripped by cabin fever, for instance, the guys shoot and edit a Pineapple Express sequel — are equally inspired.
Mostly, though, This Is the End is a relationship picture. Even if the versions of themselves the actors are playing are presumably distorted and/or exaggerated for comedic effect, and a bit less sociopathic and drug-addled, the relationships come across as modulated and more or less real, owing to Goldberg and Rogen's investment in the very genuine dynamics of necessarily changing and possibly eroding formative friendships. As with Superbad, which was at its core a comedy about the anxiety of codependent male high school separation, This Is the End digs into the under-discussed drift of fraternal camaraderie.
Taking a cue from their Pineapple Express helmer, David Gordon Green, Goldberg and Rogen invest in the infrastructure around a couple big comedic set pieces, embracing an otherwise modest, often orange-hued technical package whose carefully picked moments of gonzo excess complement the heightened boorishness of some of the dialogue and scenarios.
The rapport and enormous likeability of the cast certainly endears an audience to the film. The frenzied, deranged bluster of McBride, the nervous insecurity of Baruchel and the often deadpan musings of Robinson make for an amusing contrast, while Franco wraps himself up in the cloak of a Mad Hatter Auteur, to funny effect.
This Is the End offers up an abundance of wild moments of shock, but in the end its greatest surprise may well be the improbable ribbon of feeling and uplift it provides. Guys have feelings, too?
Production companies: Columbia Pictures, Mandate Pictures, Point Grey
Domestic distribution: Sony Pictures
Producers: Evan Goldberg, Seth Rogen, James Weaver
Executive producers: Nathan Kahane, Barbara Hall, Jason Stone, Ariel Shaffir, Kyle Hunter, Nicole Brown
Co-producers: Jay Baruchel, Matthew Leonetti Jr.
Screenplay: Evan Goldberg & Seth Rogen, based on the short film Jay and Seth vs. The Apocalypse by Jason Stone
Cinematography: Brandon Trost
Editor: Zene Baker
Production designer: Chris Spellman
Music: Henry Jackman
Website: www.ThisIsTheEnd.com
Main cast: Seth Rogen, Jay Baruchel, James Franco, Craig Robinson, Jonah Hill, Danny McBride, with Emma Watson, Michael Cera, Jason Segel, Aziz Ansari, Rihanna, Paul Rudd, Mindy Kaling, Martin Starr, David Krumholtz, Kevin Hart and Christopher Mintz-Plasse