Ben Elton investiates what it means to be Australian in this broad comedy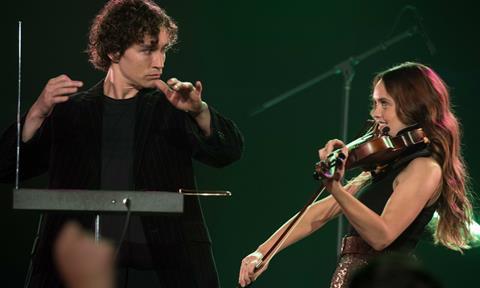 Dir/scr. Ben Elton. Australia. 2017. 102 mins.
Ben Elton's first directorial outing since 2000's Maybe Baby, Three Summers tackles a common but complex antipodean question: what does it mean to be an Australian in the 21st Century? From Down Under to Australia Day, plenty of other local filmmakers have pondered the same, though not in a folk festival-set romantic comedy. And while the British comedian turned writer/helmer is appropriately placed to explore the subject with an informed eye, having called the country home for much of the past three decades, his warm, well-intentioned feature ultimately proves broad and blunt.
Three Summers endeavours to squeeze as much of modern Australia into its 102-minute duration as it can
That's by design; though steeped in the all-too-timely topic of multiculturalism — and referencing issues such as immigration, Aboriginal reconciliation, the treatment of asylum seekers and the nation's problematic past — Three Summers aims to cultivate easy feel-good laughs and to attract the widest possible audience in the process. Alas, while kind word of mouth may boost its local fortunes when it jumps from its Melbourne International Film Festival premiere to a November Australian theatrical release, travelling much further might be difficult. Culturally specific comedies don't always resonate elsewhere, even when broaching universally relevant themes, and Elton's film is as Australian as they come.
In fact, Three Summers endeavours to squeeze as much of modern Australia into its 102-minute duration as it can, with its festival backdrop — the fictional Westival — dubbed "Australia in a tent" by community radio announcer Queenie (Magda Szubanski). She's a linking character, coming into contact with the rest of the movie's main players, observing their interactions, and advocating for inclusion and acceptance. Predictably, it takes some time for the surrounding folk-lovers to heed her words.
Chief among them are Keevey (Home and Away's Rebecca Breeds) and Roland (Robert Sheehan, the film's only UK import). The earthy, fiddle-playing Irish folk band lead singer and the arrogant techno-folk-funk theremin maestro offer up a quick case of opposites attracting, but soon find their conflicting attitudes and outlooks getting in the way of potential romance.
As the feature's title indicates, Three Summers follows their will they, won't they antics across a trio of festivals, while also charting the exploits of several other Westival attendees. Accordingly, if there's one thing that Elton's film isn't lacking, it's interconnecting subplots.
Among those are Keevey's heavily imbibing father (John Waters) and the AA leader (Deborah Mailman) trying to get him to confront his excessive drinking, a Morris dancer (Michael Caton) adamant that being Australian is a privilege that needs to earned and his horrified teenage granddaughter (Nichola Balestri), an outspoken Noongar didgeridoo player (Kelton Pell) and one of his troubled young charges (Joseph Pedley), and a fostered Afghan refugee (Amay Jain). In addition, a humourless security guard (a scene-stealing Kate Box) tries to enforce order, and opinionated band The Feminasties struggle with their changing group dynamic.
All of that visible diversity — showcasing a range of ages, backgrounds and opinions in the film's lengthy list of characters — is a noteworthy feat, and serves the extensive cast nicely. Representation doesn't immediately equate to depth, however. Instead, Three Summers keeps its proceedings and protagonists as light and fond as its scenic sights, in an overt effort that's all affable surface.
It's a testament to Elton's handling of tone that the amiable atmosphere doesn't subside, though it's hardly surprising that the movie's politics and comedy sit awkwardly together, that jokes about Tinder already feel dated, and that subtlety proves a foreign concept. Indeed, Australian soundtrack snippets that literally voice the desired emotions or describe the situation unfolding (Gotye's 'Somebody That I Used to Know' when Keevey and Roland cross paths again; Little Birdy's 'Beautiful to Me' in a touching moment) provide an apt indication of just how generic and transparent — albeit well-meaning — the entire feature is.
Production companies: Invisible Republic, Taylor Media
International sales: Arclight Films, info@arclightfilms.com
Australian distribution: Transmission Films
Producer: Sue Taylor, Michael Wrenn
Executive producers: Mark Anderson, Jasper Graham
Cinematographer: Katie Milwright
Editor: Peter Pritchard
Production designer: Clayton Jauncey
Costume designer: Terri Lamera
Cast: Robert Sheehan, Rebecca Breeds, Michael Caton, Kelton Pell, John Waters, Magda Szubanski, Kate Box, Deborah Mailman