Dir/scr. Rama Burshtein. Israel, 2016, 111 min.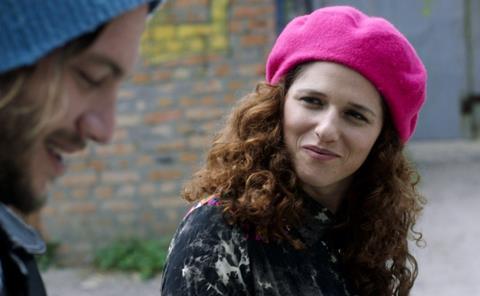 Michal (Noa Knoller) is 32 years-old, born secular but for the last 12 years religious of her own choice. Since then, she has tried unsuccessfully to find the right husband. Now she's fed up. She has booked a wedding venue, bought a dress and in a month's time she's getting married. She has no idea who the husband will be, but she refuses to doubt that God will provide the right candidate, even if it's at the last minute.
Burshtein keeps her camera close on her actors, never allowing much air into the frame
Rama Burshtein, whose bittersweet debut Fill the Void took place entirely in the Jewish orthodox community of Jerusalem, returns to the same place - and in a roundabout way, the same theme - for her follow-up, Through The Wall (La'vor et ha'Kir). This time, however, the approach is quite different. Branded as a romantic comedy, Through the Wall looks like a series of TV sketches separated by black screens, some of them loosely romantic, others occasionally amusing. It is pleasant to watch, needs a much stronger structure to hold it together, but mature audiences - especially with some affinity to Jewish traditions - should enjoy it.
When her promised spouse cancels their impending marriage at the last minute, telling her that he simply doesn't love her, Michal refuses to cancel the arrangements and sets out frantically to find someone who will make a respectable married woman out of her, provide her with a home and children, and would also be sufficiently obliging to go on and live in his company for the duration.
In her desperate search, with the help of matchmakers, she gets to meet one suitor who says he will look only at the woman who will marry him, a second suitor who is blind and needs an interpreter to make himself understood, and a third who is nice and handsome and almost fit for the job, but is drafted for army reserve service and can't meet Michal's deadline.
There is a fourth, however - Yoss (Oz Zahavi), a pop star and teen idol whom Michal meets and almost falls for on a pilgrimage to the grave of a famed rabbi in Ukraine. And finally, there is a fifth, Shimi (Amos Tamam), the owner of the wedding venue, who is around watching her from the film's early stages to the very end.
Each one of these characters deserves at least one sketch, Yoss and Shimi are entitled to more than that, but ultimately the entire picture rests on the shoulders of Noa Knoller. She is undoubtedly cute, charming and often funny, unpretentiously pretty, although appearing in every single frame of the film may be a bit too much of a challenge. The women around her, whether it be her mother (Irit Sheleg), sister (Dafi Alpern) or best friend (Ronny Merhavi), offer lots of sympathy but none of them is much more than a supporting character.
Be due to budget or inexperience, Burshtein keeps her camera close on her actors, never allowing much air into the frame, with the background rarely featured. Material worries do not seem to concern any of the characters that much and some explanation of secular versus religious conduct might help audiences that are unfamiliar with Jewish customs, particularly since there seems to have been an effort, underlined by the musical selections on the soundtrack, to downplay the differences between them.
And finally, there is faith. Not the philosophical concept but the kind of trust some people have that things will turn out alright in life, despite appearances to the contrary - like they do in the movies. Those who have that faith will have much more fun here.
Production companies: Norma Productions
International sales: The Match Factory (info@matchfactory.de)
Producer: Assaf Amir
Cinematography: Amir Yasour
Editing: Yael Harsonsky
Production design: Ori Aminov
Music: Roy Edri
Cast: Noa Knoller, Amos Tamam, Oz Zahavi, Irit Sheleg, Ronny Merhavi, Dafi Alpern, Oded Leopold, Udi Pers, Jonathan Rosen