Dirs: David Farrier, Dylan Reeve. New Zealand. 2015. 92 mins.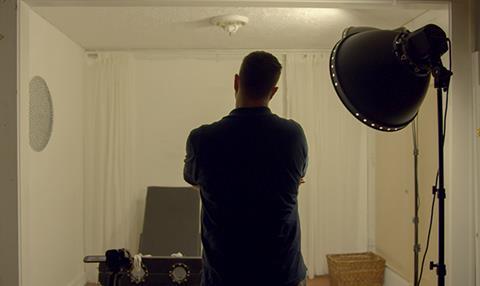 A story about competitive tickling competitions sounds like one of those light-hearted BuzzFeed-style posts that's good only for a quick chuckle and share on Facebook. But in this documentary by New Zealand TV journalist and professional prober of life's bizarre side David Farrier and his tech-oriented buddy Dylan Reeve, it turns into a surprisingly tense and increasingly weird detective story about the shadowy, threatening, abusive figure that, it turns out, lies behind the seemingly innocent divertissement.
The menace of legal action from what Farrier calls "bullies with way too much money" keeps things tense and meta-cinematic
Tickled is unexpectedly compelling, alternately painful and funny and deeply sad. This feature-length documentary, with Britain's Stephen Fry on board as associate producer, could see some theatrical action after its Sundance World Documentary Competition debut – beginning with Australia and New Zealand, where Vendetta Films has already come on board to distribute. Farrier recently announced his departure from Newsworthy, the New Zealand TV news show he co-presented, in order to dedicate himself to Tickled's promotion.
It's true that at times his perky narration, half indignant, half tongue-in-cheek, and the confrontational, hidden-camera style of some of the film's investigative sequences, remind us of one of those exposés British comedian/journalist John Oliver used to do on The Daily Show before he became too well-known.
But there's something else going on in Tickled too, something a little more cinematic. Part of this is a portrait of a lost blue-collar America, a post-Springsteen world where young men from no-hope towns try to scrape some money together by letting themselves be pummelled in Mixed Martial Arts bouts – or being tied down and tickled, on camera. If that sounds a little reminiscent of Foxcatcher, at least in mood, it is.
"I've made a career out of looking at the weird and bizarre side of life", says Farrier at the beginning, over footage of him interviewing a cranky survivalist, or being kicked by a farmyard donkey. The voice-over narration continues as we see him at work in the newsroom, where his attention is caught by an advertisement promising good pay for participants in a "competitive tickling competition". But when he writes to the organisers asking for more information, he receives a pugnacious email in return, saying the company has no wish to associate with "a homosexual journalist". Odd, Farrier thinks, as most of the man-on-man tickling videos he is turning up on the internet are so clearly 'gay'.
As Farrier is a reporter first and foremost, the abusive email is like a red flag to a bull (the documentary is at least in part a cautionary tale about how not to handle the media). But what happens next beggars belief, as two men – presented in the film as a couple of cagey legal enforcers – are flown first class from the US to New Zealand to put the frighteners on Farrier and co-director and family man Dylan Reeve, who becomes involved due to his skill at following internet trails and, though he scores far less screen time than Farrier, acts as a kind of moral touchstone for the audience, seeming more incensed than his witty friend and colleague at the company's bullying tactics.
It's at this point that Farrier and Reeve head for the States to try to confront the mysterious Jane O'Brien, the apparent owner of the company that organises the tickling competitions,, who even her legal counsels admit to never having met.
The menace of legal action from what Farrier calls "bullies with way too much money" keeps things tense and meta-cinematic – it seems producer Carthew Neal did consider shutting down production at one point after a barrage of legal threats. Meanwhile, the directing duo criss-cross the States tracking down young men who have been paid to participate in tickling 'competitions' (and fallen victim to online character assassination when they tried to go against the organisers), interviewing journalists who have tussled with the story in the past, and enjoying an interlude with an upfront, self-confessed tickling fetishist and website entrepreneur who confirms that tickling is indeed a gay male 'thing' in some quarters.
It helps that the first-time directors have excellent support from DoP Dominic Fryer, editor Simon Coldrick and a soundtrack that mixes original electronica by Berlin-based DJ-composers Rodi Kirkcaldy and Florian Zwietnig with tracks recycled from the soundtrack of Shane Carruth's Upstream Color.
Atmospheric bridging sequences of post-industrial wastelands, scuzzy LA backstreets and snowbound Michigan suburbs work with the sometimes suspenseful, sometimes melancholic soundtrack to broaden the film's ethical and emotional focus. And if by the end there's an uneasy feeling that we've just witnessed a documentary trial by camera, it's one which never loses its feel for the odd human stories it touches – even extending some sympathy, right at the end, to the profoundly damaged villain of the piece.
Production companies: A Ticklish Tale Ltd
International sales: MPI Media, nicola@mpimedia.com
Producer: Carthew Neal
Associate producers: Richard Ivey, Stephen Fry
Executive producer: Justin Pemberton
Cinematography: Dominic Fryer
Editor: Simon Coldrick
Music: Rodi Kirkcaldy, Florian Zwietnig, Shane Carruth