For her follow-up to Raw, Julia Ducournau delivers 'a deranged cocktail of outrage, excess, conceptual ferocity and sheer silliness'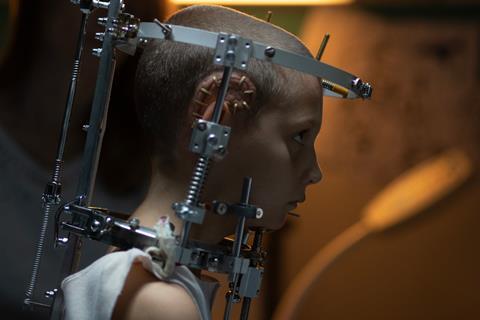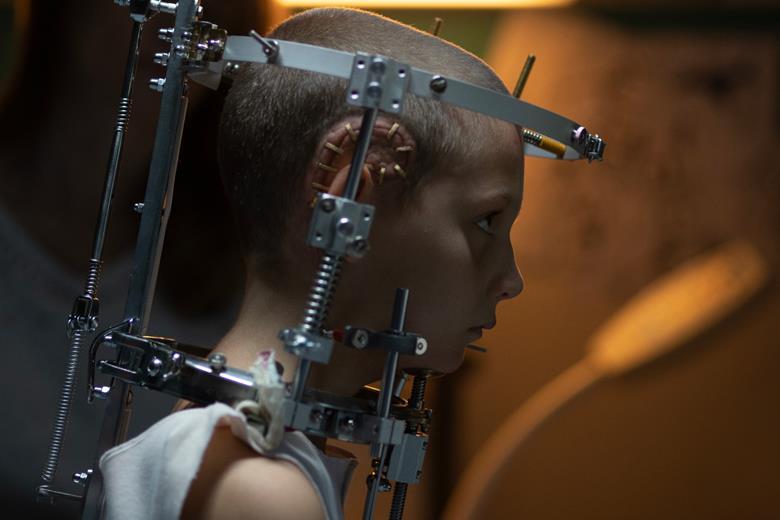 Dir. Julia Ducournau. France. 2021. 108 mins.
Anyone hoping for a shock blast from this year's Cannes Competition can finally revel in the radical weird-out of Julia Ducournau's Titane. The long-awaited second film from the director of 2016 French horror hit Raw, Titane is out there, all right – but it's out there in so many different directions that viewers may quickly give up on gleaning any logic, and just go with its increasingly febrile dream-like flow. The film is so crammed with undeveloped possibilities, bold as they all are, that it makes for a frustrating spectacle, although one you can never take your eyes off. Following the female perspective and confrontational intensity of Raw, Titane is bound to find an avid following among fans of extreme cinema, lovers of hyper-icky body horror and adepts of post-modern theory alike, while a lead role from stalwart Vincent Lindon should ensure healthy box office – though fans may be startled to see how far out of his comfort zone he has strayed.
A frustrating spectacle, although one you can never take your eyes off
A narrative that seems like a free-associative fugue through serial killer tropes and the Cronenbergian gynaeco-Gothic, Titane takes its name from the metal titanium used in surgical prostheses. A prelude shows a car crash involving a young girl named Alexia and her father (a nicely lugubrious turn from director Bertrand Bonello), after which he requires the implantation of a metal plate in her head. Flash-forward a few years and the metal seems to have had an odd effect on her (although even before the crash, she was acting pretty oddly). Played as an adult by strikingly uninhibited newcomer Agathe Rouselle, Alexia now works as a dancer at motor trade shows, one of several young women who do cheesy erotic dances over the bonnets of still cheesier cars. Heavily-tattooed tough girl Alexia – on her chest, 'Love Is a Dog From Hell' – soon shows she has a way of dealing with unwelcome male attentions, while a sapphic moment with a fellow dancer (Raw's Garance Marillier) also brings out her spiky side.
Meanwhile, Alexia's most intense physical relationship is with one of the showroom cars, a flashy confection emblazoned with flames, and a backseat night of mechanical passion leads to strange transformations going on in her body (the human-machine intimacy echoing Zoe Wittock's recent fantasia Jumbo, which similarly made copiously surreal use of engine oil).
After a mesmerisingly odd build-up – and a perhaps misjudged shift of tone into homicidal farce with a dash of De Palma – Alexia goes on the run, and decides to change her identity. Cutting her hair and performing a radical act of impromptu auto-rhinoplasty, Alexia presents herself as a boy, then forms an increasingly perverse father-son bond with Vincent (Lindon), the troubled, body-pumping, steroid-shooting den daddy to a squadron of firefighters - whose all-male dance sessions suggest a flashier tribute to Claire Denis's homoerotic images of the Foreign Legion in Beau Travail.
The film gets madder as it proceeds – and Alexia and her daddy ever more wild-eyed - and overall, there's not much of what you'd call a recognisably human touch, although a brief appearance by Myriem Akheddiou, as Vincent's ex, brings a welcome breath of emotive nuance. But looking for realistic character representation is beside the point in a film that's fiercely assertive in its comic-strip aesthetic.
New find Rousselle, who physically and emotionally pushes herself to audacious limits – and who barely utters a word throughout - is an extraordinary presence, her angular features and intense glare working to ferociously imposing effect, especially under the torrid expressionistic lighting of returning Raw DoP Ruben Impens. A physically and emotionally pumped-up Lindon, meanwhile, is the solemn monolithic presence we're used to; but where he usually uses his glowering looks and imposing bulk to somewhat reassuring effect (as in his Everyman roles in Stéphane Brizé films like The Measure of a Man), here he projects a disturbance that's entirely new, in a way that proves both unsettling and oddly affecting.
Titane is thematically rich, certainly, and fans and critics alike will have a ball picking over its themes of gender fluidity, toxic masculinity, female desire and the kind of transhuman/cyborg theory associated with thinker Donna Haraway. Others will just revel in the all-cylinders-blazing flamboyance and some terrific showpieces, like the tracking shot through the car show, a firehouse party set to a Future Islands number (conceived a bit like the Rihanna moment in Céline Sciamma's Girlhood, but with muscle boys) and conflagrations galore (arguably just a bit too galore). By the time we reach an apocalyptic payoff, Titane has skated on and off the rails several times, with insouciant abandon. You miss the combination of bravado and control that made Raw work so well, but the deranged cocktail of outrage, excess, conceptual ferocity and sheer silliness on display here will make you gasp – and occasionally flinch.
Production companies: Kazak Productions, Frakas Productions, Arte France Cinéma
International sales: Wild Bunch: aguilhem@wildbunch.eu
Producer: Jean-Christophe Reymond
Screenplay: Julia Ducournau
Cinematography: Ruben Impens
Editor: Jean-Christophe Bouzy
Production design: Laurie Colson, Lise Péault
Music: Jim Williams
Main cast: Vincent Lindon, Agathe Rouselle, Garance Marillier, Laïs Salameh