Johnny Ma's colourful film is centred around a Chengdu Opera troupe on the verge of collapse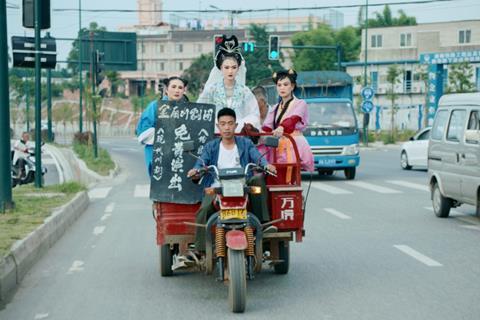 Dir/scr: Johnny Ma. China. 2019. 104 mins
A touching but dramatically undernourished tribute to one of China's dying traditional artforms Canadian/Chinese director Johnny Ma's (Old Stone) second film focuses on a Sichuan Opera troupe whose existence is threatened by urban redevelopment and dwindling audiences, as well as the easy money performers can make by reducing their art to magic stunts for the entertainment of tourists in hot-pot restaurants.
A story as thin as a stage curtain
It's not really necessary to know anything about Sichuan Opera – a regional variation on the better-known Beijing form of Chinese musical theatre – to appreciate an archetypal story about a troupe of traditional artists in the twilight years of their profession. Shades of La Strada, Shakespeare Wallah and Ozu's A Story of Floating Weeds spread over a film that spends an enjoyable amount of its running time simply charting the genial greasepaint camaraderie of a real Sichuan Opera troupe based in Chengdu.
Festivals or arthouse programmers attracted by this niche curio would be well advised to flag up the fact – not obvious onscreen – that all the actors in the film are opera singers and musicians playing versions of themselves, as it makes for a richer viewing experience, and excuses the flatness of some off-stage performances.
The colourful troupe, seen initially touting for customers in full costume in the back of a motorbike pickup truck, lives and performs in a ramshackle, warehouse-like space in a run-down part of a Chinese city that is in the throes of modernisation. Bulldozers have already begun smashing through surrounding houses and properties, and the theatre itself has been served with a demolition order which stern troupe owner and matriarch Zhao Li (Zhao Xiaoli) is determined to fight. It doesn't help that the company's young star, Zhao Li's strong-willed niece Dan Dan (Gan Guidan), is secretly moonlighting as a sexy nightclub torch singer, nor that the audiences who shuffle in dutifully to see the troupe's nightly performances are all well past retirement age.
That's pretty much it for plot in a stretched film that sees aunt and niece supplying most of the dramatic beats, with the rest of the troupe filling in background colour. What makes To Live To Sing more than a well-meaning "let's save the theatre!" drama is the way it blurs the line between life and stage. In the film's first ninety minutes, this skein mainly revolves around a series of mysterious urban sightings of The Dwarf, one of the Sichuan Opera's stock characters. But in the final quarter hour, a show that begins on stage explodes into a full-scale, screen-filling fantasy sequence.
The director and camera shower love on the costumes, make-up, traditional wooden instruments, rough signage and makeshift props of this shoestring-budget world on the verge of extinction – and along with that stirring finale, this tender analogue devotion goes some way to making up for a story that is as thin as a stage curtain.
Production companies: Shenzhen Ming Culture Communication Co. Ltd, IMAGE X Productions, Shanghai Tongyue Industrial Co Ltd
International sales: Films Boutique, contact@filmsboutique.com
Producers: Wu Xianjian, Jing Wang
Production design: Zhang Xueqiang
Editing: Ana Godoy
Cinematography: Matthias Delvaux
Music: Jongho You, Jimin Kim
Main cast: Zhao Xiaoli, Gan Guidan, Yan Xihu