This third adaptaton of a Daniel Woodrell novel (after Ride With The Devil and Winter's Bone) features Anna Friel as an blowsy Ozarks matriarch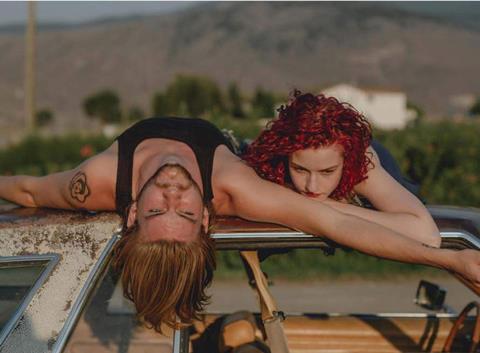 Dir. Juanita Wilson. Ireland/Canada, 2017, 112 mins.
Irish director Juanita Wilson (As If I Was Not There) turns her hand to Daniel Woodrell's "country noir" in Tomato Red, an awkward, stumbling trip to the Missouri Ozarks which was shot in British Columbia by the talented Piers McGrail (Glassland). The settings never really match the story; the cast (including an unlikely Anna Friel as a blowsy trailer trash grifter) never really fit their characters; but McGrail has lit a world apart, and Tomato Red is a magic hour in his career.
This film sings its Southernness, but always, jarringly, in the wrong key.
Sallying forth in Ireland through Element Pictures on March 3, Tomato Red's main selling point is that it's the third big-screen adaptation of Woodrell's work after the Ang Lee/James Schamus collaboration Ride With the Devil and Debra Granik's take on Winter's Bone, both Oscar-nominated. Tomato Red is better assessed as a mis-step on its own terms, however, without reference to its successful siblings (an even cursory familiarity with the settings of both Ride and Winter's Bone will lead to as sense of geographical dislocation, apart from anything else).
A grating voiceover draws us down south, where Arkansas drifter Sammy (Jake Weary) is released from prison on parole to wind up on the wrong side of West Table, Mo, in a neighbourhood called Venus Holler. Sammy, a tattooed boozehound who never quite manages to fasten the buttons on his shirt throughout Tomato Red's 112-minute running time, is quickly adopted by the Merridew family: mother Bev (Friel), flame-haired daughter Jamalee (Julia Garner), and her handsome, sexually ambivalent brother Jason (Nick Roux).
Jamalee and Jason have been engaged in some small-time scams, mainly breaking and entering in the affluent part of town, but also involving Jason's awkwardly-signalled prostitution. Jamalee wants another kind of life, away from her mother's sexual pragmatism and the squalor of their existence. The uneducated Sammy becomes drawn into their dysfunctional dynamic. Occasionally the camera moves to capture a gun hanging on the wall. Everyone here is trapped by their circumstance, and the rather inauthentic mountain range hems us all into Venus Holler.
Wilson shows ambition in her sophomore feature, a follow up to 2010's Balkan rape drama As If I Was Not There. Yet she's always a tourist in her own film, too fascinated by Sammy to pay enough attention to Jamalee and Jason, too beguiled by her surroundings to give the film sufficient roots. Thus when a key character suddenly disappears and the film jack-knifes into a dissertation on the victimisation of her white-trash, red-neck anti-heroes, it's more bemusing than affecting.
Although game, some of the actors – Friel, especially – have been miscast, and the inexperienced Jake Weary ends up with the lion's share of this film thrust on his always-in-evidence six-pack. All struggle with the treacle of Woodrell-via-Wilson's chewy dialogue. Processing Sammy's worldweary voiceover is enough to send the observer into a Southern stupor, a facet of the film that's as over-played as Jamalee's hair, which isn't so much red as purple violet. "There's things that are wrong, things we can make good, wrong things," says Jamalee. As one character notes of the family: "You ain't never gonna get bowlegged from toting your brains around."
DoP McGrail's painterly work, however, can elevate Wilson's picture into moments of poetry. A character looks in a mirror, the clouds lift, a freight train passes and a lake in chiaroscuro moonlight express more than any of the cast can easily manage. The score, by Thomas Haugh, Kevin Murphy, Stephen Shannon and featuring A Winged Victory for the Sullen, is also expressive, once it drops the hillbilly tropes and beds down.
This film sings its Southernness, but always, jarringly, in the wrong key. Playing the nationality card is generally to be avoided - Ride With The Devil was made by a Taiwanese film-maker, after all – but moving the Ozarks to British Columbia and filtering the dialogue through an Irish pen results in a film that's like a lost and wandering tourist, in need of a map, and, ultimately, a fast exit.
Production company/International sales: Metropolitan Films, metro@iol.ie
Ireland distribution: Element Pictures
Producers: Daniel Bekerman, James Gill, Elizabeth Flynn,
Executive producers: John Weber, Daniel Woodrell, Ronan Flynn
Screenplay: Juanita Wilson, from the novel by Daniel Woodrell
Cinematography: Piers McGrail
Editor: Nathan Nugent
Production design: Zosia Mackenzie
Music: Thomas Haugh, Kevin Murphy, Stephen Shannon
Main cast: Jake Weary, Julia Garner, Anna Friel, Nick Roux