Carlos Conceicao's confident, slyly deceptive second feature looks at young soldiers during wartime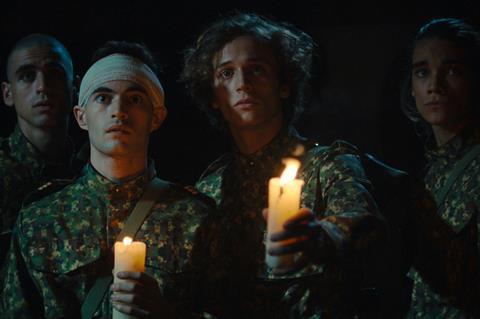 Dir/scr: Carlos Conceicao. Portugal/France/Angola. 2022. 119 mins.


A blazingly confident second feature from Portugal-based Angolan writer-director Carlos Conceicao, Tommy Guns juggles arthouse and genre tropes with persuasive dexterity. Audacious and slyly deceptive in its structure, Conceicao's follow-up to fantastical picaresque Serpentarius (2018) plays for much of its length as a study of young soldiers dealing with the psychological pressure of wartime. But along the way there are occasional horror-movie touches, prefiguring an action-heavy Grand Guignol climax that provides a satisfying payoff to the picture's interlocking enigmas.


A richly layered text which interweaves the plausible, the purely symbolic and the unambiguously supernatural
Throughout, Conceicao engages intelligently with the complexities of colonialism and its still-painful legacies, deploying a limpid cinematic prism to do so. Tommy Guns bows in the Golden Leopard competition at Locarno five years after Juliana Rojas and Marco Dutra's Brazilian werewolf extravaganza Good Manners — another Portuguese-language enterprise that revived well-trodden horror turf with scatterings of fresh blood. Good Manners landed Locarno's runner-up prize, parlaying extensive festival exposure into international release in several major territories. With proper handling, Tommy Guns could reap similar rewards.


The original title, Nacao valente ("brave nation"), comes from Portugal's national anthem, written to encourage the country's colonial presence in southern Africa during the 1890s. This would last until the overthrow of the country's militaristic-authoritarian regime in 1974, amid ongoing conflicts in several territories (knowing such background details isn't crucial for understanding the film, but it helps).


Tommy Guns begins amid such strife in rural Angola, 1974. The scene is set with spectacular landscapes captured by cinematographer Vasco Viana; most of the inhabitants we see are sympathetic local tribespeople conversing in the Nyaneka language. These include teenager Tchissola (Ule Balde), who enjoys impromptu mid-forest intimacy with a mop-haired, Horace-reading young Portuguese soldier (Silvio Vieira). Their encounter concludes on a shockingly violent note, the first of three pivotal moments that display the lethal capability of the eponymous, outmoded Thompson submachine gun. 


Following this prologue (the title card appears after 27 minutes), the main action unfolds in a lushly forested but spartanly-appointed compound overseen by a martinet colonel (Gustavo Sumpta). This bald veteran oversees a seven-strong troupe (mostly tousle-haired and model-handsome) with gruff severity. He shows a modicum of warmth only when promoting callow Jose (Serpentarius' lead Joao Arrais) after the lad followed orders by executing camp "traitor" Prata (Meirinho Mendes) — the film's second tommy-gun death.


The third takes place during the film's centrepiece sequence, in which dancer/sex-worker Apolonia (lively Anabela Moreira) — brought in by the colonel to entertain and sexually satisfy his soldiers — performs a sensual dance to the soaring 1970 ballad 'Spring, Summer, Winter And Fall' by Aphrodite's Child. As the golden throat of Demis Roussos delivers notes of superhuman intensity, sexual excitement among the khaki-clad, gun-grabbing grunts simmers to the boil.


The messy consequences upend audience presumptions about what has been going on, and where and why and when. Conceicao delivers a sleight-of-hand twist worthy of M. Night Shyamalan — the basic conceit echoes one particular Shyamalan work from the 2000s — while later tipping his hat to Jacques Tourneur's 1943 classic I Walked With A Zombie. That particular poetic phantasmagoria has long exerted a major influence on another Locarno favourite from Portugal, Pedro Costa. But while Costa's oeuvre is one of restrained austerity, Conceicao embraces genre cinema's more exciting aspects with gleeful exuberance.


Indeed, so strong and persuasive is his direction that many viewers will only stumble across his screenplay's large holes of plot and logic only in retrospect (the Denis Villeneuve of the masterfully manipulative Incendies and Prisoners comes to mind). Even then, much can be forgiven in the name of metaphorical intent; Tommy Guns is a richly layered text which interweaves the plausible, the purely symbolic and the unambiguously supernatural.


Conceicao is aided by the more experienced Viana, who crafts some striking tableaux along the way and especially excels with nocturnal sequences. One indelible late shot, involving an outsize full moon above buildings aflame amid sinister figures looming in the shadows, seems to condense a century of horror cinema into a single image. Stealth MVP meanwhile is digital colorist Marco Amaral, whose myriad credits stretch back to the 1990s and whose sensitive skills have subtly boosted the visual impact of Portuguese pictures across the production spectrum. 


Production companies: Terratreme Filmes, Mirabilis, Virginie Films

International sales: Terratreme Filmes, info@terratreme.pt

Producers: Tiago Hespanha, Luisa Homem, Joao Matos, Susana Nobre, Leonor Noivo, Pedro Pinho 

Cinematography: Vasco Viana

Production design: Artur Pinheiro

Editing: Carlos Conceicao, Antonio Goncalves

Main cast: Joao Arrais, Anabela Moreira, Gustavo Sumpta, Miguel Amorim, Meirinho Mendes, Ule Balde, Vicente Gil, Silvio Vieira, Andre Cabral, Diogo Nobre, Ivo Arroja