Dir. Jason Connery. UK, 2016, 113 mins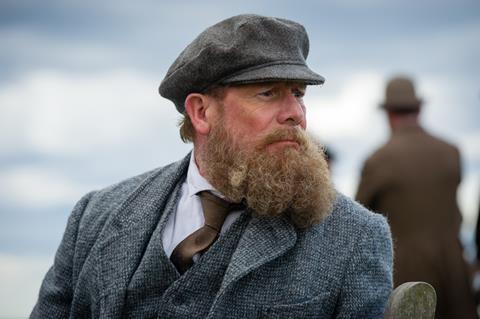 Golf was a family business for proud Scotsman Tommy Morris and his son, also named Tommy. They helped define the rules of the modern game and won eight Opens between them in the late 1800s. It's a family affair for the proudly Scottish Connery clan now too, with dad Sean a renowned devotee of the sport and his son Jason directing greens drama Tommy's Honour, which opens the 70th edition of the Edinburgh Film Festival this week.
Extravagantly be-whiskered golfers would push and shove their way around the course, casually moving balls while being followed by unruly, whisky-swilling crowds.
Jason, known in the UK for playing Robin Hood in a 1980s-era BBC TV series and latterly for directing Pandemic and The Philly Kid, goes after the ball in a solid, dogged fashion here – he gets viewers to the 18th hole, but the going can be mixed on the way. With two noteworthy central performances – a gruff Peter Mullan playing to type as Tommy Snr and rising star Jack Lowden as his impetuous son - Tommy's Honour will be best appreciated by the Tin Cup audience - connoisseurs of the sport, particularly in Scotland, who don't mind a little downbeat drizzle. The fact that this is a father/son drama directed by the son of Scotland's most famous man may draw the curious, looking to draw real-life parallels.
Connery's film is set up in the time-honoured cinematic tradition of the stubborn, tough, hard-nosed dad, played by Mullan, who rams into conflict with his young, headstrong child (Lowden). Tommy Snr is a legend at the Royal & Ancient golf club of St. Andrews, where he keeps the greens and has established the Open. But his son wants to break free of the ties between golfers and their aristocratic masters.
Complicating the conflict is the fact that young Tommy's natural talent for golf far outshines his father's, and his decision to run off with a girl from the wrong side of the tracks (Ophelia Lovibond) shocks and horrifies his staunchly Presbyterian parents (mother Nancy is played by a steely Therese Bradley).
Connery extends the film's appeal with enjoyable sequences depicting how the game was run back then – extravagantly be-whiskered golfers would push and shove their way around the course, casually moving balls while being followed by unruly, whisky-swilling crowds. The archetypal stiff-lipped upper classes (Sam Neill shows up as the Club Captain) would place bets on lower-class, professional players, and allocate them a share of the winnings.
These social tensions lift Tommy's Honour out of the rough, even as melodrama begins to take hold of Pamela Marin and Kevin Cook's screenplay (adapted from Cook's own book). They're even underlined by the knowledge of the social issues which still trouble the game today – St Andrews only voted to allow women in 2014, for example, and the Royal Troon, which is set to host the 2016 Open, is still in consultations over whether to let them in.
But, ultimately, Tommy's Honour is very much framed as a family drama, told in mournful flashback by Tommy Snr as he is pursued by a reporter for The Times. The viewer is fully aware from the outset that it's unlikely to end well for the father/son partnership, even as scene after scene of argument and reconciliation ensue.
You can count on Scotland to look bonny throughout, though, and the country's proud sporting heritage rings true. As the principals play across the film's varied locations, in all weather, viewers get a true sense of golf's real grit, a more essential and raw essence of the sport than is achieved in most coverage today.
Production company: Gutta Percha Productions
International sales: Timeless Films, gareth@timelessfilms.co.uk
Producers: Keith Bank, Bob Last, Jim Kreutzer, Tim Moore
Screenplay: Pamela Marin and Kevin Cook, adapted from Tommy's Honour by Kevin Cook
Cinematographer: Gary Shaw
Editor: John Scott
Production designer: James Lapsley
Main cast: Peter Mullan, Jack Lowden, Ophelia Lovibond, Sam Neill, Peter Ferdinando, Max Deacon, Therese Bradley, Ian Pirie.