South Africa's Oscar-entry is set in the poor white backwater of the 1930s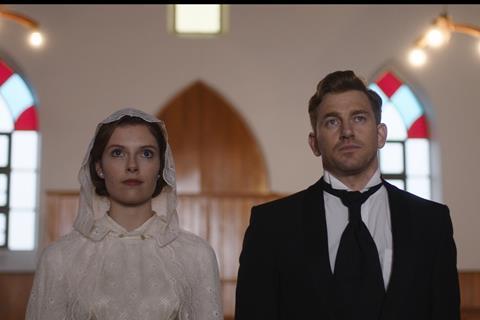 Dir: René van Rooyen. South Africa 2019. 117 minutes
A deracinated young woman reconnects with her roots in René van Rooyen's compelling solo directorial debut Toorbos — South Africa's submission for the International Feature Oscar it won with Tsotsi in 2005. A refreshingly unusual and unpredictable period-piece with mainly Afrikaans dialogue, this 1930s-set character-study about an independent-minded teenager from a forest-dwelling community of "poor whites" is built around a luminous and intriguing central performance by dancer-actor Elani Dekker.
Taking its cue from its offbeat heroine, the film finds and maintains an odd, engaging rhythm
Despite it obvious merits and the fact that it world-premiered as long ago as August 2019, the picture — released domestically last November — has only surfaced at one foreign festival, namely Torino. This COVID-related injustice should soon be rectified as a result of the Academy Award candidacy and resultant international attention. While essentially an accessible, intimate affair which will appeal to TV and streaming audiences, the widescreen-shot Toorbos has enough going on in terms of sensory splendour to warrant proper cinematic exposure.
Having previously co-written and co-directed multi-strand romantic comedy Mooirivier (2015), van Rooyen now adapts Dalene Matthee's 2003 novel — published in English as Dreamforest — which capped the author's popular quartet of fictional volumes set in backwaters of the Republic of South Africa. Unfolding over a seven-year period via four discrete chapters of unequal length, the film follows the transition to womanhood of Karoliena (Dekker) — first encountered as a self-possessed teenager enjoying close physical and spiritual bonds with her native area's diverse ecosystem. She is, quite literally, a "tree-hugger."
Her shanty-dwelling, hillbilly-like community — materially poor but rich in human connections — is threatened by national government schemes in the wake of a 1932 report on the "problem" of impoverished white communities. A timely escape-route appears in the manly form of Johannes (Stiaan Sith), who hails from the same lowly background but has established himself as a respectable businessman in the nearest town. Budding romance quickly leads to marriage, but free-spirited Karoliena realises her error even more rapidly — straight after her wedding night and deflowering, in fact. As she puts it: "in the forest I'm truth, in town I'm a lie."
Taking its cue from its offbeat heroine, the film finds and maintains an odd, engaging rhythm — all the way to a satisfying finale which is characteristically subtle and mercifully averse to any kind of melodramatic excess. Editing duties are shared by co-producer Dries Scholtz and the picture's most seasoned behind-the-scenes contributor, Ronelle Loots: the latter's credits stretch back to 1986 and include international successes in Mark Dornford-May's Golden Bear winner U-Carmen eKhayelitsha (2005) and Wanuri Kahiu's Kenyan, LGBT-themed Rafiki (2018).
Van Rooyen's focus on an intelligent, sensitive, tradition-defying female is very familiar from decades of literature, film and television. Nevertheless, she and her collaborators — Dekkers, a striking redhead of ethereal but earthy poise, is a genuine discovery — find ways to make it feel fresh and engrossing. And while the basic thematic terrain may be well-travelled, the specifics of location and historical context are relatively uncharted. As with Oliver Hermanus' current festival and critical darling Moffie, the idea of telling a story of injustice and oppression from South Africa's past by focusing almost exclusively on whites is riskily audacious. But in each case, the outcome's qualities amply validate the gamble.
Crucially, the relationship in Toorbos between Karoliena and her unspoiled, elemental forest is given just as much prominence and nuance as her complex dealings with Johannes. And while both strands have their unexplained, even inexplicable aspects, these tend to feel more like fruitful ambiguities than distracting errors. The only real misstep relates to clarifying how much time has passed between 1933 and 1939 — which becomes jarringly, disorientingly evident when a radio-announcement suddenly broadcasts the outbreak of World War II.
Production company: The Film Factory
International sales: The Film Factory, South Africa, dries@thefilmfactory.co.za
Producers: André Scholtz, Dries Scholtz
Screenplay: René van Rooyen, based on the novel by Dalene Matthee
Production design: Waldemar Coetsee
Editing: Ronelle Loots, Dries Scholtz
Cinematography: Brendan Barnes
Music: Andries Smit
Main cast: Elani Dekker, Stiaan Smith, Ivan Abrahams, Ira Blanckenberg, Clare Marshall