Dir: Judd Apatow. US. 2015. 125mins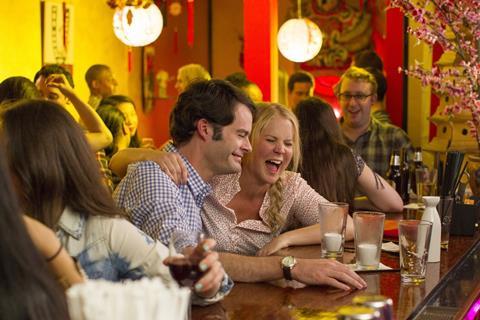 Director Judd Apatow's films often focus on men who have to learn to grow up, but with Trainwreck, it's the lady's turn. This very enjoyable romantic comedy is written by and stars Amy Schumer, a rising stand-up whose sharp Comedy Central series Inside Amy Schumer has made her one of the smartest, funniest new voices in comedy. Trainwreck will only add to her growing acclaim, casting her as a flailing, boozy serial dater who's quite comfortable avoiding a serious boyfriend until, predictably, she meets the perfect guy. Before it starts to lose steam in its third act, Trainwreck is a deft blend of laughs, romance and poignancy — not to mention one of Apatow's most polished, mature works.
The film's first two acts are such an effervescent, spiky delight that it's disheartening to watch the film list badly in its final stretches.
Opening in the US on July 17, Trainwreck will be able to attract Schumer's burgeoning fan base, but Apatow's involvement should also draw crowds, particularly those who have flocked to his previous R-rated hits such as The 40-Year-Old Virgin and Knocked Up. The betting is that good word of mouth among date-night audiences and hip younger viewers will be a major asset, propelling Trainwreck to solid grosses domestically, if not so much from international markets.
New York magazine writer Amy (Schumer) has learned from her ailing father's (Colin Quinn) divorce when she was a girl that monogamy doesn't work, setting her on a course of random hook-ups and dispassionate relationships that never last. But her no-attachments policy is challenged by Aaron (Bill Hader), a kindly sports physician she's supposed to be profiling. Soon, an attraction develops, which both excites and terrifies the commitment-phobic Amy.
Trainwreck features a few intriguing twists on the typical Apatow film. For the first time, he's not directing from his own script — and, the action takes place in New York rather than Los Angeles. Those two distinctions might seem minor, but they seem to invigorate the director, who has created a film that's less flabby and self-indulgent than his most recent outing, 2012's This Is 40. By contrast, Trainwreck is Apatow's most straightforward mainstream romantic comedy, the extended improvisations and bodily humour of old largely absent.
Schumer's script follows a familiar arc — immature screw-up pulls her life together by finding true love — but Trainwreck consistently transcends the clichéd setup by being funnier and wiser than its many paltry peers. The comic has a remarkable eye and ear for the way people talk, in the process skewering everything from men's magazines to society's fascination with star athletes.
Just as she does in her stand-up and on Inside Amy Schumer, Schumer in Trainwreck dismantles the niceties we attach to sex and relationships, going for risqué laughs not because it's naughty but because there's so much truth that can be mined from, for instance, the difficulties of getting your boyfriend to talk dirty to you in a way that's not ridiculous. There's a refreshing frankness to Trainwreck's portrait of modern dating, and Apatow gives his impressive ensemble cast — which includes everyone from Tilda Swinton as Amy's Anna Wintour-like boss to actual NBA superstar LeBron James playing himself — the room to develop a winning rapport so that the film feels populated by a rich collection of lovable characters.
Perhaps most surprising, though, is what a strong performer Schumer proves to be. On her Comedy Central show, she's quite funny in short sketches, but here she gets the chance to play a multi-dimensional character. The actress-comedian makes Amy's childishness endearing while also recognising its shortcomings. Schumer has fantastic chemistry with Hader, a former Saturday Night Live standout who between Trainwreck and The Skeleton Twins demonstrates his suppleness as an actor able to mix humour and drama with effortless charm. (He captures Aaron's nerdy demeanour without overdoing it, revealing the character's depth, quiet dignity and sly romantic streak.)
Still, Trainwreck is Schumer's show, as she gives us a snapshot of a young woman whose relationship issues present themselves in other ways, whether it's through her bittersweet relationship with her nursing home-addled father (Quinn is just right at capturing the man's meagre, still contentious spirit) or in her passive-aggressive exchanges with her younger sister (a lively, slightly underused Brie Larson), who has never been as close to their dad. Trainwreck may be a conventional meet-cute romantic comedy, but there are layers of real feeling underneath, a sense that Schumer and Apatow have invested these characters with intelligence and curiosity so that their struggles resonate beyond easy gags.
The film's first two acts are such an effervescent, spiky delight as Amy and Aaron tentatively begin their courtship that it's disheartening to watchTrainwreck list badly in its final stretches. Apatow's tight rein on the material starts to slip, as the characters begin to behave oddly or meander down uninteresting digressions that stall the comedic momentum. It's both a testament to and a criticism of Trainwreck that the film ends satisfactorily more because of how much we like the main characters than what Apatow and Schumer dream up for the overblown conclusion.
Those grumblings aside, Trainwreck's New York locations bring out the romantic in Apatow, with certain moments nostalgically recalling Woody Allen's valentines to Manhattan. (At one point, Schumer references the veteran New York filmmaker overtly for a snide broadside aimed at his past tabloid troubles.) Apatow's films always have a ragged, agreeably handmade quality to them, but Trainwreck, perhaps because he's working from Schumer's script, keeps a tighter focus on the proceedings than usual. In its modest way, the film finds him evolving from a messy chronicler of messy lives into a seasoned pro who can see his characters' foibles clearly while observing them from an affectionate distance.
Production company: Apatow Productions
Worldwide distribution: Universal Pictures, www.universalpictures.com
Producers: Judd Apatow, Barry Mendel
Executive producer: David Householter
Screenplay: Amy Schumer
Cinematography: Jody Lee Lipes
Production design: Kevin Thompson
Editors: William Kerr, Paul Zucker
Music: Jon Brion
Website: www.trainwreckmovie.com
Main Cast: Amy Schumer, Bill Hader, Brie Larson, Colin Quinn, John Cena, Vanessa Bayer, Mike Birbiglia, Ezra Miller, Dave Attell, Tilda Swinton, LeBron James