Ruben Ostland glosses it up for this Palme D'Or winning satire set aboard a luxury yacht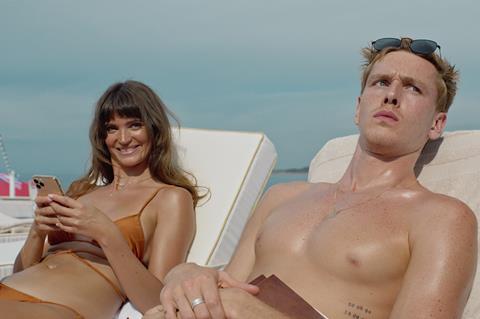 Dir. Ruben Östlund. Sweden/Germany/France/Denmark. 2022. 149 mins
The venerable 'ship of fools' metaphor is a hard vessel to steer. And while Ruben Östlund's satire Triangle of Sadness doesn't entirely run aground, one wishes that this immensely talented film-maker had shown a surer, lighter touch at the wheel. There are flashes of the incisive, caustic insight of his Force Majeure and Palme d'Or-winning art-world satire The Square. But this rather laborious take on the excesses of capitalism, depicted as a luxury yacht headed inexorably for farcical disaster, lacks the pitiless ironic cool that made those two films so memorable.
While the film's political analysis is undeniably pretty much on course, the engine chugs a little too laboriously for best effect
This film somewhat defeats its own rhetorical purpose by coming across as a prestige commodity, and while the polish is essential to its satirical intent, Triangle Of Sadness brings nothing substantially new to warrant the somewhat over-inflated execution. Nevertheless, brisk ensemble acting, some enjoyable moments – both sophisticated and heads-down crowd-pleasing – plus Östlund's auteur status will steer this one safely to commercial and festival berths.
Told in three parts, with chapter headings, the film tilts at the world of privilege, and at the tradeable, sometime skin-deep values that act as an entree to it. One is beauty, as seen in an opening section in which a fashion host interviews a crowd of bare-chested young male models. One of them is Carl (Harris Dickinson), apparently seen as past his prime three years after a prestige ad campaign. He's then shown with his girlfriend, fellow model Yaya (Charlbi Dean, nicely playing up the prickly poise), their meal at a high-toned restaurant devolving into an angry, circular argument about her casual willingness to let him pay for the meal, even though – something that clearly rankles with him – she's the higher earner
The couple's beautiful-people privilege is further explored in the film's second section, set on a luxury yacht cruise – which they've been given for free, as Yaya is a successful influencer (who of course Instagrams herself ecstatically posing with her food, but wouldn't dream of actually eating it). The cruise is an opportunity for Östlund to take some occasionally cutting, but increasingly scattershot jabs at capitalism and its malaises. The white-clad hospitality crew get a pep talk about pleasing the customers and getting juicy tips; "Money! Money!", they all chant, before Östlund cuts to the below-decks crew of cleaners glumly huddled down below. Among the passengers is a spoilt Russian woman who bullies the crew into indulging her belief that "everyone is equal" – a motto repeatedly played for heavy irony – while a couple of charming elderly Brits turn out to be arms dealers ("Our best-selling product is a hand grenade").
Things start to come undone on a stormy night, ill chosen for the official Captain's Dinner – especially as the Marxist skipper (Woody Harrelson) is an out-of-control drunk who, uninterested in controlling the situation, would rather sit around trading political mottos with an equally boozy Eastern European fertiliser magnate (Zlatko Buric). What ensues has a pungent whiff of apocalyptic toilet farce; the gross-out factor not quite as funny as Östlund intended, although it does its job in reminding us that no amount of wealth will help you when it comes to rolling around on a slippery toilet floor.
The final chapter sees a handful of characters struggling to survive when washed up on an island shore – which is where the film makes its most incisive satiric point. Following the dictum "From each according to their abilities…", the shipboard hierarchy is reversed, as toilet cleaner Abigail (Filipino actor Dolly de Leon, who cinephiles may recognise from her work with Lav Diaz) emerges as the one person equipped to take decisive action. That leads to her running the show as captain of this washed-up crew and exploiting her power by exercising droit de seigneur over a fellow castaway who is at first abashed by the situation, then learns to enjoy it.
A last-minute twist makes for a very black payoff, but it's not quite enough to put the seal of originality on a familiar castaway scenario that has rather too familiar echoes of Lina Wertmüller's Swept Away, TV's Lost and even antique British comedy The Admirable Crichton. It's a set-up that, in its simplicity, has ample potential for re-exploration, but it's the sheer deliberateness and over-emphasis of its treatment here that makes Triangle fall short of the piquancy of Östlund at his best.
There's plenty to enjoy, though – whether it's the absurdity of Harrelson and Buric duelling with political quotations (Marx for one, Ronald Reagan for the other), the close-ups of absurdly precious dinner dishes quivering on their plates, or sight gags such as the Tati-esque image of Harrelson standing at an oblique angle as the ship tilts to one side.
While the film's political analysis is undeniably pretty much on course, the engine chugs a little too laboriously for best effect (you can imagine just what a snappy job Robert Altman, say, might have made of this situation). There's some relishable acting: notably from Dickinson as an intelligent but directionless guy doomed to eternal pretty-boy status; De Leon, playing it canny and ruthless as Abigail takes the helm; and Buric, so memorable as the Pusher trilogy's Copenhagen hood, as the blustering self-described 'shit seller'. And Fredrik Wenzel's cinematography elegantly plays up the contrast between the gorgeous and the ickily abject.
Production companies: Plattform Produktion
International sales: Coproduction Office sales@coproductionoffice.eu
Producers: Erik Hemmendorff, Philippe Bober
Cinematography: Fredrik Wenzel
Editors: Ruben Östlund, Mikel Cee Karlsson
Production design: Josefin Asberg
Main cast: Harris Dickinson, Charlbi Dean, Dolly de Leon, Woody Harrelson