Dirs. Frank Hui, Jevons Au, Vicky Wong. Hong Kong, 2016, 97 mins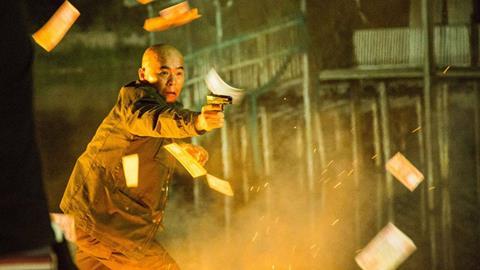 Taking its title from the Buddhist notion of the "three root poisons" of greed, anger and ignorance, the Johnnie To-mentored Trivisa is set in Hong Kong on the eve of the British administered territory's handover to China in the summer of 1997. Directed separately by three up-and-coming talents and blended cleverly into a dark and spiky whole, Trivisa looks at the recent past through the filter of the present; it's an uneven but invigorating blend of Hong Kong noir crime with Mainland corruption reflecting the disenchantment of the "special relationship".
It may be a blend of old-hands with new faces, but Trivisa, like the events it depicts, feels like the start of something.
Harking back to a time when Hong Kong was the regional power and China was a country-hick cousin, Trivisa flashes resentment alongside a touch of nostalgia for the good old bad guys. This occasionally over-ripe story of three thieves in the run-up to July 1 joins another recent Hong Kong independent production, Ten Years, in a sense of despair for the soul of its home. That speaks to the future; this looks to where it all went wrong. Trivisa's young directors, sourced through Hong Kong's 'Fresh Wave' short-fim competition, may not be optimistic, but this is an urgent piece, hinting at a potential resurgence in Hong Kong's indie scene.
Trivisa will clearly attract festival interest – it screened at the Berlinale's Forum and opens the Hong Kong International Film Festival in March. Its commercial potential is less knowable, although it will almost certainly sound a note at home for those who have flocked to the political portmanteau Ten Years. Its unflattering portrayal of Chinese corruption may provoke some political grumbles.
The three robber barons depicted on screen are derived from real-life, and are well known at home. The story of their coming together in the run-up to the handover is a fantasy, however. Yip Kwok-fung (Richie Jen) is the notorious "king of thieves", caught on TV exchanging fire with the police, brandishing a Kalashnikov. Now he's trying to lie low and make it in China as a smuggler of electronic merchandise, but grows increasingly impatient with the bovine greed he encounters amongst the rotten bureaucracy there.
Kwai Ching-hung (Gordon Lam Ka-tung), meanwhile, given to recruiting Chinese ex-army officers for robberies in Hong Kong, will blithely trade in old friendships for a chance at a heist. And the outsize Cheuk Tsz-keung – an overly-colourful performance by Jordan Chan in the one story strand which is an uneasy fit, directed by Vicky Wong – is a bored super-kidnapper who is jaded by his own effortless success. He becomes obsessed with uniting the three as the sun sets on British colonial rule in the Far East after 156 years.
Designer Jean Tsoi delivers an impeccable sense of the city as it was in those days, teetering on the verge of an uncertain future, and editors Allen Leung and David Richardson, frequent Johnny To collaborators, have managed a good meld of footage so the separately-shot stories gel visually. It may be a blend of old-hands with new faces, but Trivisa, like the events it depicts, feels like the start of something.
Production company: Milkyway Image
International sales: Media Asia Films Distribution
Producer: Johnnie To, Yau Nai Hoi
Executive producer: CT Yip
Screenplay: Loong Man-hong,, Thomas Ng, Mak Tin-shu
Cinematography: Zhang Ying, Ray Cheung, Rex Chan
Editors: Allen Leung, David Richardson
Production design: Jean Tsoi
Music: Nigel Chan
Main cast: Lam Ka-tung, Richie Jen, Jordan Chan, Tommy Wong Kwong-leung, Yueh Hua, Stephen Au, Lam Suet