'The cinematic equivalent of a pound of glitter being shot right in your face'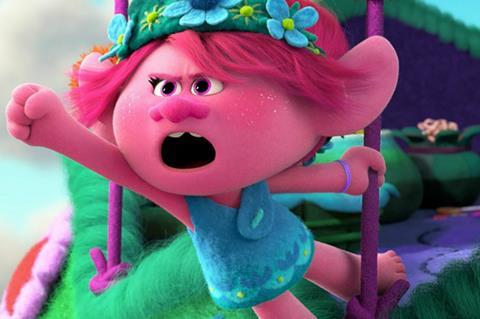 Dir: Walt Dohrn. US. 2020. 91mins.
Bursting with colour and humming a happy tune, Trolls World Tour is very much like its 2016 predecessor: likeable, goodhearted and the cinematic equivalent of a pound of glitter being shot right in your face. This spirited sequel follows its main characters as they discover there are unknown lands beyond their borders, which presents myriad opportunities for energetic musical montages and earnest messages about embracing our differences. But as cheery as the whole affair can be, no amount of razzle-dazzle can distract from World Tour's meagre storytelling — or the gnawing suspicion that the proceedings are targeting overstimulated young viewers who just want nonstop sensation.
A release strategy which may prove to be a test case for future day-and-date studio epics
Universal is bucking tradition by forgoing a theatrical release and instead unveiling this potential blockbuster at home on demand April 10, a move that has angered exhibitors and may prove to be a test case for future day-and-date studio offerings. Parents desperate for kid-friendly entertainment will jump at this DreamWorks Animation production, and those who loved Trolls' mixture of perky pop songs, smart-alecky humour and sappy sentiment should be pleased that the sequel repeats the formula.
As the new film begins, Poppy (voiced by Anna Kendrick) is now the queen of the Trolls, unaware that her friend Branch (Justin Timberlake) is secretly in love with her. But soon, Poppy will learn that her tribe is not the only one in the world — hers is merely the Pop kingdom — and that other lands (including Techno, Country and Funk) are under threat by Queen Barb (Rachel Bloom), whose Hard Rock kingdom wants to conquer the other Trolls.
Director Walt Dohrn and co-director David P. Smith ensure that World Tour doubles down on the first film's strengths. If Trolls featured a panoply of pop radio hits, the follow-up adds in other genres, resulting in amped-up renditions of everything from 'Atomic Dog' to 'Barracuda' to a few Beethoven symphonies. And as before, viewers are bombarded with bright reds, pinks and blues, as decorative glitter and whimsical backgrounds make each frame a vibrant delight.
But what proves harder for World Tour's five credited screenwriters is coming up with a plot that's more sophisticated than a drab quest narrative. Poppy and Branch set out for the other kingdoms, hoping they can get to each one before Barb and her head-banging marauders plunder its unique magical musical string. (Once Barb possesses all six, she will put them on her guitar and play a power chord that makes hard rock dominant across the land.)
This opens the door for winking gags about different musical styles, and there are some cheeky allusions to smooth-jazz, reggaeton and K-pop, each genre personified by Trolls who exhibit that brand of music's specific characteristics. Those with a vast record collection will appreciate the in-jokes — not to mention the notion that we could all stand to be more expansive in our musical education.
But as with Trolls, World Tour tends to be hyperactive and fizzy rather than thoughtful and resonant. The rush of different songs — whether classics or originals written for the film — becomes wearying, as if the movie doesn't want to give us a minute to think or catch our breath. And although it preaches the importance of diversity — arguing that different kinds of Troll can live in harmony — the musical numbers have a cookie-cutter homogeneity, each of them pitched at a similar level of manic showstopper, which makes World Tour start to feel monotonously peppy.
Thankfully, Poppy and Branch remain fun company, even if their clashing personalities aren't as cleverly exploited for laughs this time around. The animators continue to do an excellent job of mirroring Kendrick's persona in Poppy's smiling eyes and buoyant moves, while Timberlake's deadpan comic timing is matched by his character's exasperated expressions.
The new additions to the ensemble don't add much, however. Bloom's Barb is a one-note rocker, and Anderson .Paak (although responsible for one of the best new songs) doesn't get much to do as a groovy Funk Troll. Like the original Trolls, the sequel works best when Poppy and Branch are riffing and flirting, but they're still taking a backseat to the frantic pizzazz the movie keeps throwing at us. It's a shame that the song remains the same.
Co-director: David P. Smith
Production company: DreamWorks Animation
Worldwide distribution: Universal Pictures
Producer: Gina Shay
Screenplay: Jonathan Aibel & Glenn Berger and Maya Forbes & Wally Wolodarsky and Elizabeth Tippet, story by Jonathan Aibel & Glenn Berger
Production design: Kendal Cronkhite Shaindlin
Editing: Nick Fletcher
Music: Theodore Shapiro
Main voice cast: Anna Kendrick, Justin Timberlake, Rachel Bloom, James Corden, Ron Funches, Kelly Clarkson, Anderson .Paak, Sam Rockwell, George Clinton, Mary J. Blige
'