Dir/scr Paolo Sorrentino. US/UK/Fr/It 2016. Episodes 1 and 2 of 10, 56 mins each.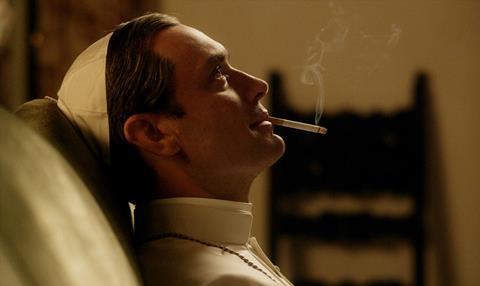 Viva I Paolo: The Great Beauty director Paolo Sorrentino premiered the first two episodes of his lavish TV series The Young Pope at the Venice Film Festival, a fitting berth for a hybrid project which straddles the worlds of art-film and high-end TV with an almost divinely elegant grace. With a never-been-more-aptly-cast Jude Law in the title role as the American Pope Pious XIII, the 112 byzantine minutes on display were enigmatic, gorgeous, fascinating and – naturally - inconclusive. Whether there's enough to sustain a 10-episode series written, conceived and directed by Sorrentino and employing his usual creative team, very much remains to be seen.
Twenty years ago, a look at the credits for The Young Pope would have screamed "Europudding": How times have changed.
The length of the series would seem to preclude any theatrical event for The Young Pope, although another Italian-generated TV project, 2003's The Best Of Youth, ended up being repackaged for the big screen in several territories.
While it's delivered straight up, with several twists, The Young Pope still has the kind of complex strangeness of the work which first saw an art director leap over the TV/Film border, David Lynch's surreal Twin Peaks. As such, it's almost impossible to predict audience response in a medium accustomed to more conventional story-telling in more lurid wrappers like Sky's The Borgias. High-end and quite clearly high-cost, The Young Pope is highly-enticing TV – at least on this evidence – when it goes out on Sky Atlantic and Canal + in six European territories this October (the US TX date has not yet been announced).
Twenty years ago, a look at the credits for The Young Pope would have screamed "Europudding": American and French money, Italian director and crew, UK, US, French and Spanish actors, a co-financing pact between European and US broadcasters. How times have changed. Paolo Sorrentino has a worldwide reputation as an exquisite visualist and he takes pleasure in reminding us why in a compelling opening sequence before settling down somewhat to more conventional lensing to unwrap his complex offering.
In a dream-within-a-dream, the young American Pope Pious XIII, or Lenny Belardo (Law), emerges from a piled-high pyramid of babies spilling out of St Mark's Basilica in Venice, wakes up in the Vatican City's Apostolic Palace, showers some naked Papal backside, and emerges onto St Peter's Square to tell the masses that the only road to happiness is freedom. On the way, he glides through a tableaux vivant of cardinals in red robes and moustachioed nuns in grey, flashes back to a childhood memory of a pair of naked breasts when he sits to pray, and eventually parts the clouds. Who is this Pope?
The answer isn't very clear. As played by Law, he's both a blank canvas and a potential demagogue; capricious, doubting, a man who "does not appreciate friendly relationships", describes himself as "intransigent, irritable and vindictive" and demands a Diet Cherry Coke for breakfast. The Vatican's Secretary of State Cardinal Vioello (Silvio Orlando) originally dismisses him as a "telegenic puppet" but has to quickly rethink when Lenny brings Sister Mary (Diane Keaton) into the Vatican as his personal assistant and begins to clean house.
Through a cloud of cigarette smoke exhaled both by the Pope and the nun who ran the orphanage Lenny was sent to at the age of seven, we learn something of his past. His parents were hippies who abandoned him for Venice; he studied at the feet of the powerful American Cardinal Spencer (James Cromwell) who feels angry and betrayed by Lenny's rapid acscension through the Concave. Yet, is Lenny blessed? Sister Mary certainly thinks so. There's an odd interlude with a kangaroo which you'd only find in a show directed by a European auteur - not to mention the footballing nuns - but what's certain is that he's manipulative and he bonds well with Cecile De France as a Vatican marketing supremo.
Much is made of Lenny's choice of name: Pious XI was keen on Mussolini.
Javier Camara delivers a saintly turn as a holy priest while Ludovine Sagnier's role in the proceedings is only hinted at.The Young Pope is the type of TV series which is unexpected, fun to watch and looks like it might have been enjoyable to make. Sorrentino brings his cinematographer Luca Bigazzi and editor Cristiano Travaglioni to assemble some trademark velvety sequences, although these do drop off in their frequency to focus on the nuts and bolts of plotting. This series will require more focus than standard box set viewing, but seems likely to pay off. Let the Game of Popes commence.
Production company: Wildside for Sky, HBO, CANAL+
Executive producers: Ron Bozman, Tony Grisoni, John Lyons, Jaume Rourez, JJavier Mende, Caroline Benjo, Carole Scotta, Simon Amal, Viola Prestieri, Paolo Sorrentino, Lirenzo Mieli,Mario Gianani,
Cinematography: Luca Bigazzi
Production Designer : Ludovica Ferrario
Editor: Cristiano Travaglioni
Music: Lele Marchitelli
Main cast: Jude Law, Diane Keaton, Silvio Orlando, Javier Cámara, Scott Shepherd,Cécile de France, Ludivine Sagnier, Toni Bertorelli, James Cromwell