Greenlandic activist Aaju Peters allows the camera to track the painful personal results of colonisation in this CPH:DOX opening film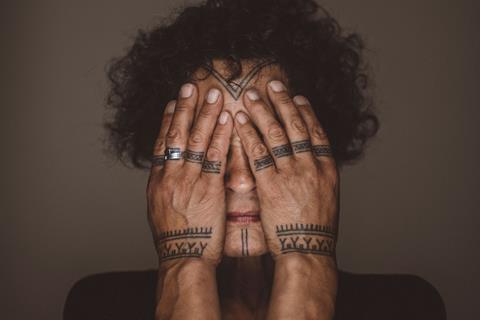 Dir: Lin Alluna. Denmark/Greenland/Canada. 2023. 92 mins.
"Is it possible to change the world and mend your own wounds at the same time?" So writes Aaju Peter, Greenlandic Inuit lawyer, activist and campaigner for the rights of Indigenous people around the world. It's an ambitious aim but, if anyone can achieve it, it's the remarkable Peter. The dynamic, charismatic subject of Lin Alluna's documentary portrait, Peter opened her life to the camera over a seven-year-period, allowing us to share the lows – the death of her son, her struggles to extricate herself from an abusive relationship – and her journey going forward, which takes her to Canada, Greenland, Sweden, Denmark and the UN headquarters, confronting the insidious influence of colonisation on Indigenous people. It's a brave and generous undertaking from Peter, which is handled with respect and sensitivity by Alluna.
Peter takes on powerful entities that believe themselves to be on the right side of history.
Twice Colonized opens CPH:DOX, having premiered at Sundance. This programming represents a commitment on the part of the festival to confront Denmark's colonial legacy and to be part of an education process going forward: the similarly themed The Fight For Greenland by Kenneth Sorento was programmed as the opening film of the 2020 edition of the festival, until the pandemic forced it online. Twice Colonized should be a notable title on the documentary festival circuit, appealing particularly to events with an emphasis on human rights themes.
The film's title refers to Peter's personal experience of colonisation, first as a Greenlandic Inuk child in the 1960s. At that time, academically gifted children were sent to school in Denmark. Peter was selected, an experience that separated from her family and stripped her of much of her culture, including fluency in her native language. Even now, Peter has a visceral response to being forced to speak Danish. It makes her feel "cold and harsh and angry", she says, in visible distress. The forced assimilation of children into white culture is by no means unique – on a later mission to gather stories from Indigenous peoples, Peter speaks to a Sami man whose experience in Sweden mirrors her own.
Peter's experience in Denmark meant that her return to Greenland at the age of eighteen was an unhappy one. A few years later, she married and relocated to Iqaluit, Arctic Canada, home to a sizeable Indigenous community that was itself colonised by Canada.
As a lawyer and advocate, Peter takes on powerful entities that believe themselves to be on the right side of history. Campaigners against seal hunting celebrated legislation to outlaw what they characterised as a needless slaughter. But for the Inuk and Inuit people, an already precarious existence was profoundly affected. "Our children are hungry, our hunters are humiliated," says Peter, going on to link the economic hardships endured by Greenlanders to the country's near epidemic levels of suicide in young men. And then, the unimaginable happens. Peter's youngest son commits suicide. Peter allows the camera to document the sharpest, hardest edges of her grief, compounded by the actions of her then-boyfriend, who cuts her hair "to shame her" because he objects to her participation in the film, among other things.
As the story unfolds, Peter courageously decides to harness her traumas and use them in a positive way, as the foundations for a far-reaching exploration of the impact of colonisation on communities like her own. In doing so, she comes to realise just how much of the colonisation process occurs in the minds of those who are colonised – her own included. Peter finally leaving her abusive partner is a satisfying story moment for the film, but nothing captures her spirit to quite the same extent as a shot of her dancing through her pain, fiercely and defiantly, alone in her kitchen.
Production companies: Ánorâk Film, Red Marrow Media, EyeSteelFilm
International sales: Autlook Filmsales welcome@autlookfilms.com
Producers: Emile Hertling Péronard, Alethea Arnaquq-Baril, Stacey Aglok Macdonald, Bob Moore
Screenplay: Aaju Peter, Lin Alluna
Cinematography: Iris Ng, David Bauer, Glauco Bermudez, Lin Alluna
Editing: Mark Bukdahl
Music: Olivier Alary, Johannes Malfatti, Celina Kalluk