Dir/scr Kim Nguyen. Canada. 2016. 96mins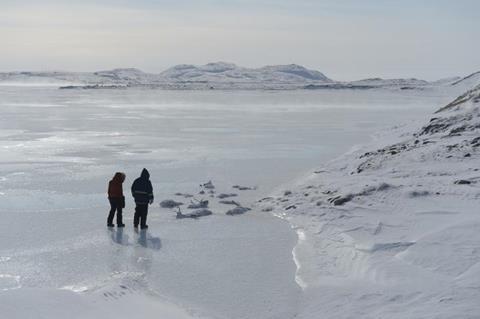 With a title that's a sterling example of truth in advertising, Two Lovers And A Bear mixes the chilly rigors of Arctic vistas near the North Pole with the hard-won warmth of two wounded souls for whom frostbite is a minor concern after what they've been through in heated settings. The film's unexpected narrative elements — including a few shots you've never seen no matter how often you go to the movies — make this a rewarding take on coupledom told with satisfying visual flair. Following its Directors Fortnight premiere in Cannes, writer-director Kim Nguyen's latest film should find takers without too much difficulty.
While daunting, the terrain is uncommonly gorgeous in all its widescreen splendour
Lucy (Tatiana Maslany) is a budding biologist who moonlights as a cab driver in a small Arctic community where snowmobiles are as crucial to local locomotion as cars in Los Angeles or bicycles in Beijing. Lucy suffers from vivid nightmares and seems to have a stalker on her trail in her waking life.
Without understanding quite what her sweetheart Roman's (Dane DeHaan) profession is, we see him accompany a casket to the middle of nowhere via small plane. (In-flight exchange: "The body is Tom with the blue pick-up." "What happened?" "He got lost."). The vibe is that it's certainly possible to live in this spot with its rugged snowy terrain but storms, crevasses, large indigenous marine mammals, firearms, hypothermia and bad decisions while drunk or high might just get you. Local Sheriff John Tovok (Kakki Peter) is a resourceful mix of easygoing and strict, with a novel solution for preventing Roman from harming himself one dicey night.
Roman is distraught because Lucy has been accepted on a biology programme in an urban destination and will be leaving. Lucy wants to make the most of their love for each other before she splits; he just wants her to clear out and not prolong the heartbreak. Since this is so remote an outpost that three bottles of whisky go for a mere $300, drowning his sorrows is costly.
While daunting, the terrain is uncommonly gorgeous in all its widescreen splendour. The unconventional setting is richly depicted, including a procession of caribou frozen solid because they tried to ford a river. Episodes of the forbidding landscape heaving up and down as if an army of abominable snowmen are pushing from below also linger in the mind's eye.
The "this-and-that walk into a bar…." joke that gives the film its title is nicely deployed. There's also a narratively essential detour that smacks of The Thing with a vintage tin of food in a supporting role.
DeHaan and Maslany convey a compelling range of emotions and their sex scenes are casually convincing. It's not hard to worry about them or root for them as they brave the elements. The thoughtful and varied musical score is a plus.
Director: Kim Nguyen
Production company: Max Films
International sales: TF1 International, sales@tf1.fr
Producer: Roger Frappier
Screenplay: Kim Nguyen, based on an original idea by Louis Grenier
Cinematography: Nicolas Bolduc
Editor: Richard Comeau
Production design: Emmanuel Fréchette
Music: Jesse Zubot
Main cast: Dane DeHaan, Tatiana Maslany, John Ralston, Kakki Peter