Dir/Scr. Lau Ho-leung. Hong Kong, 2015, 105 mins.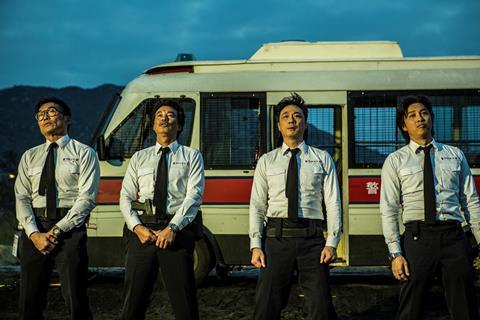 Lo Ho-leung's directorial debut Two Thumbs Up is an endearingly retro romp through Hong Kong's New Territories in the company of four ageing ex-cons with the most elaborate mullets seen onscreen since Al Pacino played Phil Spector.
Two Thumbs Up reinforces Hong Kong's age-old reputation for innovation and resourcefulness. It's also very funny.
Starring the much-loved Francis Ng (Ng Chun-yu) and Simon Yam (Yam Tat-wah), who appeared together in the blockbuster Young And Dangerous twenty years ago, Two Thumbs Up premiered at the Hong Kong International Film Festival, and it will be a cops and robbers curio in the local marketplace when it opens on April 2 with its dry, low-key approach to the heist genre and a casting selection akin to the British TV hit Old Tricks. There's a place for this entertaining film internationally as well, its offbeat air giving it a cultish, goofy feel. Sold by Emperor, Two Thumbs Up reinforces Hong Kong's age-old reputation for innovation and resourcefulness with limited budgets. It's also very funny.
Experienced writer Lau Ho-leung (Painted Skin and Kung Fu Jungle), has concocted a story of four low-rent former cons who reunite in a bowling alley to reluctantly carry out one more scam. The director has decked his principal actors out in primary colours (vivid oranges and purples) and over-the-top hairdos against a glowing nocturnal background and tricked it all up with overlaid, animated schematics. There's no particular reason why it should work, and, indeed, it can seem a little odd initially, but this postmodern weirdness gives Two Thumbs Up a heightened impact.
The film revolves around Big F (Ng), newly released from a 16-year stint behind bars in Malaysia, who returns to Hong Kong to hook up with his old partners-in-crime – bowling alley attendant Crazy B (Simon Yam), hair stylist Johnnie T (Patrick Tam) and shortsighted East L (Mark Cheng). Initially, they're not at all keen to return to their criminal ways. But ultimately they can't resist Big F's plan: he's heard that triads are smuggling cash over the border from China in hearses - and it's stashed inside the corpses.
Together they plan a raid: they'll disguise a mini-bus as a police Emergency Vehicle (or EV, the film's Chinese title) by layering over parts stolen from police car junkyards. They'll disguise themselves as Hong Kong cops and hijack the hearse in the middle of the New Territories on Hallowe'en night (a nice touch indeed)
For a bunch of robbers, trying on the cops' uniform is a gas, and, drunk on their sudden power, they arrest a couple of would-be rapists, attracting the attention of sharp-nosed junior Officer Tsui (Leo Ku). Unfortunately, though, they're not the only ones to have come up with this dastardly, hearse-raiding plan, and a rival gang is brandishing sub machine guns (as opposed to Big F's BB rifles).
Full to the brim with fast-talking Hong Kong banter – there's nothing like those long-drawn-out Cantonese tones for comic effect – Two Thumbs Up still manages to deliver the gang a few life lessons about uniforms – "they don't matter" and friendships, which are more important than money (which is also "the only thing we trust in"). It's taken a long time for Lau to step into the realm of directing, but Two Thumbs Up is worth the wait.
Production companies: Emperor, Sil-Metropole, Huace Film and TV
International sales: Emperor Motion Pictures
Producers: Albert Lee, Ren Yue, Soi Cheang
Screenplay: Lo Ho-yung
Cinematography: Pakie Chan
Production designer: Alex Mok
Editor: Chan Ki-hop
Main cast: Francis Ng, Simon Yam, Patrick Tam, Mark Cheng, Leo Ku, Christie Cheng