Two strangers in Canada and Shanghai may be connected in this enigmatic drama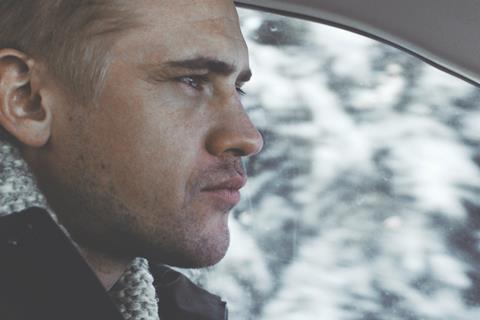 Dir: Juan Cabral. UK, China, Canada. 2019. 115mins
Kaden (Boyd Holbrook) is a Canadian ski jumper who, at 35, is coming to the end of his sporting career. On the other side of the world, Khai (Song Yang) is a Shanghai-based executive who has cut himself off from everything other than his professional ambition. At first glance there appears to be nothing that threads together the lives and destinies of these two men. But this intriguing, high concept first feature from Argentinean commercials director Juan Cabral posits a link between the two. Polished in its execution and playfully noncommittal in its storytelling, the film could be viewed as a metaphor for the disparate connections forged in a digital, globalised society.
The film's conclusion is more elusive than it is satisfying
Although Juan Cabral has enjoyed considerable success as an advertising director – he helmed high profile ads for Cadburys and Ikea, among others – it's debatable whether his commercials profile will translate to audience awareness. What is inarguable, however, is the visual flair that Cabral brings to the picture, which, along with its head scratching story, should attract attention on the festival circuit. Firmly arthouse in its approach – at times, it feels like a Hong Sang Soo premise, directed by Atom Egoyan – the film could generate some interest theatrically, although the enigma of its storyline might prove to be a marketing challenge.
Kaden and Khai inhabit fundamentally different worlds, and Cabral colour codes them accordingly. Kaden's outdoorsy life in Whistler is drawn in bright, crisp wintery greys and whites; Khai's home town of Shanghai is a riot of artificiality, all saturated sweet shop colours and looking like the inside of a computer game. But starkly contrasted as these two lives are, there appears to be something binding them together.
When Kaden wakes, on the other side of the world, Khai drifts into sleep. And when Khai wakes the following morning, Kaden closes his eyes for the night. The film is deliberately enigmatic: Are they one person? Is one dreaming the other's life? And the crucial question: what would happen were they to meet? It initially seems unlikely that they ever would – they live on opposite sides of the world, after all. But then, with coincidences and parallels, Cabral starts to lace the two stories more tightly together. A mysterious billboard, bearing the word 'Soon', is a repeated motif.
Both men have an uncertain relationship with their fathers. Kaden's dad shocks him by announcing that, at the age of 70, he is divorcing his wife, Kaden's mother. And Khai's father is more preoccupied with the fireworks he designs than with understanding Khai's drive to succeed in the corporate world. Both men are temperamentally suited to being alone but, almost by accident, fall into relationships with women.
Khai's new colleague is someone about whom he fantasized when he stumbled across an online profile created by a disgruntled ex-boyfriend; Kaden is contacted out of the blue by a former girlfriend, now married with a daughter. A palpable erotic tension charges their encounters. In particular, the first kiss between Khai and Jia (Zhu Zhu), stolen in an over crowded subway train, is thrillingly transgressive.
Both men have a work trip planned – Kaden, to a ski jump tournament, Khai to a meeting with a new business client. Both events are in Japan; both men find themselves transiting through Seoul. An encounter between the two seems inevitable and potentially destructive for one or both. The film's conclusion is more elusive than it is satisfying. Cabral refrains from explaining the connection, ending with a tantalising question mark and a suggestion that the globe is netted with mysterious connections similar to the one shared between Kaden and Khai.
Production company: Redrum Films, South Creek Pictures
International sales: Protagonist Pictures george@protagonistpictures.com
Producer: Chris Clark, Flora Fernandez Marengo, Dave Valleau
Screenplay: Juan Cabral
Editing: Emiliano Fardaus
Cinematography: Larry Smith
Production design: Michael Jovanovsk
Starring: Boyd Holbrook, Song Yang, Beau Bridges, Zhu Zhu, Dominique McElligott