Mudbound star Jason Mitchell finds himself an outsider on a boy's weekend in the woods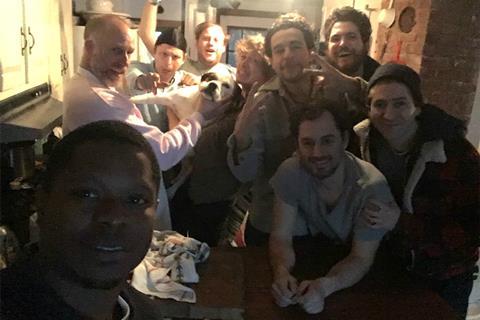 Dir/scr. Sebastián Silva. US, 86 min. 2017
After making three films between 2013 and 2015 (Nasty Baby, Magic Magic, Crystal Fairy & The Magical Cactus), prolific Chilean-born director Sebastián Silva's latest lark is another shaggy-dog observational tale about a group of convivial and confused young adults. But here, the main focus is on an African American man named Tyler (Mudbound's Jason Mitchell). The title is a joke: When he's first introduced to a cadre of white guys he's going to spend the weekend with in the woods, they mistakenly call him "Tyrel."
Silva is a shrewd storyteller, uninterested in genre conventions or shock value
While Tyrel confirms Silva's talents as a director of intimate details and human foibles, it is a slight indie affair that isn't going to expand the filmmaker's audience. Still, it's a smart, subtle and well-acted film that could get a boost from critical praise and a cast of extremely talented young actors. Theatrical playdates will be highly limited, but fans of Silva, Mitchell, Christopher Abbott, and frequent Silva collaborator and clown Michael Cera will be sure to seek it out.
Shot mostly in a remote house in the forests of upstate New York on the day of Donald Trump's inauguration in early January 2017, Tyrel finds the lead character accompanying a buddy, Jonny (Abbott) on a weekend birthday getaway with his male friends. Tyler is a stranger in a strange-land; though all the guys are convivial and inclusive—one of the men is gay; one is Argentinian; another is the goofy Cera—there are still tinges of discomfort with being the only black man in the house.
The social anxiety kicks off with a game of "impersonation," where they go around imitating accents. When a "black accent" is picked out of a hat, the frivolity in the room quickly turns to discomfiting. But the buddies are quick to defuse the tension; they aren't racists, and Silva makes it clear from the very beginning that they're all on Tyler's side. They're just trying to have a good time. Even so, Tyler's undercurrent of anxiousness is palpable. On the first night, he appears to be more comfortable with Cosmo, the house bulldog, than the other guys, and he pretends to sleep rather than face the feeling of being an outsider.
What follows is lots of drinking, and lots of games, all of which Tyler attempts to negotiate without getting in the way. He smiles and stands back, watching a bunch of white guys sing R.E.M. songs from afar and jump around in the snow. At first, he appears to find a companion in Cera's prankish character, but then he, too, appears out of reach. In order to cope with the situation, Tyler begins to drink more, and soon he and all the guys are drunk and increasingly unruly. It's here where Silva begins to hint that something darker might take place; particularly when Cera's character brings out a Trump piñata, and a machete with which to whack it.
But Silva is a shrewd storyteller, uninterested in genre conventions or shock value; rather, he's using that tension to tease out the anxieties of ordinary life and interactions. Filming handheld and up-close with the actors, he creates a highly realistic milieu that plunges the viewer straight into the chaotic household, with the camera just barely avoiding with the characters as they dart around in the home. The open atmosphere also allows for some highly credible performances — Abbott and Cera have a magnetic screen presence.
Tyrel is Mitchell's show, however, and he is highly compelling as a young man constantly riding a line between unease and bonhomie. At times, he wants to join in the fun; at others, all he wants to do is run away as far as he can. With every scene, Mitchell deftly navigates these poles, delivering a subtle and genuine portrait of alienation and isolation.
International Sales: United Talent Agency smithb@unitedtalent.com
Producers: Jacob Wasserman, Max Born, Sebastián Silva, Gigi Graff, Carlos Zozaya
Executive Producer: Nico Arze
Production Designer: Nico Arze
Cinematographer: Alexis Zabe
Editors: Sofia Subercaseaux, Jennifer Lame
Main Cast: Jason Mitchell, Christopher Abbott, Michael Cera, Caleb Landry Jones, Ann Dowd