Paul Bettany shines as a closeted gay man in 1970s New York who must revisit his Southern clan for a funeral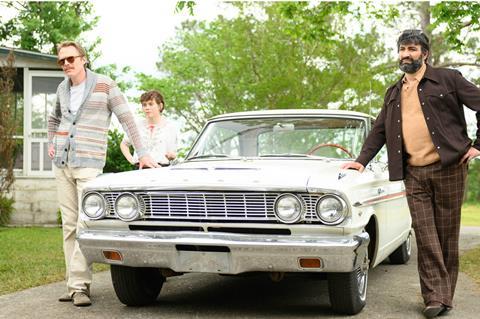 Dir/scr: Alan Ball. US. 2019. 95mins
A closeted gay man must confront his past (and his Christian family) while attending his father's funeral in Uncle Frank, a crowd-pleasing film that can feel a little too cosy at times. Paul Bettany is a warm presence as the titular college professor who has never gotten over his own self-hatred, and writer-director Alan Ball has a knack for likable characters and feel-good sentiment. But there's a slickness that tends to undercut the emotionally fraught scenario: everything's a little too polished and familiar to really resonate.
Ball seems to be forcing his narrative toward a tear-jerking conclusion that never feels particularly organic
Uncle Frank premiered at Sundance, where Amazon acquired the its worldwide rights for reportedly $12 million. The story's inspirational tone should be appealing to general audiences, and Ball's track record as the creator of Six Feet Under and the Oscar-winning screenwriter of American Beauty will only be further enticement. Expect viable art-house play with some crossover potential possible, although it should prove just as inviting as an at-home option for Amazon subscribers.
Sophia Lillis plays Beth, a New York University freshman in the early 1970s who adores her sophisticated Uncle Frank (Bettany), who teaches literature at the school. Happy to be in the big city after a sheltered childhood in a small Southern town, she feels that Frank, like her, is a bit of an oddball in their conservative, religious family. But what she doesn't know is that Frank has been hiding his homosexuality — and the fact that he's been dating his "roommate" Wally (Peter Macdissi) for about 10 years. Those secrets may have to be revealed, however, once Frank learns that his bigoted father (Stephen Root) has died. Frank doesn't want to go home for the funeral, but he knows he must.
In its early stretches, Uncle Frank has an easy-going charm generated by the lovely rapport between Bettany and Lillis. They share a kinship in that they're both interested in art and culture, and Frank happily serves as a mentor to his bright, insecure niece. After Beth finds out he's gay, it leads to some nicely amusing moments, and when she, Frank and Wally get to know one another, the film is breezy fun.
But as soon as the plot kicks in, conventionality takes over. It's not simply that Uncle Frank becomes just another road-trip comedy — it's that Ball resorts to clichéd or contrived narrative devices to keep the story going. (For one thing, they have to hop in the car, rather than getting there faster by plane, because Beth's mother is terrified of her daughter flying.) Whether it's the unconvincing reason why Wally comes along — even though Frank has expressly forbid him — or a series of opaque flashbacks to Frank's youth that will eventually lead to predictable revelations, Ball seems to be forcing his narrative toward a tear-jerking conclusion that never feels particularly organic.
Not that Bettany doesn't bring a lot of soul to Frank, who is far more confident in New York than he is in the Deep South, where homophobia runs rampant — and not just in his family. The actor is sufficiently sympathetic, but in another example of Ball's convoluted screenplay, Frank is also a recovering alcoholic, a development that results in pro forma scenes in which his intoxication creates bigger problems. Uncle Frank requires Bettany to emote rather than simply embody this character who realises that before anyone in his clan can accept his sexuality, he himself has to be comfortable being out among his loved ones.
Lillis is very sweet as the virginal, timid Beth, but she quickly gets pushed to the margins of the story, which is a pity. Macdissi exudes compassion as well as some tough love as Wally, who doesn't want Frank to go down the dark road of alcoholism like in the past. As for Frank's family, the supporting cast leans into Southern types, including Margo Martindale as the kindly, bighearted matriarch and Root as a Bible-thumping Christian who considered his son's homosexuality to be a ghastly sin. When Frank tells his niece that she needs to be herself, it feels like an ironic touch from a film which fails to establish much of an identity.
Production companies: Your Face Goes Here Entertainment, Byblos Entertainment, Cota Films, Parts & Labor
Worldwide distribution: Amazon
Producers: Bill Block, Michael Costigan, Jay Van Hoy, Stephanie Meurer, Peter Macdissi, Alan Ball
Production design: Darcy Scanlin
Editing: Jonathan Alberts
Cinematography: Khalid Mohtaseb
Music: Nathan Barr
Main cast: Paul Bettany, Sophia Lillis, Peter Macdissi, Judy Greer, Steve Zahn, Lois Smith, Margo Martindale, Stephen Root