Dir: Tomasz Wasilewski. Poland/Sweden, 2016. 104 mins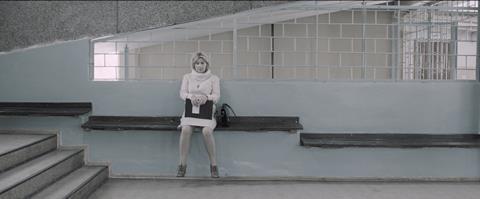 Polish ensemble piece United States of Love could almost be subtitled A Short Film About Anguish - not least because the period and housing estate backdrop are so close to the territory of Krzysztof Kieslowski's Dekalog. But otherwise, this unsettling feature by writer-director Tomasz Wasilewski, his follow-up to 2013's Floating Skyscrapers, is very much its own thing - austere and melancholic, but also marked by dry minimalist humour. Strong female performances, often borderline-agonising emotional pull, and hugely distinctive visuals will make this intricately constructed puzzlebox drama strong bait for niche distributors and festivals on the lookout for distinctively against-the-grain voices.
The viewer is an active participant in the unfolding of a narrative that's forever revealing hitherto unsuspected nuances and connections.
The setting is a small Polish town in 1990: the Berlin Wall has fallen, the USSR is on its last gasp, and Poland itself is yet to fully feel the longer-term after-effects of the rise of Solidarity. The central characters are four women. Agata (Julia Kijowska) is a young mother whose marriage has become joyless, and who is attracted to a young local priest. Frosty beauty Iza (Magdalena Cielecka) is a repressed head teacher whose long-term affair with a doctor, the father of a pupil, is also in crisis. Iza's younger sister Marzena (Marta Nieradkiewicz) is a dance and exercise instructor whose professional sunny grin hides the fact that she's missing her absent boyfriend; her desire to become a model will lead her into grim straits. And Iza's neighbour Renata (Dorota Kolak) is an older woman who keeps pet birds in her artificial jungle of a flat, and who has her own fixation on Marzena.
The film opens with a long take, a sort of prelude in which several key characters are shown in a dinner-table tableau; this, one of many distinctive fixed shots, establishes the film's visual style. Photographed by star Moldovan DoP Oleg Mutu (4 Months, 3 Weeks…, In the Fog, In Bloom), the images are in colour so starkly bleached out that they sometimes look more like tinted black and white. Some images are composed in a highly formal style, variously suggestive of Roy Andersson's less overtly surreal moments, or the group shots of Ulrich Seidl's jaundiced visions. But the film is dominated by intimate scenes, often two-handers, in claustrophobic domestic spaces, sometimes with the human body disconcertingly cut off by the edge of the frame.
The film is fundamentally a realist project, evoking a specific place and political moment: pointers to the time include Whitney Houston songs and the market in home-made VHS porn. But the film's formal twist is the way that the four women's stories are essentially told in turn, but with the order of incidents perplexingly shuffled within each narrative. Certain key moments cross over from story to story, so that the viewer is an active participant in the unfolding of a narrative that's forever unfolding and revealing hitherto unsuspected nuances and connections.
Production companies: Mañana, Common Ground Pictures, TVP S.A., Film Väst, TVP
International sales: New Europe Film Sales, jan@neweuropefilmsales.com
Producers: Piotr Kobus, Agnieszka Drewno
Co-producers: Jonas Kellagher, Jerzy Kapuściński, Simon Perry
Screenplay: Tomasz Wasilewski
Cinematography: Oleg Mutu
Production designers: Katarzyna Sobańska, Marcel Sławiński
Editor: Beata Walentowska
Main cast: Julia Kijowska, Magdalena Cielecka, Dorota Kolak, Marta Nieradkiewicz, Łukasz Simlat