Jazz doc tells the story of a missing jazz opus written for Miles Davis and eventually played by his mentee, Wallace Roney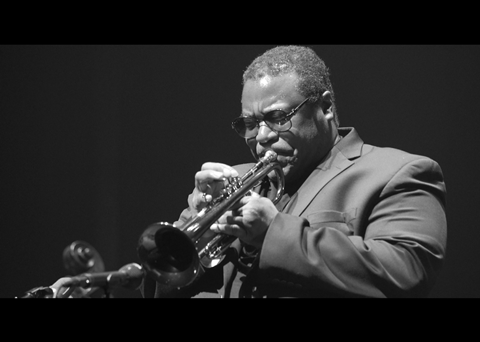 Dir. Nick Capezzera, Sam Osborn. US. 2020. 75 mins.
Telling a fascinating 'Dead Sea Scrolls' story about an elusive musical opus lost and found, jazz documentary Universe is also an in-depth portrait of a passionate musical talent – and, as it has turned out, a sad testament since its subject, trumpeter Wallace Roney, died in March this year from complications of COVID-19. The film follows Roney's recreation of a score by saxophonist-composer Wayne Shorter, originally intended as a vehicle for jazz legend Miles Davis, Roney's friend and mentor.
The film is as clear-headed as Roney himself when it comes to the ins and outs of his career
An elegant and candid work which celebrates the excitement of a musical genre at its most highly developed, Universe is also a revealing demystification of the realities of jazz as a profession. Elegantly executed, and crammed with memorable archive footage of both Roney and Davis, this crowdfunded piece has its world premiere online in Sheffield Doc/Fest, and will be essential viewing for jazzophiles – who will find it involving, poignant and yet profoundly frustrating, since the film gives us tantalisingly little of the Shorter opus that it revolves around.
There are two back stories here. One involves Davis's blazing innovation in the various phases of his career, here specifically with the 60s quintet that featured Shorter, and which produced LPs such as E.S.P. and Sorcerer – revered, innovative records that nevertheless scored low sales, resulting in record label Columbia asking Davis for a more commercial orchestral album. The result was a suite by Shorter, which allegedly resulted in Davis commenting, "I asked him for a tune – he gave me a fucking symphony." The quintet broke up before it could record the work, but in 2006-7, the scores were rediscovered and Shorter entrusted their execution to Roney, the only trumpet player whom Davis ever mentored.
The second back story, then, is of Roney himself, filmed here – apparently over an extended period – talking about his beginnings as a jazz-obsessed youth in a disadvantaged area of Philadelphia, his early years in New York, and the breakthrough when he was spotted by Davis and adopted by him as musical heir apparent. Roney recalls the maestro with tender affection, dropping in impersonations of his famously gruff laconic manner. The film's main narrative strand is the build-up to the 2017 concert in Newark, New Jersey where Roney premiered Shorter's suite. Footage of the rehearsals makes it abundantly clear that this was remarkably challenging music to play, and that Roney – warm and affable though he is – can be an impatient, exacting perfectionist as the concert deadline approaches.
The film is as clear-headed as Roney himself when it comes to the ins and outs of his career. It doesn't disguise the fact that the great man's patronage was a mixed blessing, since he found it hard to overcome people's perception of him as a Davis clone. Overall, Universe offers a sobering view of the realities of the jazz life, showing Roney sometimes wearily traipsing to concert dates, with telling shots of venues where drink and dining (for customers checking their mobiles) have eclipsed the music.
Along with testimonies from the musicians involved – including Shorter, bassist Buster Williams and drummer Lenny White – we also hear from Roney's friends and family, and critics Shannon J. Effinger and Adam Shatz. There's also plentiful archive footage of Roney and Davis, notably duetting at a 1991 Montreux concert with Quincy Jones. Shot in black and white - with a few touches of colour for a stylish credit sequence that merges sci-fi imagery and classic jazz LP graphics - the film is visually handsome, although arguably directors/DoPs/editors Capezzera and Osborn can undermine the immediacy of their material by making their own footage so consistently stylish.
Nevertheless, this is a hugely engaging film, from which Roney emerges vividly and movingly from the shadow of a legend. The only problem is that, despite the long build-up to the main event, so little of Shorter's 'Universe' is finally heard, leaving us to content ourselves with the sparse glimpses of austere beauty afforded by the rehearsal sequences.
Production company/international sales: Universe Documentar, leahnatasha@gmail.com
Producers: Leah Natasha Thomas, Esther Dere
Cinematography: Nick Capezzera, Sam Osborn
Editors: Sara Sowell, Nick Capezzera, Sam Osborn
Music: Wallace Roney, Wayne Shorter