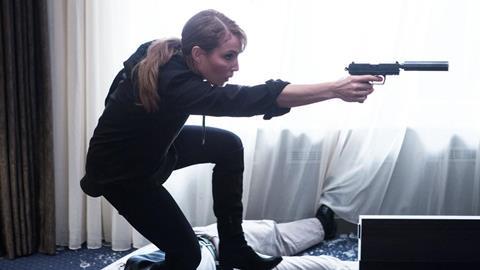 Dir. Michael Apted. UK/US, 2017 128 mins
Unlocked tests some interesting commercial waters by dispatching a gun-toting CIA operative played by Noomi Rapace into territory previously occupied by men. Bruce, Denzel, Liam, Matt Damon, in the guise of Jason Bourne, or Gerard Butler in "…Has Fallen", this has been a man's world. Now it's time for Noomi. Preposterous, nonsensical, but fun nonetheless, Unbroken frustrates as much as it entertains
Call it what you will – and reviews may well be stinging – but Unbroken is entertaining, even if not entirely in the ways the film-makers might have originally intended
Further testing his range, veteran director Michael Apted surrounds Rapace with an array of slumming stars including Michael Douglas, Toni Collette, John Malkovich and a man-bun toting Orlando Bloom, and liberally douses the whole London-set enterprise in a self-knowingly pulpy air. Proving The Girl With The Dragon Tattoo was no one-off, Rapace shows she has the chops for this tough-girl part, and she's compulsively watchable throughout. Yet she's carrying the film alone as she fights her way with deep-etched conviction through an increasingly tortuous plot whose high-low points come on fast and furious but are mainly delivered by Orlando Bloom playing a "grizzled" war veteran with a Dick Van Dyke Cockney accent.
Set for release in the UK and US through Lionsgate (the UK launches on May 5 with the US as-yet not confirmed), Unlocked volubly tags a sequel in its closing scenes, and may do well enough (most likely on VOD) to merit a follow-up. If so, it is to be hoped that more time is spent finding Rapace a scenario worthy of her gritty talents. This one appears to be pulled together with leftovers from London Has Fallen, with scraps from recent dramas Bastille Day and Spooks: The Greater Good throw in for good measure.
It would also be welcome if Toni Collette, channelling Annie Lennox as the head of MI5, returns for another spin. Even Unlocked's extravagantly silly dialogue can't dent her panache. Certainly this is an action film in which the women lead by a clear margin, making it unique in its own highly derivative way.
Call it what you will – and reviews may well be stinging – but Unbroken is entertaining, even if not entirely in the ways the film-makers might have originally intended. Rapace plays Alice Racine; she's a battle-scarred CIA operative who feels personally responsible for the failure to prevent a terrorist attack in Paris in which children were killed. Now she's providing intelligence in London, where she's embedded in the community of Tower Hamlets, posing as a social worker.
When an Iman delivers a message to a lethal American-born ISIS assassin, Alice becomes embroiled in attempts to divert the courier, even as the script becomes more and more convoluted to involve a leering John Malkovich as the head of division in Langley, Michael Douglas as her station chief mentor based in London, and Collette as the local head of MI5. Twist and double-twist ensues, and Bloom makes an unlikely appearance as a double-agent posing as a tattooed ex-marine.
Technical credits run the full range: there's an excellent conclusion set in London's O2 arena, for example, but Malkovich's Langley base looks like a hotel room, Rapace's apartment looks like a hotel room, and even the interiors of Douglas's Knightsbridge pile look like an upscale hotel room. Lorenzo di Bonaventura (the Transformers series, etc) produced Jack Ryan: Shadow Recruit in 2014, and Unlocked shares some of its themes with that Chris Pine-starrer, as well as Sean Penn's The Gunman from 2015.
The aim, it would appear, is to deliver an action hero to rival Liam Neeson, or Denzel or Bruce in their day, and to keep firing until the target is hit. In terms of screen presence, Rapace certainly comes the closest of all the newcomers to delivering the goods, even though they're stashed in the wrong vehicle.
Production company: Di Bonaventura Pictures
International sales: Bloom,info@bloom-media.com
Producers: Claudia Bleumhuber, Lorenzo di Bonaventura, Georgina Townsley, Erik Howsam
Executive producers: Kevan Van Thompson
Screenplay: Peter O'Brien
Cinematography: George Richmond
Editor: Andrew MacRitchie
Production design: Ondrej Nekvasil
Music: Stephen Barton
Main cast: Noomi Rapace, Michael Douglas, Toni Collette, Orlando Bloom, John Malkovich, Tosin Cole