Dir: Robert Schwentke. US. 2009. 107 mins.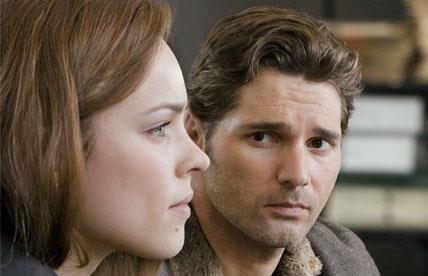 New Line Cinema's adaptation of Audrey Niffenegger's romantic bestseller works best as a star vehicle for Eric Bana and Rachel McAdams, an old-fashioned story of doomed love revolving almost entirely around the two likeable leads. But the second US film from Robert Schwentke after Flightplan fails to stoke up much dramatic fire beyond their considerable chemistry and in the final analysis the film fails to make much sense at all.
Box office numbers could be in the region of minor romances such as The Lakehouse or Nights In Rodanthe
Written by Bruce Joel Rubin, who won an Oscar for another supernatural romance Ghost almost 20 years ago, The Time Traveler's Wife makes turgid work of its fantastical central conceit –a Chicago man who suffers from a unique condition whereby he skips back and forth through time. Making no concessions to whimsy, Schwentke plays the drama straight, yet Rubin's script never provides enough information about the man's life to make the conceit comprehensible. Audiences who spend more than two minutes thinking about the mechanics of the plot will end up bewildered.
Warner Bros in the domestic market and New Line International partners such as Entertainment in the UK are opening the film at the tail end of the summer season (Aug 14) to catch blockbuster-weary female audiences who fancy a tearjerker. On that score, the film delivers the goods and women especially will respond to Bana's sensitive eyes, tormented soul and stacked chest alongside McAdams' dogged fidelity to her man. Box office numbers, however, could be more in the region of minor romances such as The Lakehouse or Nights In Rodanthe than Ghost.
The film opens when six year-old Henry is mysteriously transported out of the skidding car which seconds later will crash and kill his mother. As he watches the accident, he turns to meet his adult self (Bana), who explains that he is a time traveler and that everything will be alright.
But everything is not indeed alright for Henry, whose genetic disorder means that he skips back and forth through his lifespan with absolutely no control about when he will leave the present moment and where or when he will land. Whenever he lands he is naked and, this being the Chicago area, usually freezing.
Henry is accosted one day in the library where he works by a young woman called Clare (McAdams) who apparently knows him and says that she has been waiting for him all her life. It emerges that Henry has visited her at various times throughout her childhood and teen years and that she has been waiting to find him as an adult in real time. The two make love that night and soon afterwards marry, but the life of a time traveler's wife is not an easy one, especially when he keeps disappearing (on their wedding night, for example).
Shot in Toronto, substituting for Chicago, the film takes place in mainly wintry urban settings and Schwentke's choice of visual starkness and autumnal colour palette deepens the film's humourless tone. The actors lift the mood when they can: Bana is very strong in his first romantic lead role and McAdams a vibrant match as the compromised Clare.
To sign up for Screen's weekly Reviews Newsletter with new releases, international openings and full festival reviews delivered free to your mailbox every Friday, please click HERE

Production companies
Plan B
Nick Wechsler Productions
New Line Cinema
US distribution
Warner Bros Pictures
International distribution
New Line International/WBPI
Producers
Nick Wechsler
Dede Gardner
Screenplay
Bruce Joel Rubin, based on the novel by Audrey Niffenegger
Cinematography
Florian Ballhaus
Production designer
Jon Hutman
Editor
Thom Noble
Music
Michael Danna
Main cast
Eric Bana
Rachel McAdams
Arliss Howard
Ron Livingston
Stephen Tobolowsky