Dir: Kelly Reichardt. US. 2008. 80mins.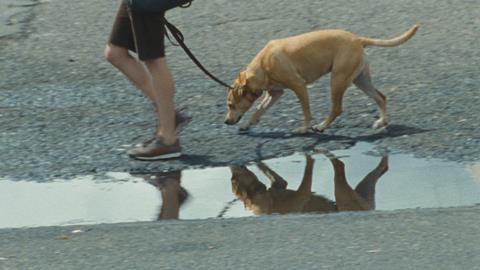 Kelly Reichardt's third film is another small story revolving around seemingly banal events which, like its predecessor Old Joy, builds into a moving cry of despair for its alienated lead character, a young twentysomething woman called Wendy. But Reichardt is no pessimist and her compassion for Wendy and belief in the kindness of strangers make for an optimistic film which should serve to build her already strong US reputation on an international scale.
Kelly Reichardt provides an all too believable picture of how fine is the line between getting by and becoming homeless and destitute
Also serving to boost the film's commercial appeal is Michelle Williams in the lead role. Although by no means a bankable star on her own, Williams is developing a sterling reputation as one of the most adventurous and versatile actors of her generation and this film, combined with upcoming titles from Charlie Kaufman, Lukas Moodysson and Martin Scorsese should continue to cement her name in both financing and critical circles.
Williams is superb here, unbeautified and effortlessly natural as a woman driving a clapped out Honda from her homestate of Indiana to Alaska in search of lucrative work at a fish cannery. Whether they are dead or estranged, she has no parents to lean on and one disinterested sister; in fact the primary relationship in her life is with her golden yellow dog Lucy.
Her schedule and money are tightly controlled so it's a blow when her car fails to start one morning in a small Oregon town. While waiting for the repair shop to open, she goes to the local supermarket for some dog food, leaving Lucy tied up on a leash outside. But, rationing her cash, she opts to shoplift the cans of food, is caught by an overzealous employee (Robinson) and dispatched to the local police station.
Although anxious to get back to Lucy, who is still waiting for her outside the supermarket, Wendy is detained for several hours and, having paid her $50 fine, returns by bus to the store only to find Lucy gone. Seized by mounting panic, she searches for the dog to no avail and has to wait until the following morning to reach the local dog pound.
In her quest for the dog, she is helped by a kindly parking attendant (Dalton) who lets her use his cellphone as the contact number on fliers which she posts in the neighbourhood. Meanwhile a mechanic (Patton) gives her bad news on the state of her car.
Reichardt's films are quiet and detailed, and in Wendy And Lucy , she provides an all too believable picture of how fine is the line between getting by and becoming homeless and destitute. Isolated from family and other support networks, Wendy even realizes that she cannot afford to look after her beloved Lucy.
Unlike Old Joy, which was a two-hander, Wendy And Lucy is told entirely from the point of view of one character - and her dog, of course. The beauty of the film is not only in telling a story with so few words but in showing the wordless tenderness that exists between woman and dog in a society which has cast her onto its fringes.
Indeed, Wendy's forced layover in Oregon brings her into contact with some of society's undesirables. In the opening scene she tries to extract Lucy from the hands of a bunch of druggie wanderers and later on she is woken up by an unhinged homeless man in the woods where she is sleeping. Her flight of terror from this man, who doesn't hurt her, but might have done, is one of the film's darkest moments.
Production companies
FilmScience
Glass Eye Pix
Field Guide Films
International sales
Memento Films International
(33) 1 53 34 90 29
Executive producers
Todd Haynes
Phil Morrison
Rajen Savjani
Joshua Blum
Producers
Neil Kopp
Anish Savjani
Larry Fessenden
Screenplay
Kelly Reichardt
Jon Raymond
From a story by Jon Raymond
Cinematography
Sam Levy
Editor
Kelly Reichardt
Main cast
Michelle Williams
Will Patton
John Robinson
Larry Fessenden
Will Oldham
Walter Dalton