Dir/scr. Guillaume Niclous. France, 2015. 92 mins.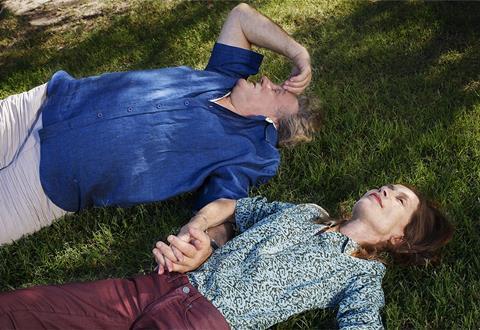 It is thirty-five years since Gerard Depardieu and Isabelle Huppert last appeared on screen together in Maurice Pialat's Loulou. Their fond reunion is one of the great attractions of Guillaume Nicloux's Valley Of Love. They have the tender complicity of war veterans bound together by old wounds and half-forgotten skirmishes. The affectionate rapport between the actors and their characters is evident in every scene and manages to transport the wary viewer through an odd but not unappealing mixture of mystical road movie and family psychodrama that often threatens to become a Death Valley Don't Look Now or, heaven forfend, a California Sea of Trees.
Depardieu seems especially vulnerable in this film, his hulking frame is frequently half-naked and covered in perspiration
The star duo should be enough of a lure for arthouse audiences although based on the reception at the first press screening at Cannes, Valley Of Love will receive mixed critical support at best.
It is impossible not to read a good deal of off-screen history into Valley Of Love. Guillaume Nicloux dedicates the film to his father Alain, Depardieu plays an actor called Gerard whose son is dead and Huppert plays Isabelle. There is a playful blurring of actors and characters. An American holidaymaker asks Gerard for an autograph and he obliges, signing it from Bob De Niro. Isabelle is asked which one of the two of them is more famous in France.
They have both arrived in the suffocating heat of Death Valley, California to fulfil a request from their son Michael who committed suicide six months earlier. He has written to them promising that if they meet at this location on a certain date in November 2014 he will return and he will see them both. Gerard is sceptical; a rational, logical man who expects nothing from this folly but has still turned up. Isabelle is a believer and fervently hopes for a return of the dead son she neglected and barely saw in his last years.
Grief and guilt are the currency of their conversations but it is their long ago relationship that looms largest through their gruelling trips to the aptly named Furnace Creek and Badwater Basin. As Isabelle gazes lovingly into her former husband's eyes, she gives eloquent expression to her belief that if you love someone once, you will love them forever.
Depardieu seems especially vulnerable in this film, his hulking frame is frequently half-naked and covered in perspiration as he wheezes his way through the Death Valley heat and the emotional turmoil. " I got fat, " he says to Isabelle who responds that it is of little consequence as long as he is happy. " How could I possibly be happy like this?" he forlornly replies.
There are confessions and soul-searching into the night before the first signs that the late Michael might somehow be able to keep his promise.
The more mystical, spiritual elements of the story may be hard to swallow for some but the white heat, widescreen vistas of the Death Valley locations are extremely beautiful and Depardieu and Huppert are a captivating screen couple.
Production companies: Les Films Du Worso, LGM Cinema
International sales: Le Pacte c.neel@le-pacte.com
Producer: Sylvia Pialat, Benoit Quainon, Jean Baptiste Dupont, Cyril Colbeau-Justin
Cinematography: Christophe Offenstein
Editor: Guy Lecorne
Music: Charles Ives
Main cast: Isabelle Huppert, Gerard Depardieu, Dan Warner, Aurelia Thierree