A Colombian man struggles to recover the bodies of his two murdered sons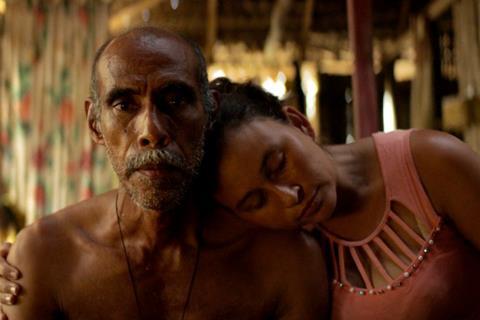 Dir/scr: Nicolas Rincon Gille. Colombia, Belgium, Brazil, France. 2019. 137mins
The year is 2002 and Colombia is under the heel of violent paramilitary forces which roam the country, dispensing arbitrary justice and instilling terror. One night, fisherman Jose (Arley De Jesús Carvallido Lobo) returns to find that it is the turn of his community to be targeted and that his two adult sons are missing from the family home. It soon becomes clear that the worst has happened, and Jose sets off on a grim mission downstream to recover the remains of his boys. This meditative study of grief juxtaposes banality and beauty, both of which feel strikingly incongruous next to the visceral horror of Jose's personal tragedy.
Gille instils a mounting tension, even when the most striking aspect of the picture is the languid beauty of the landscape
The first fiction film from Nicolas Rincon Gille (he has won prizes at Cinéma du Réel with his documentary features, En Lo Escondido and Noche Herida), Valley of Souls is an arresting and accomplished snapshot of a troubled period in Colombian history. With its languid pacing and long passages that play out without dialogue, the film is well suited to the festival circuit, where it should attract interest for its striking widescreen cinematography and evocative use of sound. Theatrical prospects would be healthiest in art cinema venues.
Jose's self-imposed mission is simple – he must give his sons a proper burial so that their souls will know the peace that they were denied at the moment of their death. But it is complicated by numerous factors. The churning currents of the river can carry a body for miles. And the people he meets along the way are mindful of warning that anyone who removes a body from the river will likely find themselves resting alongside the dead in the water. Fear makes many instinctively recoil from the taint of tragedy. Others see Jose's grief as an opportunity to be abused. Still others will help him, at great personal risk to themselves.
The film is a road movie – or perhaps a river movie would be more appropriate – which is shaped around a chain of random encounters. And yet it doesn't feel as episodic as it might. This is partly due to the gravity and controlled anguish of Jose Arley De Jesús Carvallido Lobo's performance. Jose is not wounded in a showy, demonstrative way, but his hollowed out ache of loss is evident throughout.
Gille instils a mounting tension, even when the most striking aspect of the picture is the languid beauty of the landscape. There is something particularly shocking about the use of a region so lovely as an open grave. The use of sound is also crucial. It is the alarm call of wildlife that first alerts Jose to the fact that something is amiss at home. Subsequently, the screech of birds is a recurring motif and a reminder of the violence. Likewise the use of diegetic music – upbeat, celebratory toe-tapping party tracks boom out from bars and boats, a constant mockery of Jose's grief.
An eventual encounter with the militia is inevitable, and Jose finds himself staring down the barrel of the rifle of a teenage soldier who smirks involuntarily at the power he wields. In one of the film's strongest scenes, Jose finds himself hauled back to the camp where the vagaries of a fickle electricity supply and his own knowledge of competitive cycling will be the factors which determine whether he lives or dies.
Production Company: Medio de Contención Producciones
International Sales: Best Friend Forever sales@bffsales.eu
Producers: Hector Ulloque Franco, Manuel Ruiz Montealegre
Editing: Cedric Zoene
Cinematography: Juan Sarmiento G.
Art Director: Lais Melo
Main cast: Arley De Jesús Carvallido Lobo, Carlos Enrique Avila Argota, Maria Amanda Vargas Barbosa, Emil Quitero Contreras, Oscar Carvallido Cuellar, Alfonso Javier Hernandez Lopez, Jose Enrique Vasquez Hernandes, Pedro Julio Arias, Carmen Munoz de Mora, Lissy Johanna Meneses Rodriguez, Carlos G Vergara Montiel, Maria Ines Mejia Castano