A 14-year-old girl grapples with her family history during one humid summer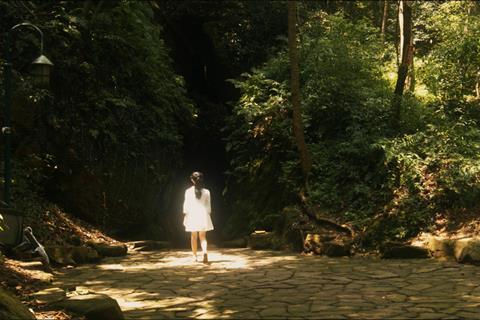 Dir: Zhu Xin. China. 2018. 94mins
Vanishing Days is the debut from 22-year-old filmmaker Zhu Xin, set in Huangzhou in East China — an ancient city whose West Lake is an easily recognisable Unesco world heritage site. Huanghzou itself is as important as any of the characters who flit through this picture, which plays out like a graduation film from a clearly talented director who has been influenced by auteurs including Thailand's Apichatpong Weerasethakul. There is some of cinematographer Christopher Doyle's directorial debut Away With Words in here as well, as beautiful imagery plays out to an opaque scenario.
Zhu's age and confidence speak towards a future of note.
Having played in Berlin's Forum and now competing for the Young Cinema Award at Hong Kong International Film Festival, Vanishing Days will be watched by those on the hunt for young talent and festivals devoted to exposing it. Certainly, it is quite an achievement, shot over two years for less than $2,500. In the absence of an identifiable story to lock onto, the dreamy imagery of Huangzhou and its inhabitants flirts with viewer disengagement as one beautifully disconnected shot follows another.
Vanishing Days is mostly centred around the young Senlin (Jiang Li, a non-professional like the rest of the cast). She glides around her apartment on roller skates, occasionally attempting school work and trying to find her pet turtle. She seems sensitive to odours, although whether that is hiding a metaphor is not clear. Senlin's "aunty" Qiu (Huang Jing) arrives with tales of her dead lover and far-off lands (the film flashes to a house on a remote island), although she is a mystery too, whispering to Senlin and asking the child to come and live with her.
Meanwhile Senlin's father (Luo Haiqing) takes a trip to a cave where he starts speaking to a child who may be his dead son. And lines of calligraphy appear on the screen, which are mysterious as well — they may have been written by someone from Qiu's past. A trip to find a new turtle ends up with a diversion into a forest. And to complicate matters, there is a murder that Senlin witnesses and seems to be taken from real-life.
Of note here is enhanced sound design coupled with an understated score. Zhang Wei's cinematography can be arresting, even though shots are often occluded and the edit bumps them around. Vanishing Days is not exactly a new prospect for fans of Asian arthouse cinema, but Zhu's age and confidence speak towards a future of note.
Production companies: Midnight Blur Films, Midday Films
International sales: Parallax Films, info@parallaxchina.com
Producers: Wang Jingyuan, Xia Yantao, Zhao Jin
Screenplay: Zhu Xin, Dai Ying
Production design: Chen Xinjialan, Jin Jiacheng
Cinematography: Zhang Wei, Wang Chenhao
Music: Tao Zhen
Main cast: Jiang Li, Huang Jing, Chen Yan, Li Xiaoxing, Lu Jiahe, Luo Haiqing