Dir. Louise Osmond. UK, 2016, 93 mins.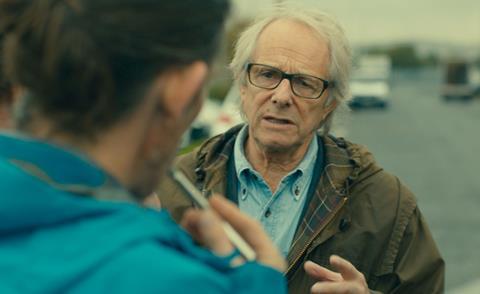 I, Daniel Blake may have won the Palme D'Or last month, but Versus: The Life And Films Of Ken Loach should be the immediate beneficiary. Without that second Palme, a film about the half-century career of its director Ken Loach, shot around the filming of I, Daniel Blake, might easily have been perceived as a classy DVD extra. Now, it seems like a timely, if not golden, opportunity to examine Loach afresh, and Louise Osmond's 93-minute film doesn't disappoint.
Loach's urgent, issue-led agenda stands almost in contrast to the man himself.
Versus is as watchable for those who have never seen a Ken Loach film as it is informative for those who think they know him. Appropriately, given the director's left-leaning politics, part of its theatrical release in the UK through the innovative Dogwoof is a "pay what you can" afternoon on Sunday June 5. Although Versus will have an obvious home on TV including part-backer the BBC - which once dropped him for being too political - it has the scope for the big screen too, and should become an international festival favourite.
To their credit, Osmond and Loach's long-time producer Rebecca O'Brien aren't on a mission here to present Ken Loach as a twinkly-eyed National Treasure. Instead, he's carefully placed in context – of his life, the times, some of his films, his dogged personality. The Wednesday plays he directed for the BBC – such as 1965's Up The Junction – were watched by audiences of between 18-20 million, unheard-of figures today in the UK, and viewing numbers he can only dream of now.
But from the very beginning of his career as a director, particularly with 1966's story of homelessness Cathy Come Home, Ken Loach's work has inflamed sensitivities. Watching this documentary, it can't but be noted with sadness that Cathy's story informs I, Daniel Blake, or that too little has changed, including the potential reaction to Blake when it releases in the UK later this year. Such controversy can overshadow his artistic achievements at home - only nine directors have won two Palme D'Ors.
Versus kicks off with inter-titles which suggest that Loach's 2014 retirement – he will turn 80 on June 17 – was prompted by the return to power of the UK's Tory party, although everyone in this film seems to realise that Ken will never retire, including himself. A picture of David and Samantha Cameron is accompanied by the slight Loach – a "man who looks like a bank clerk" – saying the word "bastards". The documentary moves from this somewhat unconvincing "retirement" plotline to a thoroughly engaging examination of his life, framed by the production of I, Daniel Blake. It's a life throughout which he has repeatedly taken on "the bastards", and never given up.
What is most surprising about Versus is the personal insight. Loach is a director who tends to speak on a wider platform. Talking about his father, the death of his child in a catastrophic car accident, the time he ended up shooting commercials for companies including MacDonalds in the the 12 years during which he couldn't get a film released and his documentaries were classified as "untransmittable", helps to illustrate his personal tenacity. Actors such as Cillian Murphy (The Wind That Shakes The Barley) are illuminating on his film-making process, driven by the idea of presenting reality ("shot in a way you'd believe it").
Contributors such as Tony Garnett and Gabriel Byrne provide an admiring but also critical perspective - that drive for capturing reality included a scene where real corporal punishment was doled out to children in Kes, for example. It's clear this is a director who can be stubburn and inflexible in his approach. His active stance regarding the State of Israel is not referenced here, although the debacle regarding the Royal Court's 1987 production of Perdition certainly is - it was cancelled 36 hours before its first performance.
Yet Loach's urgent, issue-led agenda stands almost in contrast to the man himself. As the Nuneaton-raised child of a tool factory worker who went to grammar school and eventually Oxford University, the "apparently self-effacing" Loach, we learn, has had a life-long love of musicals - "the camper the better" - and cricket. A self-described "failed actor", he rather bizarrely met his wife when he was understudy to Kenneth Williams.
Garnett says Loach looks like he'd "be at home at a vicars's tea party", and he refers to himself as an "antique" director, but footage from the set of I, Daniel Blake, shows a man very much on top of everybody's game on set. And off-set, those "bastards" clearly shouldn't rest, as long as O'Brien can drum up finance, which has never been an easy matter for Ken Loach despite all his acclaim. Versus includes footage where Film 4 is shown declining to fund I, Daniel Blake for being "not being a good investment", to be replaced by the BBC.
Production company: Sixteen Films
Producer: Rebecca O'Brien
Editor: Joby Gee
Cinematographer: Roger Chapman
Music: Roger Goula