Dir. Mir-Jean Bou Chaaya. Lebanon, Qatar. 2015. 107mins.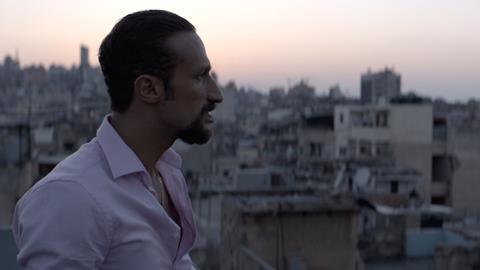 This spirited but uneven Lebanese crime drama takes an unexpected second-act turn into movie industry satire when a film shoot is re-purposed as a cover for a drug smuggling operation. The comedic promise of the idea is not matched by the hit and miss execution, however. Inevitable comparisons with pictures like Argo and Bullets Over Broadway only serve to highlight the baggy pacing, the repetitive nature of the screenplay and the many wasted opportunities therein. It's intermittently amusing but the momentum of a respectable festival run – Very Big Shot arrives in Tallinn Black Nights Film Festival following showings at Toronto and London – seems unlikely to translate to much in the way of a theatrical life.
The performances are naturalistic and persuasive, with Saadeh particularly notable for the sinewy intensity and smouldering anger he injects into his protrayal of Ziad
Writer-director Bou Chaaya's debut opens with a bracing prologue. A gritty street tussle results in a fatal shooting; three brothers are brought in for questioning. The youngest, Jad (Wissam Fares), takes the rap for his eldest brother Ziad (Alain Saadeh, also the film's co-writer).
Five years later, brash underworld operator Ziad and resentful, put-upon middle brother Joe (Tarek Yaacoub) run a pizza delivery business which offers 'special' deliveries to select clients. With Jad about to be released from prison, Ziad is keen to set up a legitimate restaurant business to keep his youngest brother away from the drug industry and out of jail. Jad is less keen on the modest rewards of a life lived on the straight and narrow. And Ziad's supplier is not about to let him retire.
A final smuggling run across the border to Syria, and likely set up, implodes dramatically, leaving Ziad with blood on his hands and a fortune in Captagon (amphetamine pills). This presents a quandary: how to cash in the drugs and dodge the inevitable bullet from the mob henchmen who are circling and asking tricky questions about the fate of the shipment.
An answer presents itself when Ziad is collecting money from one of the more enthusiastic fans of his 'special' pizzas. Charbel (Fouad Yammine) is a clownish filmmaker with aspirations to make a wretched-sounding feature about the love between a Muslim man and a Christian woman. A filmed interview with real-life Lebanese director George Nasr plants the seed of an idea: smuggle the drugs out of the country in film cannisters. But to guarantee that the cans won't be opened, Ziad needs a permit. And to get a permit, he needs a film.
Ziad offers to finance Charbel's project and casts himself in the role of hard-nosed producer. It's a job he takes to immediately, offering shoot notes to the bemused Charbrel and relishing the press interest that results when the shoot inadvertantly triggers a religious street riot.
Ziad's lackeys also take to their new roles in the movie industry. Some of the film's more amusimg moments come from Ziad's toughnut enforcer riffing on the failings of arthouse cinema. But having set up a satire of the film industry, Bou Chaaya seems unsure of what he wants to say about it. He is clearly more at home with the conventions of the crime drama than the self-reflexive humour of the second half. An illicit relationship between Charbel's actress wife Alya (Alexandra Kahwaji) and middle brother Joe is an intriguing subplot which simply fizzles out.
The performances are naturalistic and persuasive, with Saadeh particularly notable for the sinewy intensity and smouldering anger he injects into his protrayal of Ziad. Edgy, deliberately unpolished cinematography brings energy to the story, but this is undermined by heavy-handed music choices and flabby editing.
Production company: Kabreet Productions
International sales: Be For Films pamela@beforfilms.com
Producers: Lucien Bou Chaaya, Christian Bou Chaaya, Mir-Jean Bou Chaaya
Screenplay: Mir-Jean Bou Chaaya, Alain Saadeh
Cinematography: Fadi Kassem
Editor: Mir-Jean Bou Chaaya, Simon El Habre
Production design: Issa Kandil, Maia El Khoury
Main cast: Alain Saadeh, Fouad Yammie, Marcel Ghanem, Tarek Yaacoub, Alexandra Kahwaji, Wissam Fares, Georges Hayeck, Fadi Abi Samra, Marcel Ghanem