Dir. Guy Edoin. Canada 2015. 101 mins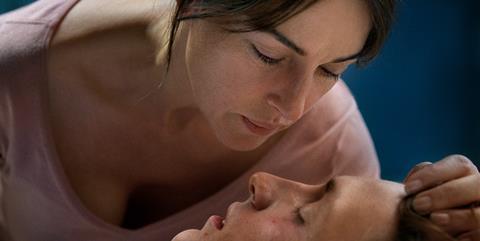 The latest feature from writer/director Guy Edoin (Marecages, Corno) is an ambitious attempt at a Crash-style ensemble, tracing the interconnecting lives of a group of damaged souls in downtown Montreal. There are strong echoes of Almodovar and fellow Canadian Xavier Dolan in Ville-Marie, as it explores fraught relationships between mothers and sons, fractured families, guilty secrets and the blurred line between fact and fiction. It is intermittently engaging and occasionally clunky as it follows the emotional fall-out from a number of traumatic accidents and inevitably suffers from the curse of the ensemble drama in that some characters are much more interesting than others.
Ville-Marie is solid enough in places but lacks the flavour or punch of unexpected elements that would allow it to feel more distinctive
The most marketable element is the regal star presence and strong performance of Monica Bellucci in one of her most demanding recent roles and that could be enough to spark theatrical sales in markets with an eye on her post-Spectre box-office glow.
Bellucci wafts through the film like a haunting perfume as movie star diva Sophie Bernard. Her arrival in Montreal prompts a long tracking shot as she walks through a largely deserted airport. She is in town to make a movie that echoes events from her own life and Edoin is a little too in love with showing us scenes from the production of a stilted-looking film that feels as glossy and artificial as a Ross Hunter Universal effort from the 1950s.
The highly stylised production design and a lush, Bernard Herrmann-style score suggest the delirious swirl of a melodrama that might once have starred Lana Turner and Bellucci is dressed to kill in every scene. Whether these extended sequences really add anything to the overall picture is a moot point but they are a splendidly decorative distraction.
Sophie is also in Montreal to build some bridges with her gay son Thomas (Aliocha Schneider) who is increasingly insistent that she reveals the name of his father and the circumstances of his birth. When we first see Thomas, he is standing at a bus stop when a young woman asks for his assistance. She hands him her baby and then walks into the middle of the traffic. The paramedic who attends the tragedy is shellshocked army veteran Pierre (Patrick Hivon). The emergency nurse at Ville-Marie hospital who worries about him and frets over being an absent parent to her son is Marie (Pascale Bussieres).
All of the characters are at the mercy of past tragedies, numbed by their pain and seeking some form of escape in work, sex or make believe. The trouble is that some of their dilemmas veer towards the banal and the dialogue doesn't always cut as deep as one might have hoped. Sophie is told she is "more authentic when she is acting", other characters crave attention with assertions that "I can't be alone. Not tonight". Ville-Marie is solid enough in places but lacks the flavour or punch of unexpected elements that would allow it to feel more distinctive.
You suspect there would have been enough material in the Bellucci story to carry the weight of an entire film. Edoin and cinematographer Serge Desroiers certainly seem beguiled by the actress and her sequences have the force of an old-fashioned star vehicle from the extravagant wardrobe to a scene in which she publicly serenades her mortified son with a husky version of the Elvis Presley hit Can't Help Falling In Love. She is also granted a "brave" hospital scene in which she discards the wig worn for filming, washes away her make-up, removes her eyelashes and ditches every vestige of movie star glamour.
Ville-Marie is a great showcase for Bellucci and even if everything else pales by comparison there is enough here to suggest that Edoin is still a director worth watching.
Production Company Max Films Media Inc
International sales: Films Boutique, info@filmsboutique.com
Producer: Felize Frappier
Executive producer: Roger Frappier
Screenplay: Guy Edoin, Jean-Simon DesRochers
Cinematography: Serge Desrosiers
Editor: Yvann Thibaudeau
Production design: David Pelletier
Music: Olivier Alary, Johannes Malfati
Main cast: Monica Bellucci, Pascale Bussieres, Aliocha Schneider, Patrick Hivon