Dir. Anu Menon. India, 2015, 92 mins.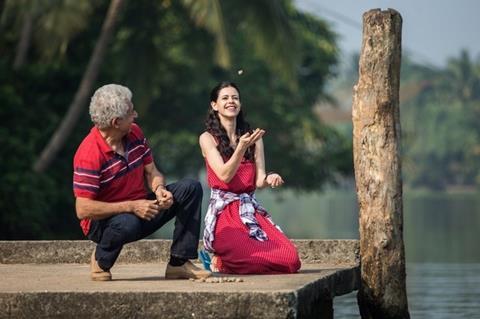 India's past clashes with its mouthy, impatient present in Anu Menon's appealing drama Waiting, which pairs experienced Bollywood old-timer Naseeruddin Shah with Kalki Koechlin (so impressive in Margarita With A Straw). Superficially, this may look like a progression of 2013's The Lunchbox, but Menon swerves romance to make a pointed commentary about the gulfs between Old India and its privileged, connected young.
Waiting simmers in its locales without being brash or boastful; the colours of India are there, glowing at the sidelines, in a handsomely-realised production which should resonate with viewers.
Moving freely between Hindi and English, Waiting takes place at a hospital's intensive care unit where two lives hang in the balance. Despite its brisk pace and lush production values, this is by no means a chipper milieu and any resistance Waiting's distributor Shoreline will face is in its downbeat subject matter. Yet this Waiting is a universal film: this could be any hospital, in any country, with the Kochin setting simply adding rich flavour and more dramatic contrasts – the slow South of India, where Mumbai hipster Tara Kapoor (Koechlin) is summoned after her new husband is involved in a life-threatening accident.
The film, however, starts out with a fellow habitue of the hospital: the staid, cricket-loving Professor Shiv Natraj (Naseeruddin Shah), so knowledgeable now about medical matters that he's easily mistaken for a doctor. His beloved wife has been hooked up to a ventilator for eight months and there seems to be no hope left.
Tara and Shiv form a friendship based on grief, but she's difficult to be around even as her struggle is understandable - Tara has abandoned her family in search of a new India, and embraced her friends and Twitter as her new clan. Neither set of parents approved of the marriage to Rajat (Arjun Mathur), and she decides not to tell them of his current plight – on life support in a private hospital with serious brain damage.
She has met her match in Shiv, who proves to be equally as stubborn — refusing to admit that his relationship with his wife now only exists in the past. Tara has difficulties in facing a potential future in which Rajat isn't physically the man he was. Caught between them is the coolly-professional Dr Nirupam (Rajat Kapoor).
Waiting benefits greatly from Koechlin's appeal, because Menon's own screenplay forces Tara to behave for a large part in an objectionable manner – a string of swear words falls from her spoiled and impulsive mouth. She's rude to nurses and doctors and blurts out before she's had time to think. Koechlin, an Indian actress with French heritage, has an expressive face to match her talent, and Tara never quite succeeds in pushing the audience away. She enjoys an easy on-screen rapport with the elegant Naseeruddin Shah, whose presence lends the film its grace-notes.
Technically, Waiting simmers in its locales without being brash or boastful; the colours of India are there, glowing at the sidelines, thanks to Neha Parti Mtiyani's dignified lenswork. This is a handsomely-realised production which will resonate with viewers. Outside India, this may be more skewered towards VOD, but this is a film which is equally impactful in a home scenario.
Production company: Ishka Films
International sales: Shoreline Entertainment, info@shorelineentertainment.com
Producers: Manish Mundra, Priti Gupta
Screenplay: James Ruzicka, Anu Menon
Cinematography: Neha Parti Matiyani
Editors: Nitin Baid, Apurva Asrani
Production designer: Prajakta Ghag
Music: Mikey McCleary
Main cast: Naseeruddin Shah, Kalki Koechlin, Arjun Mathur, Rajat Kapoor · ·