Editor Nicolas Roy's directorial debut is a psychological study of life inside a military barracks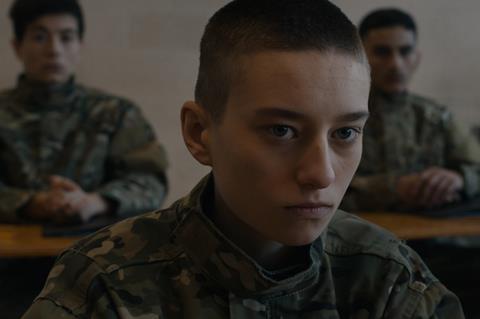 Dir: Nicolas Roy. Canada. 2021. 84 mins.
Esteemed Quebecois editor Nicolas Roy makes a belated, intriguing but ultimately underwhelming feature-length directorial debut with military-themed psychological drama Wars. A close-quarters study of the unwholesome relationship that develops between a granite-tough sergeant and a vulnerable young female recruit, this is a rigorously humourless affair of excessively elliptical and brooding intensity which feels cut to the bone and then some. Despite world-premiering in the main competition at Karlovy Vary, it looks unlikely to enjoy the international exposure achieved in the past decade by Roy's frequent collaborator Denis Cote.
A work of unremittingly stern dourness
Roy has edited most of Cote's works since 2010's Curling, including the outstanding Vic + Flo Saw A Bear (2013), and more recently Ghost Town Anthology (2019), plus this year's Berlinale Encounters section prize-winner Social Hygiene. Roy himself made a splash with his short film Ce n'est rien, which competed at Cannes in 2011 — the year Wars and its scriptwriter Cynthia Tremblay participated in the Atelier Grand Nord scriptwriting workshop. This detail is noted at the end of the picture's closing credits, and may make eagle-eyed viewers wonder why it took a full decade to make what seems to be a somewhat straightforward, low-budget Canadian indie.
The action mostly takes place in and around a remote, windswept barracks, and is dominated by the two main roles: Eleonore Loiselle (from Social Hygiene) as the haunted-looking Private Ducharme, and David La Haye (who bears quite a striking resemblance to Mark Strong) as Sergeant Richard. The latter is evidently a martinet of the old school (and thus a familiar type from military-themed cinema), stridently stressing "order, discipline, submission" and most of all "obedience."
He takes a particular interest in Ducharme, who initially seems to be the only female in training to join the 20th Infantry Battalion, apparently because he knew and greatly respected her father. In a screenplay deliberately parsimonious with exposition and explanation, it can be deduced that Ducharme is following in daddy's bootprints via her choice of career. But Wars, implicitly a cautionary tale about the potential dangers inherent in mixed-gender armed forces, seems to take a very dim view of military culture full stop. As presented here, this is a way of life which is less about the formation of character than its deformation.
The story is quite simple: Ducharme successfully endures Richard's tough training methods; the pair are sent overseas to a combat zone in an unspecified post-Soviet corner of "Eastern Europe," (presumably Ukraine, but visibly still Quebec). A traumatic incident — witnessed by Ducharme — in which Richard accidentally shoots a civilian dead pushes the sergeant over the brink. On their return to base and Canadian soil, his pent-up emotions and aggressions spill out into a violent physical assault on his youthful comrade, occurring almost exactly at the film's halfway mark.
The impact and aftermath of the rape overshadow all that follows. The victim must deal with her trauma — "I've never felt so alive," she rather oddly exclaims during this painful healing process — and the perpetrator with his guilt. The final 20 minutes then unfold wordlessly as a kind of prickly, sensual gavotte, the inarticulate and uncommunicative pair finally coming to terms with each other (physically at least) in claustrophobic isolation.
This last section is the most extreme example of Roy's attempts to strip his film down to the barest elements. Consistently austere (including Maxime Normand's spare production design) and set up as a compendium of fixed stares and protracted silences, Wars in these crucial climactic scenes comes across as excessively mannered, arch and theatrical. Roy simply seems to have gotten carried away in the editing suite, paring down the material to the verge of abstraction and delivering a work of unremittingly stern dourness — one which is easier to admire than properly digest.
Production company: 1976 productions
International sales: Be For Films, info@beforfilms.com
Producer: Nicolas Comeau
Screenplay: Cynthia Tremblay

Production design: Maxime Normand
Editing: Nicolas Roy
Cinematography: Philippe Roy
Main cast: Eleonore Loiselle, David La Haye, Fanny Malette, Martine Francke