Dir: Max Joseph. US. 2015. 96mins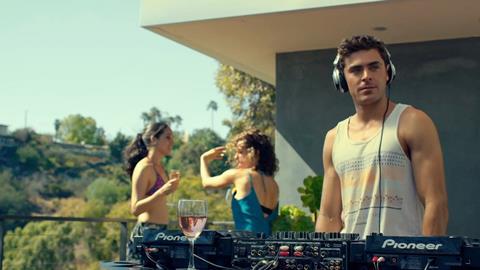 The tunes are fresh, but otherwise it's the same old song with We Are Your Friends, a coming-of-age drama set in the world of electronic dance music that captures some of the ecstatic rush of youth when the film's not busy laying out a sluggishly predictable romantic-triangle love story. Aspiring to be a kind of generational portrait, complete with sweeping generalisations and a lack of self-awareness, the feature debut of director Max Joseph can occasionally be as entrancing and euphoric as the pulsating dance songs on the soundtrack. But even an empathetic performance from Zac Efron (and an impressive, nuanced turn from Wes Bentley) can't distract from a movie that mistakes surface flash for probing, zeitgeist-y insights.
In a movie that often feels programmatic — more a declaration about 'Being Young' than an inquisitive look at individual characters — Wes Bentley is the happiest surprise
Hitting several territories, including France, the UK and the US, by August 28, We Are Your Friends will cater to fans of electronic dance music (or EDM) and Efron, and the film's perspective on twentysomething life could certainly appeal to those of the same age group. Still, it seems unlikely that word of mouth or reviews will be persuasive enough to draw viewers outside of those specific target audiences. Most may adopt a wait-and-see approach to We Are Your Friends, deciding to get acquainted with the film on the small screen once its theatrical run concludes.
Set in the San Fernando Valley north of Los Angeles, We Are Your Friends stars Efron as Cole, a 23-year-old who never went to college so that he could focus on his passion: becoming a DJ. Surrounded by friends who are burnouts and losers, he meets James (Bentley), a legendary DJ who's pushing 40 and may be a little past his prime. Even though Cole secretly thinks James has sold out, trading innovation for easy paydays, he's excited to be taken under the man's wing. But the mentorship gets complicated once Cole becomes smitten with James's girlfriend and personal assistant Sophie (an awkward but likeable and alluring Emily Ratajkowski).
A director of shorts and commercials, and one of the masterminds behind the MTV reality series Catfish, Joseph (who also co-wrote the script) self-consciously fashions We Are Your Friends to be a millennial state of the union, painting Cole and his peers as victims of a greedy, shallow society of which they want no part. Although Cole works with turntables, laptops and samplers, he's no different than the protagonists of bygone find-your-voice films in which a struggling songwriter or dancer learns that he must be true to himself so that he can really express what's inside of him.
This kind of cliché, like many others in We Are Your Friends, is delivered with a matter-of-factness that would be refreshing if it had much wit or ingenuity behind it. Unfortunately, Joseph tends to tackle his themes with a stifling earnestness: One could argue that he's shaping We Are Your Friends to be as overdramatic, urgent and naïve as Cole's worldview, but there's no hidden depth to the proceedings, no sense that the filmmaker sees his characters more clearly than they see themselves. Consequently, the solipsism becomes off-putting after a while.
To his credit, Efron, who's shown a self-mocking sense of humour about his good looks and shapely abs in comedies like Neighbours, tries to locate the restlessness and artistry within Cole. But that effort doesn't mean much when his character's journey is such a familiar one: To find his voice, Cole must stop imitating others and, instead, speak from the heart. That's a platitude so mouldy that no amount of sincerity or skill can justify.
Cole's searching spirit comes through stronger when Joseph turns We Are Your Friends into a propulsive music video, working with editors Terel Gibson and David Diliberto and music supervisor Randall Poster to craft stirring scenes that marry flowing images to high-energy EDM tracks. (Acts like Pyramid and Gryffin dot the film's aural landscape, complemented by a score from Segal.) As Cole and Sophie begin to acknowledge the spark between them — provoked, in part, because they're closer in age than she is to James — the movie segues into a more rapturous mood, the untethered, powerfully emotional songs conveying the characters' budding infatuation better than they can themselves. (Though the comparison is admittedly a stretch, We Are Your Friends can, at these moments, faintly recall the sensuous sweep of Terrence Malick's wistful scenes between lovers.)
In a movie that often feels programmatic — more a declaration about 'Being Young' than an inquisitive look at individual characters — Bentley is the happiest surprise, playing James as a snotty, snobby DJ who, perhaps deep down, knows that he's coasting now that he's become famous in the EDM world. There's a nagging self-loathing going on in James that consistently complicates our feelings about the character. James may be the only thing standing between Cole and Sophie — and Cole's dreams of becoming a professional DJ — but Bentley plays him with just enough pathos that James becomes an unlikely cautionary tale warning Cole of what the future might look like if he lets his passion coagulate into merely a job.
Production companies: Studiocanal, Warner Bros. Pictures, Working Title
US distribution: Warner Bros. Pictures, www.warnerbros.com
International sales: Studiocanal, www.studiocanal.com
Producers: Tim Bevan, Eric Fellner, Liza Chasin
Executive producers: Richard Silverman, Olivier Courson, Ron Halpern, Nathan Kelly
Screenplay: Max Joseph & Meaghan Oppenheimer, story by Richard Silverman
Cinematography: Brett Pawlak
Production design: Maya Sigel
Editors: Terel Gibson, David Diliberto
Music: Segal
Website: www.wayf-movie.com
Main Cast: Zac Efron, Emily Ratajkowski, Shiloh Fernandez, Alex Shaffer, Jonny Weston, Wes Bentley