Dirs: Josh Kriegman, Elyse Steinberg. US. 2015. 96mins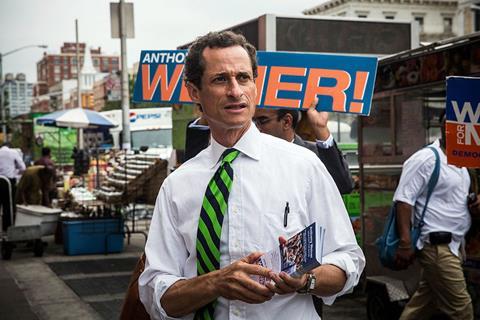 Slickly packaged but also consistently entertaining, even illuminating, the documentary Weiner takes the viewer inside the 2013 New York City mayoral bid of disgraced politician Anthony Weiner, capturing both the hope and humiliation encircling his shot at redemption. A former congressman who championed liberal causes and working-class voters, Weiner had seen his legacy destroyed by a 2011 sexting scandal, and directors Josh Kriegman and Elyse Steinberg follow in brutal detail how that embarrassment still clung to (and ultimately scuppered) his failed campaign.
There's a noticeable, enlivening tension between the film's two dominant sentiments — anger at the media's overkill and frustration with Weiner's self-destructive tendencies
Premiering at Sundance, where it won the US Grand Jury Prize for documentaries, Weiner recently screened at the True/False Film Festival and will open in the US on May 20 through Sundance Selects (international rights are being handled by Dogwoof and Scanbox for pan-Scandinavian) . Exhibitors will hope that enough viewers remember the Weiner scandal to be enticed by an insider's peek at his mayoral campaign as it was imploding. (That enticement should only be strengthened by the fact that this is a presidential election year in the US.) Americans may decide to wait until Weiner hits Showtime in the autumn, however, to give this breezy, funny film a try.
Kriegman, who worked as Weiner's chief of staff for a time when the politician was in Congress, and Steinberg (The Trial Of Saddam Hussein) were given incredible access to the 2013 campaign, their cameras following Weiner, his wife Huma Abedin (a close aide to current presidential hopeful Hillary Clinton) and various staff members. One suspects that Weiner allowed such access partly to show the world that his weakness for having racy conversations with women he met online — and sending them explicit photos — was a thing of the past, and that the tireless work he had done for ordinary New Yorkers would continue as mayor.
Unfortunately, that decision comes back to haunt him, although not at first. In Weiner's early stretches, we're reminded that this charming, vibrant politician looked to be a promising mayoral candidate, surging to an early lead among Democratic candidates. In its opening reels, Weiner finds Weiner full of optimism, acknowledging his personal failings but determined not to let them overshadow his commitment to his constituents. With Abedin by his side, he looks like he has every shot to get the nomination.
But disaster looms. Kriegman and Steinberg are there to document a second sexting scandal that hits just as the campaign is revving up. Weiner's fly-on-the-wall cameras capture the tense moments between Weiner and his wife, as well as the difficult strategy sessions where he and his team try to figure out the best way to spin politically damaging reports of new women coming forward with their stories.
The film has thoughtful things to say regarding the media's thirst for provocative, titillating stories about public officials — and whether journalists' supposed insistence on pursuing the truth sometimes bleeds over into mere sensationalism to attract higher readership and TV audiences. But at the same time, Weiner possesses a noticeable air of disappointment in its subject, and even Weiner himself admits that he allowed his reputation to be tarnished by pursuing the online dalliances that turned his last name into a national punch line.
There's a noticeable, enlivening tension between the film's two dominant sentiments — anger at the media's overkill and frustration with Weiner's self-destructive tendencies — but often Kriegman and Steinberg drape the proceedings in a breezy tone that emphasises the material's you-are-there, circus-like atmosphere over deeper analysis or a sharper perspective. This inclination is understandable — Weiner's mayoral bid had its share of juicy twists and funny, awkward moments. But the filmmakers' tendency risks reducing Weiner to the same thing it's criticising in the media, becoming just a superficial exposé of a public figure who was laid low by an embarrassing sex scandal.
If Weiner isn't as penetrating a look at modern politics as, say, The War Room, there's no denying the wealth of glancing insights that Kriegman and Steinberg have compiled. Plus, they've been blessed to be filming Weiner and Abedin, who are both compelling onscreen presences and, together, a notable example of a modern-day power couple. Though both focused on his political future with bracing pragmatism, they come across as nuanced, emotional individuals who have weathered his sexting misadventures as well as other marital problems to emerge on the other side as a stronger couple. At least, that's what they hope: Weiner chronicles the fissures that pop up once new sexting revelations emerge in the press. On one level, the film is simply an engaging profile of a campaign in peril — on another, it asks what the toll can be on individuals who give themselves over to public service.
Production companies: Edgeline Films, Motto Pictures
International sales (outside Scandinavia): Dogwoof, info@dogwoof.com
Producers: Josh Kriegman, Elyse Steinberg
Executive producers: Julie Goldman, Christopher Clements, Carolyn Hepburn, Lily Fan
Screenplay: Josh Kriegman, Elyse Steinberg, Eli Despres
Cinematography: Josh Kriegman
Editor: Eli Despres
Music: Jeff Beal
Website: www.facebook.com/weinerthemovie