Steven Spielberg approaches this sacred text with a care which gives it a modern resonance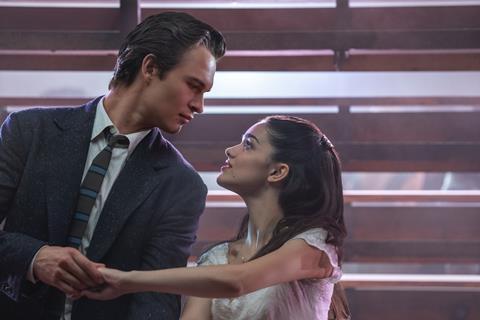 Dir: Steven Spielberg. US. 2021. 156 mins.
A solidly entertaining remake peppered with a few transcendent moments, Steven Spielberg's West Side Story emphasises the musical's most beloved elements without trying to radically reinterpret the source material. Sixty years after the original film arrived in theatres, eventually winning 10 Academy Awards, including Best Picture, this remake boasts intimacy and emotion, creating a warm sense of deja vu mitigated by the story's still-potent condemnation of bigotry and violence. To that end, there's a greater consideration for the circumstances of the Puerto Rican characters in Spielberg's take, and newcomer Rachel Zegler makes for a radiant Maria.
Spielberg has often been labelled a sentimentalist, but that quality tends to work well with 'West Side Story's unabashed melodrama full of soaring tunes.
Opening in the UK and US on December 10, the film - still set in New York of the late 1950s - doesn't feature many household names apart from Ansel Elgort and Rita Moreno (who earned Best Supporting Actress in the original). But the truth is, the musical (based on the 1957 Broadway sensation) is the star, and there will be considerable interest from general audiences curious to see what Spielberg brings to this celebrated work.
West Side Story returns us to the story of the Jets, a white gang, which is feuding with the Sharks, comprising young Puerto Rican men. The Jets resent the Sharks, whom they consider outsiders encroaching on their turf, and the threat of violence is escalating between the two groups. So it only adds more tension when one of the Jets, Tony (Elgort) a former juvenile delinquent determined to change his ways, falls in love with Maria (Zegler), the sister of Sharks leader Bernardo (David Alvarez), who forbids the relationship.
Taking its cues from Romeo And Juliet's star-crossed love story, West Side Story was powered by Leonard Bernstein's elegant, addictive music and the late Stephen Sondheim's deft lyrics. Working with Angels In America playwright Tony Kushner, Spielberg honours the text; his alterations are subtle, whether it's fleshing out a character's backstory or enlarging the racial animosity between the Jets and Sharks. Most strikingly, Maria's home life and conversations with friends contain a significant amount of Spanish, which isn't subtitled — a shrewd way for the director to really immerse those not fluent in the language in the reality of these men and women, who are still adjusting to this new land that is not always so welcoming.
The 1961 film was criticised for some of its casting choices — notably, Natalie Wood playing the Puerto Rican Maria — and not only does Spielberg avoid the same mistakes, he has found actors who can capably perform the show's memorable musical numbers. (Most of the stars of the Oscar-winning original were dubbed.) Film audiences may not be that familiar with someone like Tony-nominated Broadway performer Ariana DeBose, but she proves to be a dynamic Anita — not to mention a fantastic dancer and singer. (Indeed, she takes the lead in the remake's most sensational number, a boisterous 'America.')
Elgort and Zegler have a sweet chemistry, although the former doesn't always convey the gravitas necessary for the haunted Tony, recently released from prison after nearly killing a rival gang member. But Zegler projects a joyous spirit that is awfully endearing. Singing 'I Feel Pretty' or duetting on the swooning 'Tonight' with Elgort, Zegler captures the character's innocence and goodheartedness, while hinting at the steel beneath the pleasant surface.
Spielberg has often been labelled a sentimentalist, but that quality tends to work well with West Side Story's unabashed melodrama full of soaring tunes. The filmmaker tries to inject a little more realism as a counterbalance to the theatricality of the 1961 picture, although Adam Stockhausen's production design and Paul Tazewell's costumes have a colourful flamboyance that give the proceedings a touch of Hollywood fantasy. Even so, Spielberg keeps a close eye on West Side Story's despairing message: intolerance can lead to tragedy. He boldly includes a few racial epithets in the dialogue, which drives home the ugliness of bigotry, which poisons any hope of reconciliation between these rival gangs.
As Valentina, a new character, Moreno delivers an important mentor role for Tony, and the veteran actor — so identified with the 1961 film — gives a weathered, compassionate performance, expressing West Side Story's themes overtly near the end. Most will be familiar with how Tony and Maria's courtship plays out, but Spielberg navigates the twists and shocks with a steady hand. The original's iconic set pieces — the euphoric dance at the gym or the tense final showdown between the Jets and Sharks — are just as vividly rendered here. Spielberg's remake is rarely revelatory, but he trusts the material — and our devotion to it — enough to let it sing on its own.
Production company: Amblin
Worldwide distribution: Walt Disney Studios
Producers: Steven Spielberg, Kristie Macosko Krieger, Kevin McCollum
Screenplay: Tony Kushner, based on the stage play, book by Arthur Laurents, music by Leonard Bernstein, lyrics by Stephen Sondheim, play conceived, directed and choreographed by Justin Peck
Production design: Adam Stockhausen
Editing: Michael Kahn, Sarah Broshar
Cinematography: Janusz Kaminski
Music: Leonard Bernstein
Main cast: Ansel Elgort, Ariana DeBose, David Alvarez, Mike Faist, Brian d'Arcy James, Corey Stoll, Rita Moreno, Rachel Zegler