Efficient documentary about Dame Vivienne, the queen of punk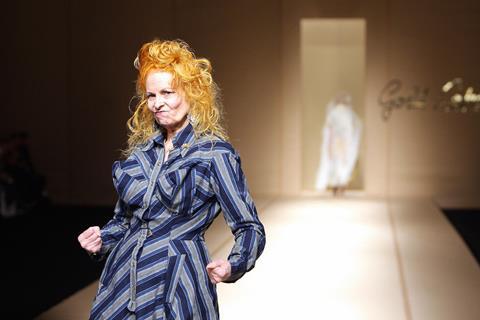 Dir: Lorna Tucker. UK. 2017. 78mins
"I will get into it, but it's so boring," sighs Vivienne Westwood of the prospect of narrating her own life story. It's a brave statement with which to open a debut documentary but, as filmmaker Lorna Tucker knows all too well, any study of this British fashion designer will prove anything but dull. Despite the endearing reticence of its subject, Westwood: Punk, Icon, Activist uses interviews, archive footage and intimate fly-on-the-wall access to get (almost) to the heart of this remarkable woman; although one suspects that Westwood will always keep some secrets firmly up her sleeve.
Westwood shines not only as a remarkable, trend-setting designer but also an inspirational individual
Westwood's fans should ensure a built-in audience for this comprehensive, if brisk, documentary; particularly in her native UK, where Dogwoof will give the film a limited theatrical release on March 23. Dogwoof has also inked deals with several territories including Japan, Australia and Germany, and the film's simple structure and concise running time should see it fit comfortably with on-demand platforms and broadcasters where its 78-minute running time will sit well.
Westwood's defiant personality, on display from the off as she shifts unhappily in her chair and tells Tucker how best to do her job, is a large part of her enduring popularity. While she is known for her outspoken and anti-establishment designs, most notably for punk bands like The Sex Pistols — whom she refuses to talk about, save from a disparaging remark about Johnny Rotten's ageing anarchy — she also speaks of a burning desire to nurture people, individually and as a race. This has, in later life, seen her put increasing energy into campaigning to reverse climate change.
This dichotomous ideology of protester and protector also informs Westwood's designs, which are both subversive and instantly recognisable; think of the kilts, the safety pins, the gigantic plastic heels from which supermodel Naomi Campbell tumbled on a 1993 catwalk (and which are now the brand's biggest seller). Westwood herself acknowledges the irony of the fact that, with her global retail empire, she has become a part of the establishment that she and her peers were so desperate to undermine.
While the footage on display is likely familiar to followers of fashion, dedicated or otherwise, the jewel in Westwood's crown is its personal access. That Tucker has previously made short films for Westwood (and other designers) has built a trust between filmmaker and subject, even if Vivienne is reluctant to speak about herself. More candid are moments in which she isn't talking directly to camera; an unhappiness with her latest collection, her frustration with staff who don't have a passionate knowledge about her clothes. Sequences which show the 76 year-old riding a bicycle in a leather skirt and heels, or tumbling straight from bed into the design studio, add extra colour.
Despite a somewhat intrusive classical score, talking heads with those closest to her, including younger son Joseph Corre (who himself founded Agent Provocateur) and Westwood CEO Carlo D'Amario, fill in the chronological blanks from the establishment of her Kings Road shop Sex with punk music impresario boyfriend Malcolm McLaren through lean periods of poverty to the building of a global brand that Westwood admits she struggles to control.
Of particular importance is her third husband (and former student), Austrian designer Andreas Kronthaler, with whom Westwood enjoys a productive creative partnership. 25 years her junior, Kronthaler is a talented and entertaining character, at one point poetically professing his soul-deep love for his wife, at another screaming at an employee for not having any socks.
Through it all, Westwood herself shines not only as a remarkable, trend-setting designer but also an inspirational individual. That she has fought her way to such incredible success is one thing; that she has done so in an industry that would actively seek to keep her down is quite another. Footage of her being jeered at on a TV panel show, of fellow designers openly disregarding her work, underscores her rebel icon status, and highlights just how much she deserves the applause and praise heaped upon her in a triumphant closing montage.
Production companies: Finished Films, Dogwoof, Tdog Productions, Passion Pictures
International sales; Dogwoof info@dogwoof.com
Producers: Ellie Emptage, Shirine Best, Nicole Stott, John Battsek
Cinematography: Lorna Tucker (TBC)
Editor: Paul Carlin
Music: Dan Jones
Features: Vivienne Westwood, Andreas Kronthaler, Joseph Corre, Carlo D'Amario, Kate Moss, Naomi Campbell