Noomi Rapace buckles up for seven roles in Tommy Wirkola's B-movie blast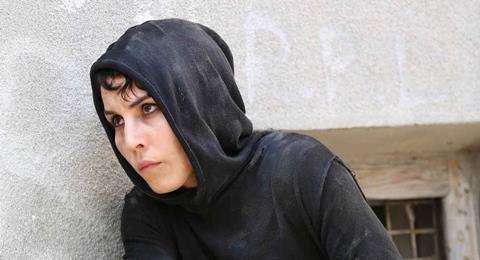 Dir: Tommy Wirkola. UK/US/France/Belgium 2017, 123 mins
A mind-bending science fiction plot worthy of Philip K. Dick is executed as guilty pleasure B-movie mayhem in What Happened To Monday. The relentless pace, chases, shoot-outs, showdowns and a multiplicity of Noomi Rapaces should all help to attract genre fans, especially as a streaming option on Netflix which has taken rights in territories including the US and UK.
Noomi Rapace gives it everything she's got
Harking back to 1970s thrillers like Soylent Green and Zero Population Growth, What Happened to Monday? economically sketches the background to its dystopian tale. Catastrophic overpopulation has led to the introduction of a Child Allocation Act, supported by Dr. Nicolette Cayman (Glenn Close). No family is allowed more than one child. Any extra siblings are cryogenically frozen to be reawakened at a later date to a brighter, better world.
When his daughter dies in childbirth, Terrence Settman (Willem Dafoe) is left with seven identical granddaughters and vows to raise them all far from the prying eyes of the authorities. He names each of them after a different day of the week and thirty years later they have all survived.
They are now all played by Noomi Rapace who has an absolute ball defining each one with the enthusiasm of a child let loose in a dressing up box. Party girl Saturday is blonde, boozy and full of attitude. Friday is the nerd, looking mousey beneath a beanie hat and large glasses. Hair colours, lengths and style all help to differentiate the magnificent seven siblings but it is Rapace's many performances that help to make them individuals. When they all sit down to dinner, chat and argue like a real family the effect is seamless and entirely convincing, a testimony to extraordinary technical advances since the days of Michael Keaton in Multiplicity (1996).
The women maintain a collective single identity of Karen Steeman and have one day a week in which to be Karen, leave their hiding place and interact with the world. How seven people remember what "Karen" has said and done is one of their biggest challenges.
There is some lip service paid to the emotional wear and tear on seven women never able to develop an identity of their own and locked in an eternal bond of trust with their siblings. Flashbacks reveal elements of their childhood, including the day that one of them recklessly left the building and wound up losing the tip of her finger. Inevitably, all of them were forced to endure the removal of the same tip of the same finger, underlining just how their destinies are linked.
Director Tommy Wirkola (Dead Snow, Hansel & Gretel: Witch Hunters etc) doesn't seem unduly concerned with existential worries and instead lets the action speaks louder than words. When Monday fails to return home, the remaining six must work as a team to uncover what has happened to her and evade capture by ruthless government forces. That mostly transforms the film into a chase movie complete with brutal fights, death-defying stuntwork and the kind of trigger-happy baddies who seem unable to hit the easiest target.
What Happened To Monday has its fair share of cheesy dialogue, hard-to-swallow situations and cardboard characters, especially Glenn Close's one-note villain. The plot does provide a few surprises, Dutch actor Marwan Kenzari makes an impression as Karen's unsuspecting boyfriend Adrian, the pace rarely flags and Rapace gives it everything she's got. It may have its failings but it is never less than entertaining.
Production companies: Nexus Factory, Title Media, Vendome Pictures
International sales: SND Films sales1@snad-films.fr
Producers: Raffaella De Laurentiis, Philippe Rousselot, Fabrice Gianfermi
Executive producers: Thierry Desmichelle, Guy Stodel
Screenplay: Max Botkin, Kerry Williamson
Cinematography: Jose David Montero
Editor: Martin Stoltz
Music: Christian Wibe
Main Cast: Noomi Rapace, Glenn Close, Willem Dafoe, Marwan Kenzari