A woman confronts her challenging past in this Belgian debut from actor-turned-filmmaker Veerle Baetens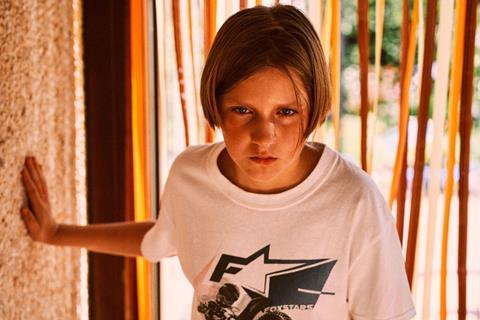 Dir: Veerle Baetens. Belgium/Netherlands. 2023. 111mins
Confronting the past is the only way to silence its crushing legacy in When It Melts. Actor turned director Veerle Baetens makes an impressive feature debut with a gripping adaptation of the 2016 Lize Spit bestseller, known in English as The Melting, carefully sustaining the balance between the thriller elements and a coming-of-age story to create an unflinching exploration of human nature at its most cruel. Festival screenings and theatrical sales seem likely following its premiere in Sundance's World Cinema Dramatic Competition, although the distressing subject matter may be a barrier for some viewers.
Sharing an affinity with recent films like Playground and Close, When It Melts captures a potent sense of how cruel children can be to each other.
Best known for her performances in The Broken Circle Breakdown (2012) and TV's Cheyenne & Lola (2020), Baetens shows great confidence and skill in her directorial debut. When It Melts is very much a film of contrasts between summer and winter, heat and ice, carefree and careworn. We can see all of this in Eva (Charlotte De Bruyne), a young woman working as a photographer's assistant in Brussels. Abrasive and socially awkward, she keeps the world at a distance. Her younger sister is moving out of the apartment they share and Eva is now more alone than ever. A social media post alerts Eva to a memorial event for the long dead brother of a former friend in her home village of Bovenmeer; a spark that transports her back to the time when she was 13 and known as one of "Three Musketeers" alongside inseparable best friends Tim (Anthony Vyt) and Laurens (Matthijs Meertens).
Baetens brings a light, elegant touch to the recurring transitions between past and present as we meet a very different teenage Eva (Rosa Marchant). Young and innocent, she is already struggling with the emotional burdens of the world around her. An alcoholic mother and distant, hot-tempered father create a home life lacking in warmth and security. Adolescence has started to undermine the friendship she has with the two older boys, as raging hormones change their attitudes towards her. Tim pushes her out of their gang yet can never see her as he does the other girls, who he rates out of 10. Desperate to regain their friendship, and hungry for acceptance, Eva becomes a willing participant in callous games designed to trick other girls into disrobing which will eventuall rebound in horrific fashion.
Sharing an affinity with recent films like Playground (2021) and Close (2022), When It Melts captures a potent sense of how cruel children can be to each other. There is also an additional acknowledgement of the sometimes shocking complicity of adults, either through indifference or an instinct to protect their own. Baetens is good at building suspense, with each flashback allowing further insight into Ewa's life and what happened to her as a girl. There is a well-executed tension in the wait to discover the full story.
The film is beautifully photographed by Frederic Van Zandycke (who also shot Cheyenne & Lola) giving a visual contrast to the emotional changes. The sunny, summer days of hay stacks, bathing costumes and horseback rides inevitably darkens to match Eva's experience of the world as a long winter that is gloomy, surrounded by shadows and filled with unshared trauma. The sound of breathing is featured prominently on the soundtrack, as a marker of the various anxieties she fels.
De Bruyne and Marchant rise to the challenge of embodying this complex, tragic character at key points in her life, with both performers conveying the inner turmoil of the character. De Bruyne's adult Eva is sullen, her eyes flashing with suppressed rage and anguish, while Marchant's vivacious youngster is defined by the ache and longing in her glances. These are the looks of someone desperate for love and destined for tragedy.
Production companies: Savage Film, PRPL, Versus Production, RTBF, DPG Meida.
International sales: The Party Film Sales sales@thepartysales.com
Producers: Bart Van Langendonck
Screenplay: Veerle Baetens, Maarten Loix from the novel The Melting by Lize Spit
Cinematography: Frederic Van Zandycke
Production design: Robbie Nuyttens
Editing: Thomas Pooters
Music: Bjorn Eriksson
Main cast: Charlotte De Bruyne, Rosa Marchant, Amber Metdepenningen, Anthony Vyt