The story of a poacher and a gamekeeper in Northern Kenya give this documentary the air of a thriller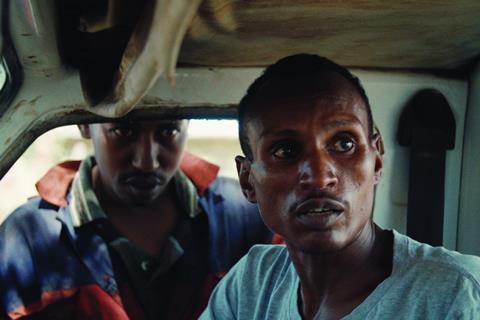 Dir: Jon Kasbe. US. 2018. 80mins
For the vast majority scratching out an existence on the plains of Africa, life really is a matter of basic survival. With his powerful feature debut, Emmy-winning short filmmaker Jon Kasbe (Heartbeats Of Fiji) documents how this daily struggle binds together the inhabitants of Northern Kenya, both man and beast, and explores how questions of morality and mortality become increasingly complicated in such a savage landscape.
The issue of whether human lives hold less value than those of the elephants is just one of the uneasy questions Kasbe invites his audience to consider
Thanks to its dynamic cinematic approach, and with environmental issues being as globally significant as ever, the film is likely to enjoy further festival play following its premiere in Tribeca's Documentary Competition. A successful Kickstarter campaign brings with it an invested audience, and it could well strike a chord with international viewers who responded to other similarly-themed films such as Blackfish, The Cove and last year's Trophy.
Much of the thematic strength of When Lambs Become Lions lies in the stark juxtaposition between Kenya's stunning natural beauty and the uglier realities of life behind beyond the safari camps. While the landscape of East Africa has a great deal to offer — most notably a lucrative tourist trade — for many of the country's population it is far from a land of plenty. It is through the experiences of two such individuals that Kasbe frames his film; an ivory trader known only as "X", and nature reserve ranger Asan.
When we meet them, both are defiant. "X" speaks about the money he earns selling elephant tusks to wealthy buyers on the black market, although admits he never does the killing himself. "I have no fear in my heart," he says. His eyes, however, tell a different story.
He is right to be fearful, as the rangers unit to which Asan proudly belongs are a militant bunch; dressed in army fatigues and brandishing assault rifles, they have a zero-tolerance policy in protecting the animals. "Better to kill the poacher and spare the elephant," says one. Yet while Asan may have landed on the right side of the law, a combination of a growing family and two months unpaid salary — blamed on a vague system error — threatens to push him back into the criminal pursuits of his youth. The issue of whether human lives hold less value than those of the elephants is just one of the uneasy questions Kasbe invites his audience to consider.
While the film hangs on Kasbe's intimate access to Asan and "X" — a pair of compelling, intriguing protagonists whose stories undoubtedly run parallel to myriad others— its construction gives it a genuine dramatic punch. Working with fellow editors Frederick Shanahan and Caitlyn Greene, Kasbe has imbued When Lambs Become Lions with the feel of a thriller rather than a polemic; heightened sequences of night-time hunts and violent confrontations are augmented by quieter moments in which Asan weeps for the future of his family, or "X" struggles to become someone his son can be proud of. While "X"'s partner Lukas likens himself to Robert De Niro, we never forget that these are real men, forced — as the film's title alludes — to either hunt or be hunted.
There's no doubt that poaching is a blight on Africa's beautiful landscape but, Kasbe posits, no more so than the rampant poverty that fuels it. Nowhere is that more obvious than when multi-millionaire Kenyan President Uhuru Kenyatta appears on television to burn huge stockpiles of tusks, stating that "ivory is worthless unless it is on our elephants", "X" and Lukas watch silently on from their corrugated iron home, as $150 million goes up in flames before their eyes.
Production companies: Kasbe Films, The Documentary Group
International sales: Cinetic Media john@cineticmedia.com
Producers: Jon Kasbe, Innbo Shim, Tom Yellin, Andrew Harrison Brown
Editing: Frederick Shanahan, Jon Kasbe, Caitlyn Greene
Cinematography: Jon Kasbe
Music: West Dylan Thordson