Directors: Heidi Brandenburg, Mathew Orzel. Peru, 2015, 100 mins.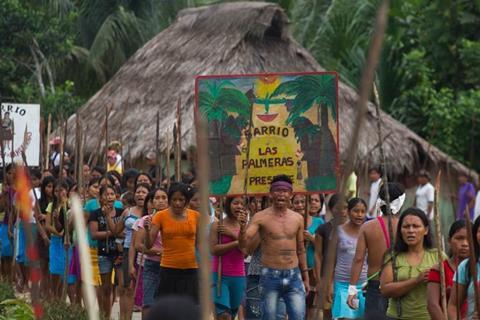 Deforestation, native land rights and Peru's market- and government-driven race to modernise are woven into a conventional but nevertheless thought-provoking culture-clash documentary in filmmaking duo Heidi Brandenburg and Mathew Orzel's first feature-length outing.
At the end of a deftly-edited, heart-on-sleeve social documentary, most viewers will be left stirred and indignant despite residual doubts
Selected for the World Documentary section at this year's Sundance Festival, the film charts the 2008-2009 stand-off between indigenous Amazonians, led by activist Alberto Pizango, and the centrist government of then prime minister Alan Garcia, who at the time had recently promulgated a raft of decrees making it easier for Indian communal lands to be sold off and tracts of 'unproductive' Amazonian territory to be offered to foreign oil and gas companies for exploratory drilling. After its Sundance debut, further festival play looks likely, followed by a long-tail afterlife as a must-watch item for groups or individuals that engage with the issues the film explores.
Told in effective but fairly conventional fashion with a meld of archive footage, ex-post-facto interviews and nature-in-crisis framing photography, accompanied by a mood-enhancing soundtrack by U.S. composer H. Scott Salinas, When Two Worlds Collide takes an unexpected turn around a third of the way in. Unexpected, that is, for those who missed the news stories from Peru in the early summer of 2009, when indigenous protests, sparked by the government's refusal to repeal laws that opened up tribal lands to petroleum concessions, degenerated into violence, leaving dozens of protestors and police officers dead.
In clearly flagging its sympathy with Pizango, and the political struggle he promoted (and promotes) as head of Peru's leading native land rights pressure group AIDESEP, the documentary creates something of a bind for itself when dealing with the question of Pizango's responsibility in instigating the revolt which led to the killings. The focus of an ongoing court case in Peru, the footage and aftershocks of the Bagua massacre of June 2009 – in which 10 civilians and 23 policemen died – is at once the most compelling part of the film and its main stumbling block.
It's clear that political arrogance, dismissal of the indigenous protestors as 'savages' by the Lima elite, and mishandling of the protest by president Garcia, prime minister Yehude Simon, interior minister Mercedes Cabanillas, and police commanders, all contributed to a flare-up that might have been avoided. But at the same time, Pizango's call for an 'insurgency' (an appeal he later retracted), is made little of, though it casts a shadow over the film's ostensible hero that never quite lifts. Instead it's a figure introduced only in the second half – the father of a young policeman whose body was never found, and his quest to find a son he believes may still be alive – who comes closest to true heroism, and provides the film's most moving moment.
At the end of a deftly-edited, heart-on-sleeve social documentary that toys with Fog of War moral ambiguities without ever quite embracing them, most viewers will be left stirred and indignant despite residual doubts. The sentiment is pressed home by aerial footage of logging on a vast scale, open-cast mines and palm oil plantations, and by final captions which detail the inexorable rate of deforestation in Peru despite the parliamentary repeal of the worst of Garcia's land-appropriation decrees, and tell us that no government officials were ever charged in the Bagua case.
Production company/international sales: Yachaywasi Film, yachaywasifilms@ymail.com
Producers: Taira Akbar, Heidi Brandenburg Sierralta, Mathew Orzel
Cinematography: Heidi Brandenburg Sierralta, Mathew Orzel
Editor: Carla Gutierrez
Sound: Taira Akbar, Heidi Brandenburg Sierralta, Mathew Orzel
Music: H. Scott Salinas, Matthew Atticus Berger