Sonja Heiss' third feature explores three decades in the life of Joachim Meyerhoff and his psychiatrist father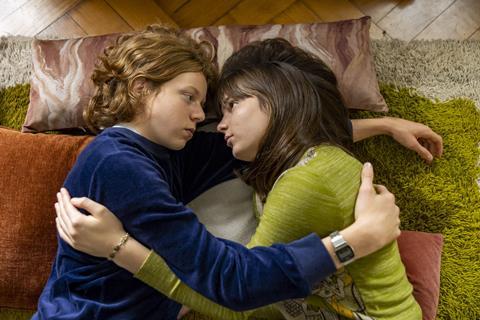 Dir: Sonja Heiss. Germany. 2023. 116mins
Spanning three decades, Sonja Heiss' third feature is an expansive yet intimate family portrait that effectively mines familiar domestic idiosyncrasies and intrigues. This is no ordinary family, however — the subjects are the real-life Meyerhoffs, whose patriarch was the director of Hesterberg Psychiatric Hospital in Northern Germany during the 1970s and 1980s. With the family living in a house on hospital grounds, life was anything but normal. As this knowing film attests, the warmth of home can be found in the most unconventional of places.
The film is darkly humorous throughout, leaning into the authentic machinations of a tight-knit family
This is Heiss' third film to premiere at Berlin, following Hotel Very Welcome (Perspektive Deutsches Kino, 2007) and Heidi Schneider Is Stuck (Forum, 2015), and is likely to follow in their footsteps to a festival career after a bow in Generation 14+. Produced by Komplizen Film (Toni Erdmann, Spencer, Corsage) and Warner Bros Film Productions Germany, When Will It Be Again Like It Never Was Before should appeal to a domestic audience when it is released in Germany post-Berlin on February 23, and is accessible enough to travel further afield.
Our guide through the years is Joachim Meyerhoff, from whose bestselling autobiographical novel this film has been adapted by Hess and Lars Hubrich. When the film opens in 1974, Joachim (Camile Loup Moltzen) — known as Josse — is a carefree seven-year-old, frolicking in the sea to the triumphant strains of The The's 'This Is The Day'; the first in a series of pop songs well-chosen for their emotional shorthand.
This first section is shot through with the euphoria of childhood, the vibrant, optimistic colour palette defiantly eschewing the traditional muted beiges of the 1970s. For Josse, all is genuinely good — "alles gut" being an of-repeated phrase throughout the film, with diminishing accuracy — with his father Richard (Devid Streisow) and mother Iris (Laura Tonke), whose names have been changed from the real-life Hermann and Hildegard. Given free reign of the hospital grounds, Josse has befriended many of the patients (played by a strong supporting ensemble of non-professional neurodivergent actors) who, this being the 1970s, have been locked away for reasons ranging from Down's Syndrome to depression.
The only sign of any early discontent is the fact that Josse has fierce tantrums, usually in response to the teasing of his two older brothers. Somewhat ironically, these moments of rage are rare examples of emotional honesty in a family in which everyone is hiding something. This becomes increasingly clear as the action moves forward to 1983; one of two seamless time jumps courtesy of some nimble editing by Julia Karg.
The now 15-year-old Josse (Arsseni Bultmann) may have kept his cherubic blonde hair, but he's losing the guileless innocence of youth, and shadows begin to fall over the earlier Wes Anderson-esque whimsy. Although the film is darkly humorous throughout, leaning into the authentic machinations of a tight-knit family — the inside jokes, the comfort of shared history, the teasing both good-natured and otherwise — cracks begin to appear.
It's notable that, apart from Josse's brief trip to America which is cut short by devastating news, the focus stays firmly within this family unit, and firmly through Josse's eyes. There's no sense of the changes happening in Germany at large; the storm clouds come from within. Iris paints myriad Italian vistas, longing for the exotic warmth of the continent. Richard is distracted by his professional ambition and, it becomes obvious, extra-marital digressions.
Amidst a generally excellent cast, Bultmann shines in this weighty middle section, weathering the small but seismic changes and bridging the gap between that angelic kid and the calm, collected 25 year old (Merlin Rose) who we see in the brief but poignant final section, Set in the early 1990s, this doesn't seek to reframe or cement all that has come before but rather, as alluded to by the title, suggests that the relationship between past and present is constantly in flux.
Production companies: Komplizen Film, Warner Bros Film Productions Germany
International sales: Beta Cinema, beta@betacinema.com
Producers: Janine Jackowski, Jonas Dornback, Maren Ade
Screenplay: Sonja Heiss, Lars Hubrich
Cinematography: Manuel Dacosse
Production design: Erwin Prib
Editing: Julia Karg
Music: Dickon Hinchliffe
Main cast: Arsseni Bultmann, Laura Tonke, Devid Striesow, Camile Loup Moltzen, Merlin Rose