Amma Asante's latest explores forbidden love in Nazi Germany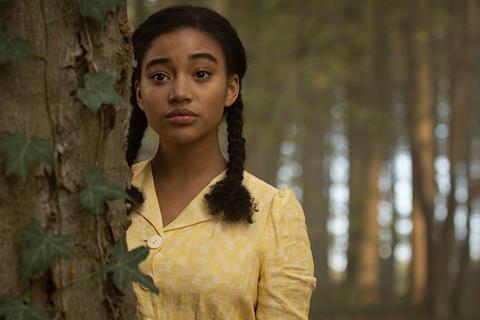 Dir/scr Amma Asante. UK. 2018. 122mins
Director Amma Asante takes a heartfelt but deeply conventional approach to a wartime story of forbidden love in Where Hands Touch. The soft-focus romanticism, soaring music cues and use of slow-motion all mute the impact of a potentially harrowing true story. This long-awaited project will still seem a more likely prospect for small screen consumption rather than the challenge of a big screen release, although sincere performances from the lead actors help soften the disappointment.
The drama often feels desperately hackneyed
Disquiet advances from the the opening moments as we are faced by a cast of international actors (including Abbie Cornish and Christopher Ecclestone) all speaking English with a lightly pronounced German accent. Commercial concerns may dictate such a practice but it handicaps the film, robbing it of authenticity before it even starts
In 1944, a single mother (Cornish) leaves the Rhineland for Berlin with her two children. She believes there is a better chance of her multiracial daughter Lenya (Amandla Stenberg) finding invisibility within a big city. " Life will be good again, " she confidently predicts.
Lenya is a loyal German citizen making it all the more ironic that she is rejected and ridiculed for having an African father and a black skin. Her lack of racial purity makes her one of thousands who were termed 'Hitler's problems'.
In Berlin, the teenage Lenya catches the eye of young Nazi Lutz (George Mackay). Despite all his ingrained prejudices, Lutz starts to fall in love with Lenya. Their early romance unfolds in the kind of verdant, sun-dappled forests that belong in a fairytale. Shafts of light play across their upturned faces and it all seems too good to be true. You assume the first half of the film is so rich in colour and emotion to contrast their youthful naivety with what was to befall them in the later months of the war.
The relationship provokes an identity crisis for both of the star-crossed lovers. The patriotic Lutz wants to fight for his country but cannot stomach what he sees unfolding around him. Lenya desperately wants to belong to a country that considers her an abomination. Throughout there is consideration of what made a good German, and what price was worth paying for the possibility of survival.
Amandla Stenberg brings a defiant spirit to Lenya even if she seems a little too mature for the teenage character. George Mackay once again proves his versatility, investing Lutz with an earnest ardour and growing despair that make him a very believable and sympathetic
One of the issues with Where Hands Touch is that whilst some of the details and specifics feel fresh, the drama often feels desperately hackneyed; from the BBC news broadcasts on the radio to the subversive spin of a Billie Holiday jazz record to the good-natured local German lad whose fate is sealed by his acts of kindness. Even with a basis in true events, the amazing coincidences and lucky escapes feel more like fiction than fact. The larger canvas of some of the later scenes also tend to point to the limitations of the budget.
Production companies: Tantrum Films, umedia
International sales: Protagonist Pictures info@protagonistpictures.com
Producer: Charlie Hanson
Production design: Arwel W Jones
Editing: Steve Singleton
Cinematography: Remi Adefarasin
Music: Anne Chmelewsky
Main cast: Amandla Stenberg, George Mackay, Abbie Cornish, Christopher Eccleston