Dir. Wayne Wang. Japan, 2016. 103 mins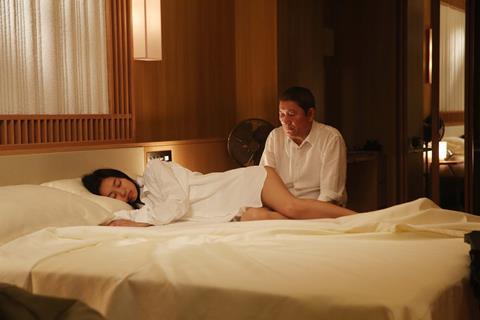 Wayne Wang joins Gus Van Sant (The Sea of Trees) and Martin Scorsese (The Silence) in choosing Japan as the setting for their latest films, although his While The Women Are Sleeping is a fully-fledged Japanese production financed by Dentsu and Toei Company with an all-domestic cast that includes some of the country's top talents: actor-director Takeshi Kitano, Hidetoshi Nishijima (an established star whose credits include Kitano's Dolls and Kiyoshi Kurosawa's upcoming Creepy), and Shioli Kutsuna (previously seen in Hou Hsiao-hisen's The Assassin).
Kenji's entanglement with Sahara turns into a series of sinister games involving repressed sexual desires, obsessive perversions, infidelity and voyeurism
Based on the short story by Spanish author Javier Marias, this doesn't quite reach the artistic heights of Abbas Kiarostami's similarly-themed Japanese-language drama Like Someone in Love but it marks a return to form for the director of The Joy Luck Club. A strong visual aesthetic combined with the presence of Kitano – a massive celebrity in his home country – should lead to healthy returns at home, while the name value of this pairing, accompanied by good notices, should also encourage overseas marketability among art-house audiences.
Set in a coastal resort town (the popular Izu in Shizuoka Prefecture), While the Women Are Sleeping begins with novelist Kenji (Nishijima) arriving at a luxury hotel for a week-long vacation with his wife Aya (Sayuri Oyamada). On the first day of their arrival, Kenji is captivated by the sight of a mysterious couple sunbathing on the hotel's poolside: an elderly man (Kitano) and his beautiful young lover (Kutsuna).
Kenji's occupational curiosity gets the better of him and he finds himself shadowing the pair around town, developing a complicit relationship with Sahara, the old man with a murky past who somehow holds sway over his much younger lover Miki. In the ensuing sexual intrigue played out in this picturesque beachside setting, Kenji's entanglement with Sahara turns into a series of sinister games involving repressed sexual desires, obsessive perversions, infidelity and voyeurism.
The film's episodic and slow-burning narrative returns time and again to Kenji sitting in front of his laptop in his hotel room – purportedly writing his next novel – which becomes the film's framing device. Here, Wang subtly hints at the possibility that Sahara's psychotic character may or may not be a figment of Kenji's fervid imagination – or a character in his next book – while the mysterious couple could be interpreted as the projection of his own marital problems with his wife, whom he suspects of infidelity.
Wang returns here to the dark territory he has previously explored in 2001's The Center of the World, his Las Vegas-set tale about a brief weekend affair between a young dot-com entrepreneur and a lap dancer.
While The Women Are Sleeping is essentially a summer vacation movie, which gradually devolves into a suspenseful psychological thriller midway through, fueled by the novelist's paranoia-infused daydreaming. As such, Wang's film belongs to the subgenre of "writers-on-holiday" films that includes François Ozon's Riviera-set mystery Swimming Pool – another vacation film in which reality blurs into fiction, with a novelist in the role of an "unreliable" narrator.
Wang, now a 67-year-old veteran of both Hollywood and the independent sector, has successfully inspired strong performances from his all-Japanese cast, led by the charismatic Takeshi 'Beat' Kitano. Appearing in a film not his own for the first time in 12 years, he delivers a masterclass in portraying an ambivalent character bordering on sanity and madness.
Though While the Women Are Sleeping is hindered by an unsatisfying final act which tries too hard to find a clean resolution, the film's modernist aesthetic is satisfying throughout. It delivers an unexpectedly rewarding collaboration between Wang and Kitano, in which the Hong Kong-born American director displays a thorough understanding of Japanese culture and its sometimes oddball erotic obsessions reminiscent of the novels of Kawabata and Tanizaki.
The film's added bonus is its atmospheric cinematography courtesy of Atsuhiro Nabeshima, who perfectly conjures up the inner turmoils of the characters against the scenic backdrop of Japan's tranquil seascape and its hidden darker undercurrent.
Production company: Creative Associates Ltd.
International Sales: Toei Company Ltd., international@ toei.co.jp
Producer: Yukie Kito
Executive producer: Toichiro Shiraishi
Screenplay: Michael K. Ray, Shinho Lee, Mami Sunda
Cinematography: Atsuhiro Nabeshima
Editor: Deirdre Slevin
Production design: Norifumi Ataka
Music: Youki Yamamoto
Main cast: Takeshi Kitano, Hidetoshi Nishijima, Shioli Kutsuna, Sayuri Oyamada, Lily Franky, Hirofumi Arai