The fascinating and horrifying story behind the all-American image of Abercrombie & Fitch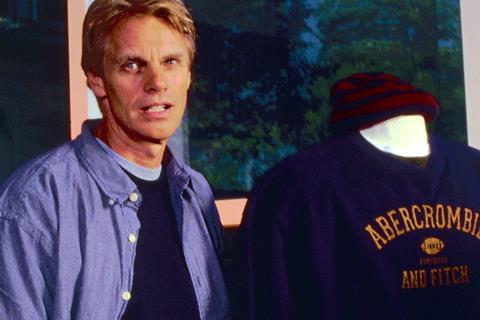 Dir: Alison Klayman. US. 2022. 88mins
For many who came of age in the mid 1990s, Abercrombie & Fitch was a buzzword in covetable fashion. Back then, the preppy US clothing brand, which started in 1892 and had been revamped by enigmatic CEO Mike Jeffries, was the uniform of the cool kid, and made a global impact even before its first non-US stores opened in Canada in 2005 and the UK in 2007. But, as Alison Klayman's insightful and frank documentary shows, Abercrombie was hiding some ugly truths about the way it treated some employees, and how it viewed its customers. It is a fascinating, horrifying story and Klayman eschews any tricks or gimmicks — bar some lively collage animation — to allow this explosive narrative to evolve through the eye-opening experiences of those who lived it.
It is clear, at least in retrospect, that Abercrombie had a huge problem with diversity.
Debuting on Netflix on April 19, the documentary should attract a healthy viewership thanks to both brand recognition and the presence of Klayman behind the camera - she's the director behind such universally-acclaimed documentaries as Ai WeiWei: Never Sorry, which won a Special Jury Prize at Sundance in 2012, and, more recently Jagged, about the singer Alanis Morissette.
Klayman kicks off this documentary in an energetic style; to the poppy strains of a mid-90s soundtrack — Len's 'Steal My Sunshine', The Offspring's 'Self Esteem' — she whizzes through the company's history. Established as a hunting and fishing brand frequented by the likes of Teddy Roosevelt, it was acquired in the early 1990s by retail magnate Les Wexner (who was later disgraced by his connections to Jeffrey Epstein).
Wexner brought Jeffries on board to turn the failing Abercrombie's fortunes around and, as detailed by the myriad people interviewed here — from those high in the chain of command, like the company's vice president of merchandising Cindy Smith-Maglione, to models, store employees and journalists — he ran a tight ship.
Determined to make Abercrombie the coolest brand in town, Jeffries micromanaged everything from the design of the store, all dark interiors and loud music, to the brand's memorable visual marketing. Gorgeous, erotic black and white photos of beautiful young models wearing, ironically, very little clothing and shot by iconic photographer Bruce Weber adorned everything from the walls of the stores to their paper bags (desirable fashion accessories in their own right). There was even a guidebook for the hiring of store staff, who had to represent the brand's ideal of "natural, American and classic". And that, says former employee Dr Anthony Ocampo, was very much an "all-white thing".
It is clear, at least in retrospect, that Abercrombie had a huge problem with diversity. There were very few non-white faces in-store or in marketing, and none at all high up in the company. And while that may have gone over the heads of Abercrombie's WASPish target audience, lured by a promise of cultural acceptance to buy their impossibly low-slung jeans and logo hoodies, it certainly had an impact on Black and Asian American employees like Dr Ocampo, Carla Grubb and Jennifer Lu, who talk about the discrimination they faced; not being allowed on the shop floor, only being used during busy holiday periods.
The trio went on to be part of a class action suit filed against Abercrombie in 2003. The company immediately paid out a $40m settlement rather than go to trial and was compelled to sign a consent decree to overhaul their marketing and hiring practices, and installed African American Todd Corley as their chief diversity officer.
Corley is perhaps the most interesting of all the interviewees. While he is rightly proud of the work he did at the company — by 2011, 53% of in-store employees were non-white — he is palpably frustrated that he couldn't change its culture. That's made clear in a 2006 feature by journalist Benoit Denizet-Lewis, which quotes Jeffries as saying "Are we exclusionary? Absolutely" and that the only person they want wearing their clothes is the "all-American cool kid".
Yet, despite the efforts of people like Denizet-Lewis and activist Benjamin O'Keefe to draw attention to Abercrombie's practices, nothing seemed to change until 2015. Then, Muslim fashion blogger Samantha Elauf was told she couldn't work at the store because she wore a headscarf; she filed a lawsuit and the case went all the way to the Supreme Court, which found in her favour. Jeffries retired, with a $27m package. (Both he and Bruce Weber have been accused of sexual misconduct by several of the A&F models, which they strenuously deny).
While Abercrombie has, under the leadership of current CEO Fran Horowitz, attempted to shed their exclusionary image — their website states their intention to "champion inclusivity and create a sense of belonging" — such a problematic history shouldn't simply be whitewashed away. And so White Hot is an essential work, rightly acknowledging a time when, as described by The Washington Post's Robin Givhan, this influential super-brand knowingly and wilfully represented, and monetised, "the worst parts of American history."
Production companies: Aliklay, SecondNature
Internation distribution: Netflix
Producers: Alison Klayman, Emmett McDermott, Hayley Pappas
Cinematography: Julia Liu
Editing: Jen Fineran, Colleen Flanagan, Brian Goetz, Steph Ching
Production design: Smiley Stevens
Music: Amy Woo